It's been a busy sales season so far for Lou Grossi and his team at Intercity Realty. That's nothing new, mind you.
"The last 10 years have been busy," the company's owner tells Epoch Times in an interview at its Woodbridge head office. "But it's been very busy this year."
Intercity, winner in the Professional Services category at the 2015 Vaughan Chamber of Commerce Business Achievement Awards, boasts a roster of 170 agents focused on residential resale and new-home sales (high-rise and low-rise) as well as commercial real estate. In business nearly 45 years, the firm enjoys close relationships with top GTA builders that marketing director Alda Neves Dubé says "we've worked hard to develop."
Intercity has two offices (the second one is in Concord) and will soon be opening a third, in downtown Markham, where Intercity is overseeing sales for the Remington Group's massive townhouse development.
With strong and steady immigration flow into the GTA creating demand for real estate, Neves Dubé notes Intercity's been seeing a "nice mix of investor and end users" out in the market searching for properties, low-rise especially. "It's seen as a safer investment; the return is quicker and the build is quicker."
Those looking for low-rise may want to check out Kleinburg Crown Estates. A development by three builders (Caliber Homes, Sky Homes, and Monarch Group/Mattamy Homes), the community features only detached homes on 42-, 50-, 60-, and 70-foot lots. Intercity just launched the project's second phase of three, about 100 homes priced from $889,990 (with a summer promotion of $60,000 in free upgrades).
The homes have 10-foot ceilings on the main level and nine-foot ceilings on the second floor (and in the basement, depending on the plan), the "most modern elevations you'll see in Vaughan," says Grossi, noting the facades integrate stone, brick, and pre-cast concrete elements. "These border on custom homes."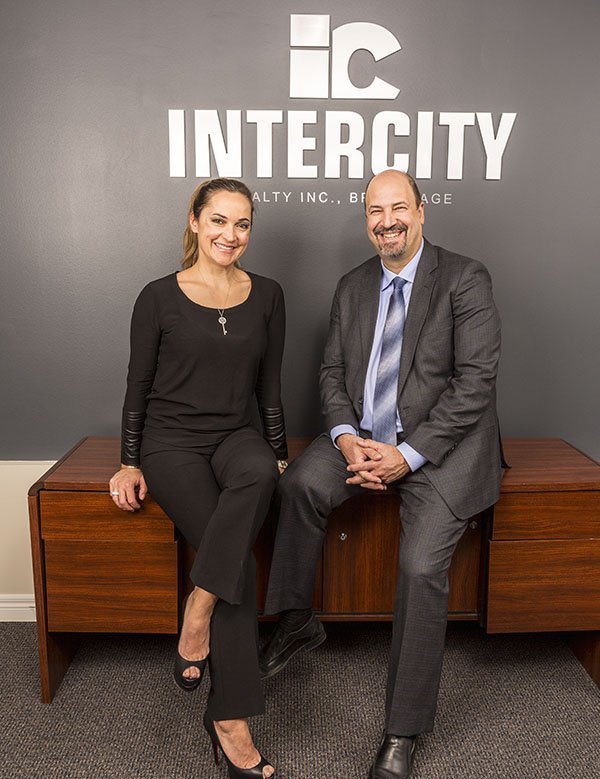 There are covered loggias in the backyards, and add-on options include wine rooms and theatre rooms.
"They're all master builders here, and when they came together for this, they had a specific vision: to bring to the market a new level of luxury," Neves Dubé notes. "And they've all been in the business for quite a long time so craftsmanship has always been a key element in their product offerings." (Four model homes are available for viewing).
Kleinburg Crown Estates enjoys a great location, too, she points out. Kleinburg retains its historic charm while gradually evolving with the neighbourhoods growing up around it. "There was a time when you couldn't get a restaurant licence because there was resistance in the community," Neves Dubé says. "Now that's pretty much what it's becoming: a charming place for fine dining."
There's an art shop in town, she adds, and, of course, the McMichael Canadian Art Collection.
Kleinburg Crown Estates is a family-friendly community, and there's a French immersion school in town plus a number of private schools nearby, including a Montessori on Islington Ave. "So if you're looking for lots of interior and exterior space for a growing family, this is it," says Neves Dubé.
Over at Pine Valley Rd. and Highway 7, Intercity is gearing up to launch sales on The Residences at Pebble Creek, an enclave of 59 "New York-style" brownstones by Falconcrest Homes and Graywood Developments that's tucked into what Neves Dubé describes as a "little forested oasis." That's key, she says. "You're not going to find many new townhouse communities in quite such a special location."
Homes here will have rooftop terraces. "A key entertaining feature," says Neves Dubé. "You can go right from your kitchen out to the terrace." Some plans have elevators, an amenity that's as handy for families juggling kids and shopping bags as it is for down-sizers who wish to age in place without having to tackle stairs. "It's becoming the norm. People are really wanting that feature in their homes." (Elevators are offered at Kleinburg Crown Estates as well).
Averaging 2,100 square feet, the townhomes at Residences at Pebble Creek—priced starting from the upper $600,000s—will have nine-foot ceilings on the main and second floors, and optional finished basements. (Sales start this month.)
Best of all, Grossi points out, this is an infill project that's being built in an established area that's in close proximity to highways, golf courses, schools, and shopping centres like Vaughan Mills. "So you won't be living in construction for long," he says.
Ryan Starr is a Toronto-based freelance journalist.