Insider Travel Tips for 10 of China's Top Tourist Attractions
September 18, 2013 8:06 pm Last Updated: September 20, 2013 6:58 pm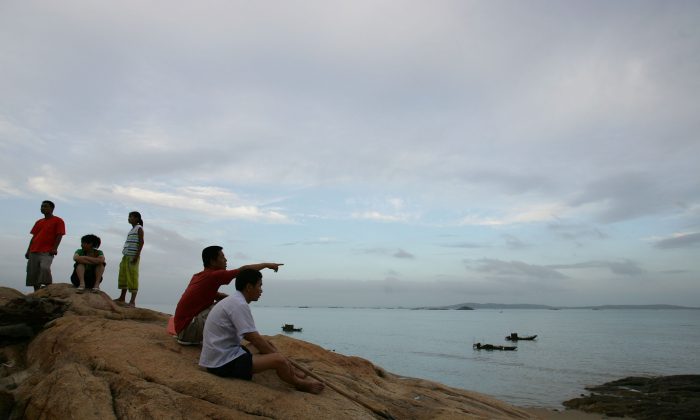 1. Sanya, Hainan Province: Don't Go Swimming Alone
Hainan Island, China's southernmost and smallest province, is a popular tourist destination owing to its tropical climate and beaches and water temperatures that are above 68 degrees year-round. 
Situated on the southern coast of Hainan Island is the city of Sanya. The East China Bay and Yalong Bay areas are the most well-known and popular beaches in Sanya, and both employ lifeguards. It is advisable to stay away from the "wild sea" areas because they are often too distant for emergency staff to arrive quickly. 
It's also best to go swimming with a group. Don't bring valuable items to the beach, there are no lockers or storage areas for personal belongings. Be sure to have a friend look after your clothing and other items while you take a swim. 
Main attractions: Yalong Bay, East China Bay, Tianya Haijiao, Luhuitou Peak Park, Wuzhizhou Island, and the 354 ft tall Guanyin statue, one of the largest statues in the world, located at Yalong Bay.
2. Haikou: Beware of Thieves
Haikou, also called "Coconut City," is the capital of Hainan Island. It is situated on the northern coast, with a major port and a number of historical sites.
Haikou also has a reputation for thieves and pickpockets. Haikou residents have learned to deal with the situation by holding or wearing their bags in front of them, and it's advisable for tourists to do the same. Haikou police also recommends that tourists staying on the lower floors of hotels keep windows secured at night. 
Main attractions: Wanlu (Evergreen) Park, Holiday Beach, Tropical Ocean World.
3. Kunming: Don't Get Lost in Stone Forest
Kunming is the capital of Yunnan Province in Southwest China and has a population of 6.5 million. The city was founded in the 8th century, and has been an important trade center. It is situated on a 6,200 ft high plateau, on the shore of Lake Dian, one of China's largest fresh water lakes.
About 60 miles from Kunming is the famous Stone Forest, a karst formation consisting of arches and caves. The Stone Forest landscape is very complex, with caves embedded within each other and endless chains of mountain peaks. Tourists should stay with their groups and be careful not to get lost.
Main attractions: Shilin, Black Dragon Pool, Dian Lake, Expo Park.
4. Guilin: Don't Ride Unlicensed Rafts and Watch Out for Fake Guides
Guilin is a prefecture-level city in the Guangxi Autonomous Region, situated on the Li River. It has an ancient history and unique karst scenery and is one of China's most popular tourist destinations.
The Guilin police cautions tourists against hiring unlicensed bamboo rafts. While they may offer good deals, they are not built with safety in mind, and tourists are putting themselves in danger by getting on them.
Police also warn tourists to beware of fake tour guides who lure tourists with low prices, but instead of taking you to the attractions, they may take you to shopping areas and pressure you to shop souveniers.
Main attractions: Li River, Elephant Trunk Hill, Seven Star Park.
5. Xiamen: Don't Linger on the Reefs and Keep an Eye on the Kids
Xiamen, in southeastern Fujian Province, boasts a deep-water gulf. During the Song Dynasty (960-1279 CE), the city was a seaport open to foreign trade.
Yindou Reef is situated in open water, but is connected to the beach during low tide. However, when the tide rises, the pathway to the beach is flooded and tourists may get trapped on the reef must wait for rescue crews to bring them back. Local police warn tourists not to linger on the reefs if they don't know the tide schedule.
Gulangyu, also known as Piano Island, has a variety of attractions, including many Victorian-style buildings, but it can be so crowded that it is easy to get lost. Parents should be sure to keep their children in sight when traveling around the island.
Main attractions: Gulangyu Reef, Buddhist Nanputuo Temple, Tiger Stream Rock, Wanshiyan.
6. Lijiang: Be Aware of Your Physical Limitations
In ancient times, Lijiang in Yunnan Province was the most important town on the southern Silk Road. Lijiang's Old Town is a UNESCO Heritage Site with a maze of cobblestone streets. 
The Lijiang police station reminds tourists to consider their own physical capabilities when planning to go on snow hikes. Because of the challenging terrain, tourists should hike only with a tour guide and not venture onto remote trails on their own. 
Main attractions: Yulong Snow Mountain, Old Town of Lijiang, Jade Water Villa.
7. Shanghai: Beware of Pickpockets on Nanjing Road
Located in the Yangtze River Delta at the East China Sea, Shanghai is the commercial and financial center of mainland China and the largest city by population in the world.
Shanghai has a rich collection of architectural styles, including 20th century Art Deco and, most recently many distinctive modern high-rise buildings. Nanjing Road, along with Huaihai Road and Sichuan North Road, are popular shopping areas. Local police warn tourists that pickpockets often lurk in crowded areas. 
Main attractions: The Bund, Oriental Pearl TV Tower, Nanjing Pedestrian Road.
8. Mount Wutai: Avoid Unlicensed Drivers
Mount Wutai, in northeastern Shanxi Province, is one of the Four Sacred Mountains in Chinese Buddhism and home to many temples and monasteries.
The Wutai Mountain trails are extremely steep, and tourists are advised to use a vehicle from a licensed travel company instead of hiring local residents who sometimes offer rides for low prices but who are not professionally trained or licensed to carry passengers. 
Main attractions: Tianlong Mountain, Guqing Temple.
9. Harbin: Watch Your Valuables When Skiing
Harbin, in northeastern China's Heilongjian Province, is know for its bitter cold winters and its Ice and Snow Sculpture Festival.
Tourists who come to ski in Harbin need to think of ways to keep their personal items, such as cameras and cell phones, safe as they can easily fall out of pockets and get lost while skiing.
In addition, skiers should make sure to keep a safe distance from one another, and beginning skiers should avoid buffers in the skiing zone so they won't get run over by fast skiers behind them. 
Main attractions: St. Sophia Church, Erlongshan Ski Center, Harbin Ice Lantern Garden, Ice and Snow World.
10. Jilin: Beware of Street Vendors' Low Prices, Low Quality
Jilin City in Jilin Province is one of the oldest cities in northeast China. It is situated near the Songhua River and surrounded by four famous mountains.
Tourists come to Jilin in the winter to view the ice covered trees along the Songhua River.
Ginseng and velvet are produced locally. Purchase them at licensed stores. They are sometimes sold on the street, but their quality is often substandard.
Main attractions: Rime ice trees, Songhua Lake, Wulajie.
Translation by Virginia Wu. Written in English by Gisela Sommer.
.