A California Superior Court judge has rescued an innovative residential high school for foster children from state-ordered closure, and the school is again ready to accept new students.
Judge Robert Dahlquist of the Superior Court of California (County of San Diego) issued a preliminary injunction forbidding officials from terminating the group-home license for San Pasqual Academy in Escondido, California.
Dahlquist ruled the government had misapplied the state Continuum of Care Reform Act in its early 2021 decision that the school must close.
"We're just delighted," attorney Charles LiMandri, who represented stakeholders of the Academy in a lawsuit against the state and county, told The Epoch Times.
"It looks like it's on the right track now to get back up to speed."
LiMandri said juvenile court judges are again free to send foster children to San Pasqual Academy, as they have done since the residential school opened in 2001.
"They are licensed for 184 students. They're down to 43 because the county and the state haven't allowed them to get any new students," LiMandri said.
"Students graduate, or they leave for whatever reason, and they're not replaced. It's dissipating the enrollment. We're hoping now that's going to reverse itself."
Founded to Fit Unique Needs
San Pasqual Academy was founded through the efforts of a Superior Court judge who sought a new solution for foster children who have bounced around the system in traditional foster homes, group homes or shelters.
The academy has been lauded for its success taking difficult foster cases and giving children the grounding to graduate high school, and for most, go on to higher education.
James Milliken, a retired San Diego County Superior Court judge who helped found San Pasqual Academy in 2001, said the school's aim is to "provide a stable, family-centered placement for adolescents and their siblings who were being bounced around the system in multiple failed foster home or relative placements, or placed in high-end group home care that was not appropriate, or long revolving-door stays in the county's emergency shelter."
Milliken, who served as supervising judge of San Diego family court from 2001-2003 and presiding judge of the juvenile division from 1996 to 2003, said San Pasqual Academy serves a crucial need.

"San Diego County did not have enough foster family placements to house all the kids in foster care in 2001 when the academy was opened, and does not have enough foster family placements now," Milliken wrote in a declaration to the court in the lawsuit.
"That is why San Pasqual Academy was built: to fill that void. A significant percentage in the foster care system have been mistreated or abused while in the foster care system, which is far from perfect."
San Pasqual Academy has won the support of the community during its two decades of service. The NFL's San Diego Chargers (now the Los Angeles Chargers) donated a football field to the school. The San Diego Padres donated a baseball field.
"These are beautiful, state-of-the-art facilities," said LiMandri, partner in LiMandri and Jonna LLP, near San Diego.
"The wealthy philanthropists in the Rancho Santa Fe community largely donated a beautiful pool they have. They've got state-of-the-art computer rooms and career centers and lounges."
Consultants hired by the county to evaluate San Pasqual Academy have issued glowing reports on the academic program and school operations.
"There really is no dispute that it has been an astounding success," LiMandri said. "These studies have not recommended that they implement any changes, because you don't need to fix something that's not broken.
"The whole case was about the interpretation of the law, whether it could stay open, not whether it's doing a good job."
Dispute Over Legal Interpretation
The lawsuit centered on how to interpret a 2015 law called the Continuum of Care Reform Act, which modified the state of California's approach to foster care.
Section 121 of the law seemed to carve out an exception for San Pasqual Academy, allowing it to continue being licensed as long as it complied with provisions in the reform act.
The state and county believed the law required San Pasqual Academy to close because it didn't fit into a licensing category.
Judge Dahlquist ruled "both the state and county have misinterpreted Section 121," noting the language authorizes San Pasqual Academy to "continue to operate while the state determines or creates an appropriate licensing category that will permit the Academy to operate."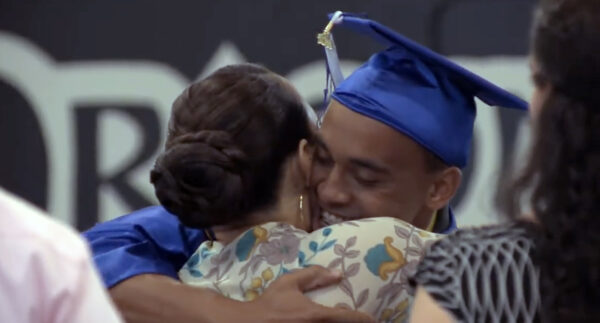 "How the state and county could possibly read that to be anything other than a grant of a long-term license is beyond me," LiMandri said.
"But they tried to do just that. The judge didn't buy it and adopted our arguments straight down the line."
"They are improperly classified as a group home. It really isn't," LiMandri said. "The kids have individual cottages, they have 24-hour parenting. They've got their individual rooms. It's not like the big dormitories you'd expect in a group-home-type setting.
"For all of those reasons, it made sense to allow San Pasqual Academy to keep operating since it has done such a great job and has such a fantastic track record of kids being able to successfully complete the high school program and go onto college."
'They Believed in Me'
Natasha Strain, a 2005 alumna of San Pasqual Academy and a plaintiff in the lawsuit, told the court the academy is a welcoming place.
"They had my room all set up and gave me a gift bag with stuff. They tried to make me feel very welcome," she wrote in a statement to the court.
"San Pasqual Academy was not the first place that felt like home to me, but it was way better than many other places in giving you a sense of actually belonging there, because you got your own space."
During her senior year, Strain said, school staff encouraged her to not only apply for college, but also seek out scholarships. That sent a powerful message.
"I didn't believe in myself, but they believed in me, which taught me to believe in myself," she wrote. "And I ended up getting my degree in social work from Cal State San Marcos."
Cecilia Blea arrived at San Pasqual Academy between 8th and 9th grades. She entered the foster-care system in 1999 at age 9. She and her siblings experienced physical and verbal abuse from foster parents and their children.
"At one home, they locked the refrigerator, made the foster kids eat separately from the natural family, and if someone brought us clothes, they would take the clothes away and give them to their own kids," Blea wrote.
"At another home, they told me I was fat and wouldn't let me eat."
Blea arrived at San Pasqual Academy on Friday, Aug. 13, 2003. It turned out to be a lucky day for her.
She found the school to be a safe place, where she didn't need to defend her siblings against abuse.
"At San Pasqual Academy, the setting is different than anything I experienced in any foster family or group home," she said.
Blea got involved in athletics. Although there were rough patches with some conflicts, she found the staff at the academy made corrections "without being judgmental or belligerent, just firm."
She graduated in 2006, but found the lessons learned at the academy had long-lasting impact.
In May 2021, she earned a college degree in psychology.
"Overall, I was a difficult kid," Blea said. "But San Pasqual Academy kept me out of much worse trouble. Without this program, my life wouldn't have been the same."
'We Show Them Family is Forever'
Tia Moore believed in San Pasqual Academy so much when she was hired as director, she moved her family to campus, nestled among 200 acres of orange groves.
"San Pasqual Academy was unique—it is unlike anything else there is for foster youth," Moore wrote to the court.
"When you visit the campus, it does not feel like a 'facility.' We regularly get calls from people in different states, or people working on their doctoral theses, wanting to replicate San Pasqual Academy in their area."
Over more than 15 years, Moore said she has watched hundreds of foster youth receive a high school diploma, held them when they cried after a bad breakup or when a parent didn't show up for a visit as promised.
She said the academy "is what family in the foster care system looks like and should look like."
San Pasqual Academy has alumni housing, so graduates can return to visit or have a place to stay during difficult times.
"Through our alumni housing program we show them that family is forever and they they'll always have a place to come home to."