Inmates at a minimum-security prison were praised for helping victims of a bus crash in Arizona.
About 50 inmates were being carried by a Department of Corrections bus when it slammed into an overturned tractor-trailer on an interstate, leaving a number of people injured. About 20 inmates, the bus driver, and a corrections officer were sent to the hospital, and several needed to be airlifted, reported The Huffington Post.
Uninjured inmates tended to several people who were hurt rather than attempting to escape, according to reports. About 30 inmates directed traffic and laid down flares. Others tended to the wounded.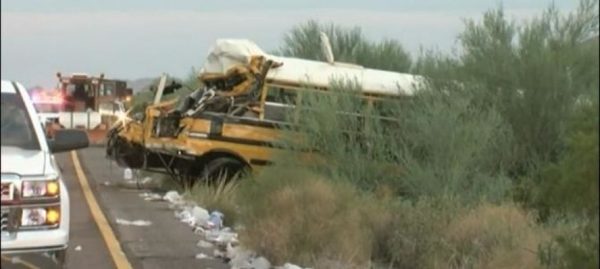 "Everybody's seen the movies and I thought, 'Oh no, I'm gonna have inmates scatter and we're gonna have 50 fugitives,'" Sgt. Josh Wilhelm of the Department of Public Safety told The Associated Press. "That was not the case."
The inmates were minimum-security offenders serving less than five-year sentences for mainly nonviolent crimes.
Bill Lamoreaux, a spokesman for the Arizona Department of Corrections, said that it was "great to hear" about the inmates. "It's always heartwarming to see anyone jump in when assistance is needed," he said.
The inmates were returning from a work site at around 1 a.m., and Lamoreaux said that isn't unusual. "We have work crews at sites all around the state who are working all sorts of different hours," he told the Post.
The 30 uninjured prisoners were sent back to prison.
Lamoreaux said he hoped the experience of helping out during an emergency will inspire prisoners to become better people once they're released.
"I think the programming, the work, the education, all the different opportunities we provide — hopefully it sinks in," Lamoreaux added to HuffPost.
Florida Inmates Help Rescue 1-Year-Old Trapped In Truck
Footage has emerged showing a group of inmates on work duty in Florida helping to free a 1-year-old child trapped inside a truck.
The father of the child had accidentally locked the keys to the truck inside the vehicle, ABC reported. It was an unusual incident that took place in New Port Richey on Feb. 14 and was captured on camera and shared on social media.
Five prisoners, supervised by deputies from the Pasco County Sheriff's Office, were on a work detail, fixing medians outside the West Pasco Judicial Center when they reportedly spotted a crowd gathering around a vehicle and a man—later identified as the child's father—beginning to panic.
It is unclear who suggested that the inmates provide assistance, but Pasco County Sheriff Chis Nocco described them as "low-risk offenders" who wanted "to do the right thing."
"A lot of them, like these individuals, they know they made bad mistakes, bad choices, but they want to do the right thing in life," Nocco said, according to ABC.
"This was a weird day man," wrote Shadow Lantry in a caption to the video posted on Facebook, which shows a group of inmates in prison attire standing near the driver's side of the vehicle.
Epoch Times reporter Tom Ozimek contributed.