Former jailer Gary Grimm is moved to tears as he recalls the day when he narrowly escaped death in the basement of the Parker County District Courthouse. He says it was thanks to the selfless intervention of inmates, who broke out of a holding cell to help him, that he survived the massive heart attack that would likely have taken his life.
"If they wished harm to me, all they had to do was sit there and do nothing," a tearful Grimm told WFAA reporters.
Grimm, 52, who is now retired and faces open heart surgery next week, points to surveillance camera footage that shows a holding cell with at least 8 prisoners behind a locked door.
He is at the bottom of the screen, sitting at a table, when his body suddenly goes limp.
"He just fell over," said inmate Nick Kelton, one of the prisoners seen calling for help in the footage, as reported by USA Today. "Looked like an act. Could have died right there."
"They thought I was kidding," Grimm told WFAA. "I wasn't."
The inmates then started to call out to Grimm, the security cam footage shows, and when it became obvious it was serious, they broke out of the holding room—a move that carried significant risk to themselves. Armed deputies entering the scene might believe they were witnessing a jailbreak attempt, and respond with lethal force.
"We were worried they're going to come with guns drawn on us," Kelton said in the video interview with USA Today.
The men checked the guard's pulse and when they found none, began to bang and scream to draw the attention of deputies in another part of the building.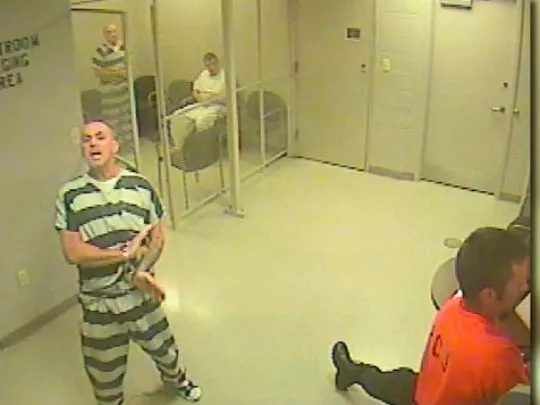 Eventually, the deputies upstairs in the courtroom heard the commotion and hurried to investigate.
"They thought it was a big old fight going on down there. They thought we had taken over," said inmate Floyd Smith.
Parker County Sheriff's Sgt. Ryan Speegle said that when deputies entered the room, it was far from obvious what had happened. All he knew was that one of his deputies was inside with a firearm.
"They had keys and a gun. It could have been an extremely bad situation," said Speegle.
The footage shows Speegle and other guards moving inmates away from an unresponsive Grimm and corraling them back into the cell. Moments later, a deputy starts to perform CPR.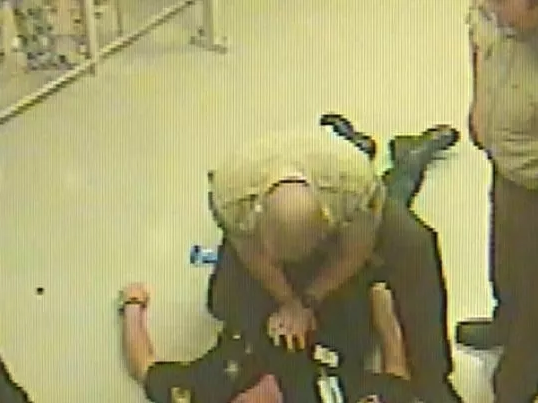 Capt. Mark Arnett said the prisoners' actions probably saved Grimm's life.
"He could have been there 15 minutes before any other staff walked in and found him," Arnett said.
When asked why the prisoners did what they did, Kelton said, "He's a good man."
Smith said, "It never crossed my mind not to help whether he's got a gun or a badge. If he falls down, I'm gonna help him."
"Seems natural to me," Smith added. Ironically, deputies told USA Today that Smith is in jail for assault on a public servant.
Grimm is grateful for the intervention.
"Instead of overtaking me and taking my gun, and killing me or taking a hostage and escaping, they looked at me as a human being," said Grimm, according to WFAA.
The incident took place on June 23, 2016. Grimm has since left his job in the prison system due to persistent heart troubles and expects he may undergo a heart transplant.
Meanwhile, it is reported he will get an artificial heart valve installed this week.
Recommended Video:
Cookie-Crazed Squirrel Attacks New York Policeman