ORANGE, Calif.—After being trained by Theo Lacy Facility inmates for seven weeks, two canines graduated from the Orange County Sheriff Department's Canines Offering Life Lessons and Rewards (COLLAR) program Oct. 7, something that allows inmates to lead a more enriching experience and take on added responsibilities while serving their sentence.
The program takes dogs who were initially deemed unadoptable and would have been euthanized and allows inmates to train them and prepare them to meet their forever families. Sheriff's deputies adopted the dogs upon graduation.
"I've enjoyed this program so much. It's helped me get through my days, it's helped me pass time, and waking up to a furry friend, having him staring at you and being super excited is just a blessing. This was a big blessing for me so I'm super excited and I will definitely be doing it again hopefully soon," one inmate, Kimberly, said during the canines' graduation.

Three inmates at the ceremony showed off all of the commands and tricks they trained the dogs to do, including "shake," walk around listening to voice commands, dance on two legs, and more.
The inmates were given certificates of appreciation and a photo of them with their dogs for their work in training the dogs in a bittersweet moment as they handed off the dogs to the deputies taking them home.
"This has been an amazing opportunity for me because one, I'm a huge animal lover, and two knowing that I saved the life," an inmate named Stephanie said. "When I found out she was going to be euthanized really broke my heart so I'm definitely very honored to be part of this program."
Stephanie said the program made her want to continue working with dogs after she is released.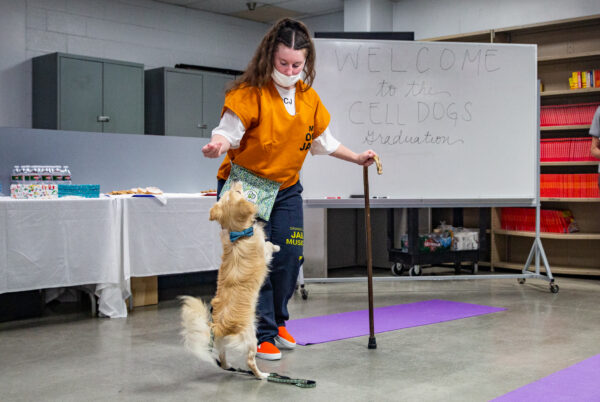 Assistant Sheriff Jason Park said that the programs help to enrich the lives of the inmates, along with creating a more positive environment.
"This is one example of the many things that the Sheriff is doing to the folks that live in our custody, to not just create a safe environment for them, but to create an environment for them to grow and to feel worth and to get educated, and so much of that is done in this building with our programs," Park said to reporters at the Theo Lacy Facility.
"I want to lastly thank you ladies because this doesn't happen without your willingness to step up and take on some additional responsibilities," Park said. "I'm sure it's sometimes this was a little bit of an inconvenience. Us dog owners know how that can be. So without you willing to step up and do this and be a part of this, we couldn't do it. So lastly, I really think you're the most important piece of this."
The program began in 2013 at the currently-closed James A. Musick Facility in Irvine, California, in conjunction with the non-profit Pathways to Hope. Due to the COVID-19 pandemic, the program had been on a 2-year hiatus.