Information About Chinese Firms Declared Off Limits
June 5, 2012 8:54 pm Last Updated: October 1, 2015 1:18 pm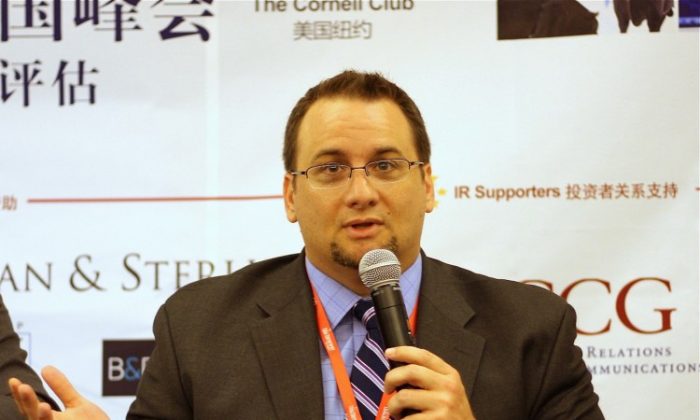 China is battening down the hatches on the access foreigners are allowed to corporate information, both through internal policy directives and direct intimidation of front-line investigators. The measures include intervention by central security agencies, hired thugs, and police at the local level, and bureaucratic rules varying by locale meant to stifle access to documents, according to interviews with due diligence providers.
Whether the various measures are part of a concerted campaign, or simply a series of local initiatives meant to protect bureaucratic or corporate turf, the result is the same.
"It's shut down completely," says Andrew Left, one of the small group of short sellers that made a name for themselves, along with millions of dollars, by exposing Chinese companies they identified as frauds. "Nobody wants to do work. Everyone is afraid of legal ramifications. Access to company files is gone. People are afraid to challenge companies. That's it. China has become a black box. … It's done."
"Due diligence is much more difficult than it was, in spite of the Chinese government's public proclamations that they're willing to talk about more transparency," said Dan David, vice president of GeoInvesting, an investment research firm, in a telephone conversation. "What they are indeed enforcing is less transparency. It's becoming quite a big problem."
The International Financial Law Review reported on June 1 what it said was a policy change preventing foreign companies from gaining access to corporate records.
There appears to be no announcement of an official policy change, according to the website of the State Administration for Industry and Commerce (SAIC), and the Administrations of Industry and Commerce (known as AICs locally) in Qingdao and Tianjin which were cited by IFLR as rolling out the policy.
Lucy McNulty of ILFR wrote in an email to The Epoch Times that she was told by international law firms in China that access to AIC files was now restricted; she confirmed this with Chinese lawyers who used to be able to access AIC files and now no longer can. A memo she received from a firm cited the applicable law as the Measures for Consulting the Files of Enterprise Registration, published in 1996 and amended in 2003.
The AIC filings of Chinese companies are often the first steps in due diligence that investors, lawyers, or private equity funds seek out when trying to find out about a company in China. An equity analyst may try to find the value of a company partly using these files. A manufacturer looking for a partner to buy parts from in China would also want to get the AIC files of companies to see whether they were viable operations. The implications for foreign investment could be significant if access to these corporate files is severed.
If there has been an official change in policy, it may not have been published. Things have always been a bit opaque in accessing AIC files in China.
"When you need to access something more than what you can get through the online service, then you have to send a lawyer," writes Stan Abrams, a Beijing-based lawyer involved in foreign direct investment, in an email. "Either that particular AIC will let that person in the door or not, and then, will they let that lawyer copy documents, or just look at them, or what? It all depends on the policy of that specific office."
And don't bother looking on the websites. "This is the kind of thing where a phone call is necessary," Abrams wrote. SAIC officers will only speak to certain people, too. Foreigners aren't one of them.
Alongside whatever informal policy may have been communicated to AIC branches around China, the reports come alongside a series of anecdotes by hedge fund managers, short sellers, and investment firms that have much greater difficulty accessing AIC filings. Usually this is because local lawyers and investigators who traditionally did the legwork in accessing the files have been intimidated, told to stop giving out information to foreigners, or shut down.
File Fetchers Shuttered
Numerous businesses in China used to offer a simple service: we'll go and fetch your AIC files, and you pay us several hundred dollars. Companies like Qingdao Intercredit and Sinotrust advertise the service on their websites.
Not so much these days. According to a fund manager who invests in and shorts Chinese stocks, Qingdao Intercredit will no longer find AIC files for him. Intercredit did not respond to an email requesting comment. The investor would not speak on the record because of ongoing litigation he is involved in after issuing a short-selling report on one Chinese company.
Sinotrust, another company offering the same service, dispatched a letter to clients in late April explaining; "Recently, it has been told that there are more controls by relevant government authorities over the availability of financial information to our information sources. Many of our information sources have told us in recent days that they will stop trying to obtain financial information from relevant government authorities immediately."
The Chinese company must consent to the information being released to foreigners, Sinotrust wrote.
Difficulty in access to AIC files was ratcheted up in steps.
"Things were ramped up after the SVM investigation, and since September and October there has been a steady increase," one executive at an investment firm said. SVM is the ticker symbol for SilverCorp, a company that has taken its fight against short seller Jon Carnes very public.
Qingdao Intercredit has also been put under pressure by Chinese media companies that have been running anti-short seller campaigns, including extensive interviews with company chairmen who make recriminations against foreign shorts. Journalists from mainland China have extensively documented the practice of companies buying media coverage for publicity.
One interview by National Business Daily asks the head of Qingdao Intercredit, "I've heard that you cooperated with some foreign funds, including giving AIC files to them, is that so?"
Li Chunyang, the director of Intercredit, responded: "This information actually is available through any lawyer in China. After the media reports, we became very cautious."
Hired Help
Companies that find the prying eyes of short sellers and hedge funds inconvenient have more than the policy prong to get things done. They can also hire thugs to harass front-line investigators, or even contract local police at the county level to start criminal investigations, crossing jurisdictions to impound the evidence of due diligence investigators.
According to an investment firm that conducts due diligence on Chinese companies, which declined to be named because it doesn't want to inflame the authorities, the Ministry of State Security has questioned investigators from most of the private investigative firms doing corporate due diligence in China.
"They started with the big ones (Kroll, Control Risks), and then went to medium, and then to the numerous small (mainly local) firms. Everybody is afraid to do work right now, and they think the crackdown might last until after the leadership transition in the fall," a spokesperson for the firm wrote in an email. Spokespeople for Kroll and Control Risks both declined to comment on the claim.
It began about five weeks ago, the firm wrote. "The fear is really at the individual level for the local employees and sources who do a lot of the legwork. The individuals worry about getting messed with, so the firms aren't able to do much—if anything."
Dan David of GeoInvesting has a policy for his people in China: they cannot speak to an individual in person more than once. By the second time "chances are that they're ready for you, and you could be arrested, detained, or beaten," he said. "On a local police level, these people can do anything they want to you."
Click www.ept.ms/ccp-crisis to read about the most recent developments in the ongoing crisis within the Chinese communist regime. In this special topic, we provide readers with the necessary context to understand the situation. Get the RSS feed. Get the new interactive Timeline of Events. Who are the Major Players?

The Epoch Times publishes in 35 countries and in 19 languages. Subscribe to our e-newsletter.