For at least three weeks, Beijing knew about the severity of the CCP virus outbreak in the central Chinese city of Wuhan, but downplayed the crisis and suppressed any information at odds with the official narrative that the virus was containable. This coverup allowed the virus to spread beyond China's borders, sparking a global pandemic.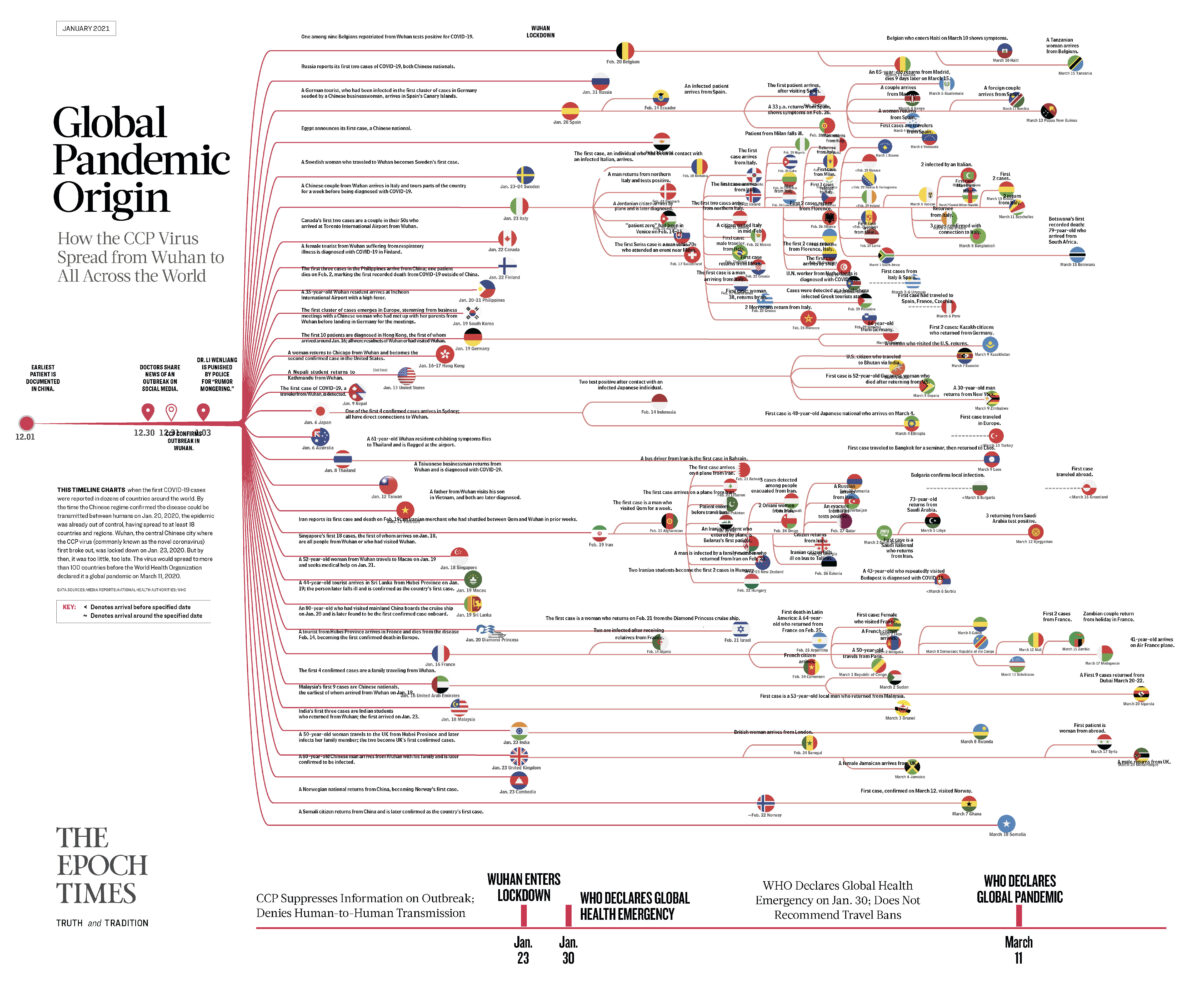 Internal documents obtained by The Epoch Times show that patients with CCP virus-like symptoms started appearing in Wuhan hospitals from September 2019, suggesting the disease may have been silently spreading around the city in the autumn. Authorities were aware of the outbreak by at least late December and publicly confirmed its existence on Dec. 31, 2019.
For the next 19 days, Chinese authorities insisted the disease was "preventable and controllable" and that there was little to no risk that it could spread among humans. The World Health Organization (WHO) echoed those statements.
Doctors who tried to warn others about the outbreak were punished for "rumor mongering." On Dec. 30, Li Wenliang, an ophthalmologist at the Wuhan Central Hospital, shared a report about "seven 'SARS-like" cases emerging from a local seafood market in a private chat group on the Chinese social media app WeChat. On Jan. 3, local police reprimanded him along with seven other medical professionals for spreading "rumors" online.
Meanwhile, Chinese social media platforms scrubbed references to the virus and comments critical of the regime's handling of the outbreak from December. Propaganda organs issued at least 18 directives to domestic news outlets in January ordering them to limit coverage of the outbreak and stick to official statements.
It was not until Jan. 20 that the Chinese regime confirmed human-to-human transmission. Three days later, the first containment measures were implemented through a lockdown of Wuhan.
But it was too late. Before the lockdown, around 5 million residents had already left the city, seeding the virus across China and the world.
Had the Chinese regime enacted containment measures three weeks earlier, the number of cases could have been reduced by 95 percent, according to a study published in March.
By Jan. 20, when Chinese authorities admitted to human-to-human transmission, the disease had already spread to at least 18 countries and regions. By the time Wuhan was locked down on Jan. 23, outbreaks were growing in at least 24 countries and regions—nearly all seeded by travelers from the city.
On Jan. 30, the WHO declared the outbreak a global health emergency, though it did not recommend that countries impose travel restrictions. The next day, the United States announced it would close its borders to non-American travelers from China.
The WHO did not declare a global pandemic until March 11. By then, there were more than 118,000 recorded cases across 114 countries and territories.