IndyCar: Two in Toronto for Dixon
July 14, 2013 6:04 pm Last Updated: July 15, 2013 2:23 am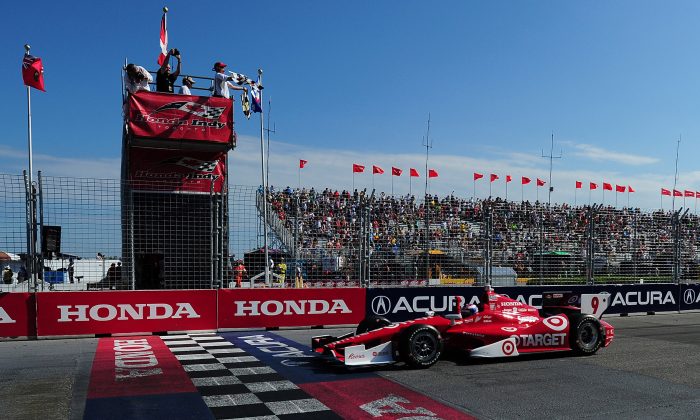 Driver Scott Dixon showed his mastery of IndyCar racing this weekend in Toronto. After winning the first race of the Honda Indy Toronto doubleheader on Saturday, he repeated in race number two on Sunday.
Saturday was a struggle where Dixon, who started fifth, had to work hard to take the win. On Sunday he was clearly the best driver in the best car and he simply drove away from the field.
Dixon started from the pole on Sunday and was never passed on track—his Dallara-Honda was perfectly dialed-in. In fact, only Target-Chip Ganassi team mate Dario Franchitti, who finished fourth, ran a faster lap all race.
Right from the start Dixon opened a huge gap over the field—as much as 16 seconds on lap 65, just before James Jakes crashed in Turn Five, bringing on the race's first caution. This bunched up the field and gave the competition a shot at getting by but Dixon made a great restart and almost immediately opened another sizeable gap, which he expanded until Scott Carpenter crashed in the same spot fifteen laps later.
The Holmatro safety crew got the track cleaned in time for a two-lap shootout. Again Dixon roared away in the lead. In the next two laps he opened a gap of almost a second.
Not everyone had a great restart. When the green flag waved fourth-placed Sebastien Bourdais stormed past Will Power, who then cut offs defending series champion Ryan Hunter-Reay, stuffing him into the wall. This bought out the third caution, which lasted until the 85-lap event was over, with Scott Dixon safe in the lead.
The win moves Dixon into second in the IndyCar Series championship, after being seventh three races ago. He now trails championship leader Helio Castroneves by only 29 points, and the next track on the schedule in Mid-Ohio, where Dixon has won four times. A third IndyCar title could very well be in Scott Dixon's immediate future.
Ganassi Back in Winning Form
The entire Ganassi operation seems to have turned around since Pocono. The team got the latest, more powerful Honda engines, and did some private testing at Sebring and figured out how to get more mechanical grip, and suddenly the cars were first-rate.
Dario Franchitti finished fourth in the other Ganassi car, which doesn't sound as momentous as it actually is until one recalls that he was sidelined with a cut tire at the start, and was down almost a lap before the second lap ended. The three-time champion stayed cool, drove hard, setting fastest lap of the race while working his way back towards the front. On the whole, an excellent weekend for Ganassi, which had struggled all season.
Podium Finishes for Castroneves, Bourdais
Helio Castroneves finished second, driving a faultless race and staying well clear of the third-placed car—usually his Penske team mate Will Power. Castroneves admitted after the race that he had nothing for Dixon. Similarly, no one else had anything for Castroneves, who had eleven seconds gap to third at the lap 65 yellow.
Sebastien Bourdais finished third, earning his second podium of the weekend in what is an even more amazing turn-around than Ganassi's.
Bourdais, who won four championships in the Chap car World Series, racing most of the best drivers now in IndyCar, had had nothing but problems since returning to the series in 2011. Jay Penske's Dragon Racing team decided to change most of the crew before Toronto, including hiring veteran engineer Tom Brown, who immediately made a lot of major changes to the car.
The difference was astounding. Bourdais, a backmarker most of the season, suddenly finished second on Saturday, and on Sunday, with no working Push-to-Pass, still managed to finish third.
RHR Knocked Out
Defending champion Ryan Hunter-Reay might have seen his chance at back-to-back titles explode into shards of carbon fiber as Will Power pushed him into the wall at Turn Three on the final restart.
Power, who had just watched Sebastien Bourdais push past him, tried to accelerate a little too hard and a little too early on cold tires and slid across the nose of Hunter-Reay, who was fifth at the time.
Hunter-Reay went into the wall hard; an instant later Takuma Sato, with nowhere to go, slammed into him from behind. No drivers were injured, but RHR's championship hopes took a hard hit. The Andretti Autosports driver is third in the standings, only 69 points out of first, but with a maximum of 53 points available per race, Castroneves being both fast and consistent, and Dixon on a charge, Hunter-Reay might not have enough races left to close the gap.
Up next for IndyCar is the Honda Indy 200 at Mid-Ohio, a track where Scott Dixon has won four times already. Tickets can be purchased through the track's website, midohio.com. Coverage starts at 3 p.m. ET on NBC Sports Network for those not lucky enough to attend in person.