Housing affordability has become a crisis in this province and a major concern for Ontario residents. While the Affordability Crisis is particularly severe in the GTA, it has become a widespread issue in Ontario.
R. Scott Davie, founder of Davie Real Estate Inc., is a real estate industry veteran with more than 30 years of experience in the field and has been a trusted advisor to many of the GTA's top developers. He's written a new magazine-style, free downloadable book, The GTA Affordable Home Ownership Crisis that examines this crisis, explaining the reasons for why it has happened, the detriments to society and the economy if it continues, and what needs be done to alleviate the crisis.
Davie shared some of his insights that he details in his books with the Epoch Times.
What is the definition of housing affordability?
Affordability in housing is achieved when GTA residents have the financial ability to purchase the type and size of home in a location that they desire.
Is this just a GTA phenomenon or it is wider spread in Ontario?
Although the Affordability Crisis is most severe across the GTA, there are communities around Ontario like Niagara-on-the-Lake, Collingwood, Muskoka, and even Milton, that are becoming less affordable.
Why is renting not as desirable an option for most people?
Renting is often necessary in the short term. Generally speaking, on a monthly basis renting is more expensive than owning in both the mid- and long-term. In addition, most GTA residents count their home as their largest asset. Owning in the mid- and long-term in any period in the last 35 years has provided huge financial gains. People who rented in the same period of time earned no money from their largest expense, their rent. Since it is more expensive monthly and does not build personal equity, it is not financially wise to rent for the mid- and long-term.
What have been the main contributing factors to the unaffordability crisis?
There are five main components, beginning with an excessive 22 to 25 percent of aggregate taxes on new homes and condos. These taxes include lot levies, development charges, section 37 charges, HST on new homes, Provincial land transfer tax, and in some cases, the City of Toronto land transfer tax.
An imbalance in the number of new immigrants we have arriving in the GTA versus the number of new homes and condos that can be built is contributing to a shortage in housing supply and driving prices upward. According to the Ontario Ministry of Finance's Ontario Demographic second quarter report, 139,071 international immigrants arrived in Ontario over the previous 12 months; most settle in the GTA.
There is a shortage of developable land in the GTA that is compounded by government over-regulation and a cumbersome zoning approval process.
Both low interest rates and the interest rate stress test impact the affordability crisis in different ways. Low interest rates increase demand which drives home prices higher. The stress test makes it difficult for many residents to qualify for a mortgage that they can comfortably afford the payments on.
What are the consequences if measures aren't taken to remedy the situation?
The majority of GTA residents count their home as their largest asset. A future generation that could not afford to buy their own home would result in the hollowing out of the wealth of the middle class and would have a devastating effect on the economy.
What are the solutions and which ones are the easiest and most feasible to implement and who should be responsible for implementing them – governments, banks, and developers?
Certainly reducing taxes by eliminating the HST on new homes, Section 37 charges, and the City of Toronto Land Transfer tax would be a good place to begin to solve the affordable home ownership crisis. It is unfair to both existing, and new Canadians, to invite people to Canada if we do not have houses for them, so reducing immigration to responsible levels would be another solution. The book illustrates in detail why there was no catalyst for OFSI to introduce the stress test, so that should be eliminated. The book also shares new ideas for housing types and designs that would help to use land more efficiently and increase supply.
However, the solution will only grow through public understanding, resonating from professionals in the development industry, and it is only through public awareness that government, non-governmental organizations, and developers will have the motivation, and the ability, to make the needed changes.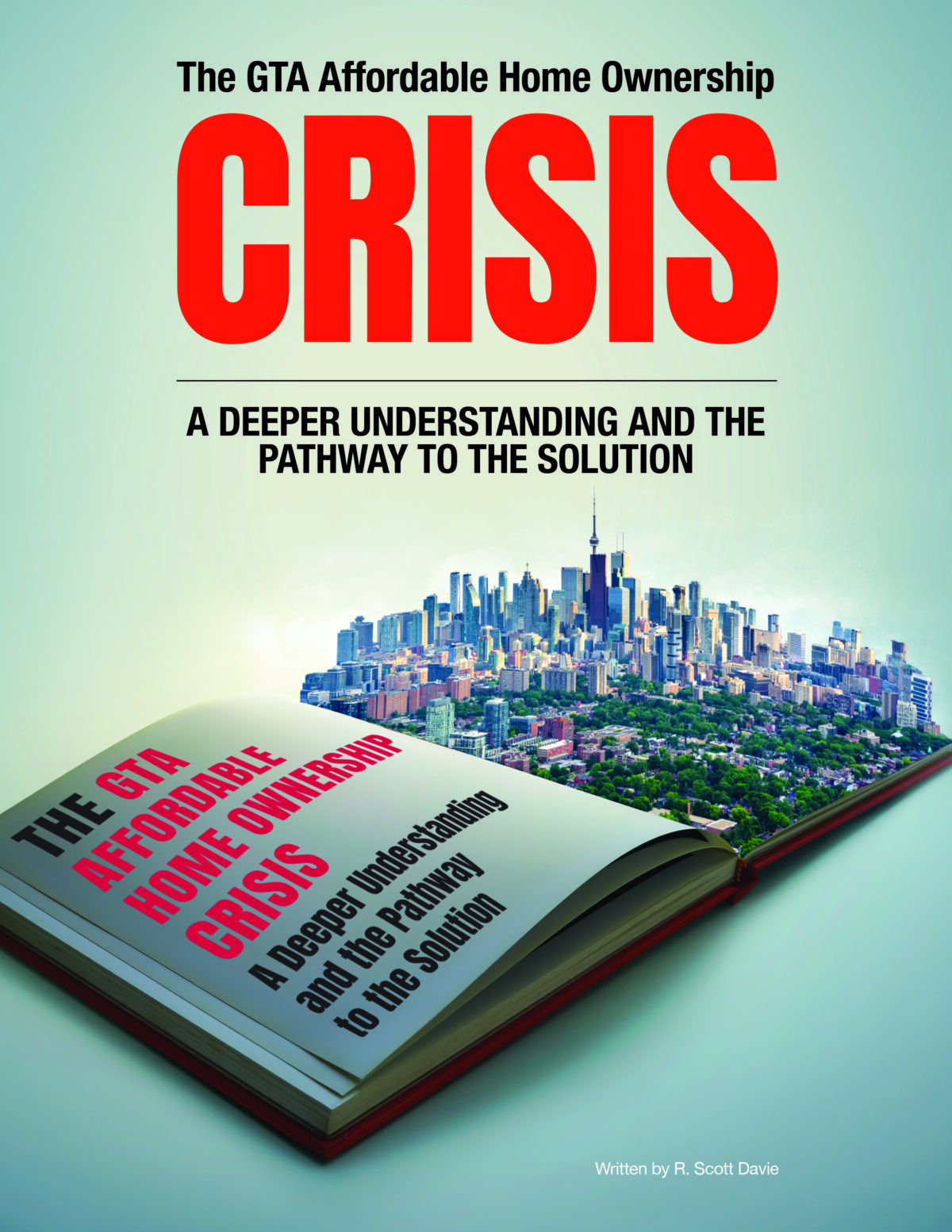 Despite the seriousness and the complexity of the issues, my book, The GTA Affordable Home Ownership Crisis, is rich with ideas and breaks down the elements of the crisis in an interesting way.
The book is written in an easy to read, magazine-style format with pictures and info graphics. It is about a 20-minute read and can be downloaded for free for a limited time at AffordableHomeOwnership.ca
Tracy Hanes is a freelance real estate writer.