Indonesian Court Gives Independent Radio Director Suspended Sentence
September 7, 2011 3:07 am Last Updated: October 1, 2015 3:43 pm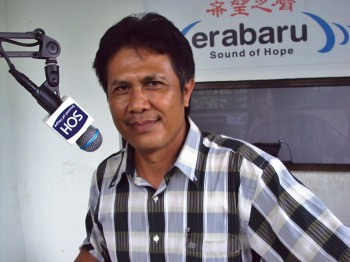 An Indonesian court has followed through on a years-long effort by authorities there to shut down an independent radio station nettlesome to the Chinese communist regime, by finding the station's broadcaster guilty of administrative violations.
On Sept. 6 the director of the station received a suspended six month jail term with one year of probation.
Gatot Supriyanto Bin Machali has since 2005 run Radio Erabaru located in Batam, Indonesia, whose broadcasts, many in Chinese, feature a good dose of criticism of the human rights record of the Chinese Communist Party.
The lead judge in a group of three of the state court of Batam, Judge Haswandi, read the court's decision to Machali at 3:30pm. A fine of 50 million Indonesian (US$5,800) rupiah was levied against him—failure to pay would result in Machali spending three months in jail.
Machali's broadcasts are thought to have inspired an April 18, 2007 diplomatic memo by the Chinese Embassy, sent to multiple Indonesian government departments, calling for the station to be shut down.
Beginning in 2008 Indonesian authorities denied the station's license, and began a process of bureaucratic restrictions. Machali continued his broadcasts, while suing the government in an effort to regain his license. Even though an appeal of his lawsuit had not yet been heard by Indonesia's Supreme Court, in March 2010 authorities carried out a daytime raid to confiscate the station's equipment. Machali got more equipment and kept broadcasting.
The government brought charges against Machali in March 2011 for broadcasting without a license, charges that carry a maximum sentence of six years in prison.
The decision noted that it had been proven in court that there are many radio stations in Indonesia broadcasting without licenses or frequency permits. While they also break the law, they are not charged by the authorities, according to the decision.
Those remarks call attention to one of the most salient features of the prosecution against Machali, consistently pointed out by international observers such as Reporters Without Borders, that the case against him was prompted by calls to shut down the station by the Chinese Communist Party.
Machali plans to appeal the verdict, which he can do within seven days. The broadcasts of Radio Erabaru are continuing.