India's Digital Switch Over Begins
April 2, 2013 11:44 pm Last Updated: April 4, 2013 12:14 am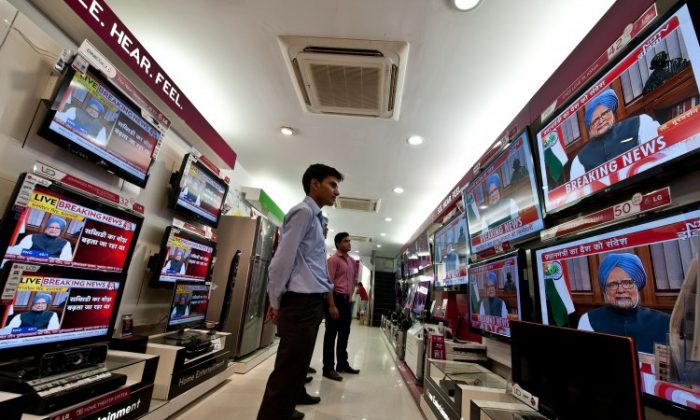 Millions of television sets without set-top boxes went blank in India as the digitization deadline expired on Monday. The objective of the digitization is to bring transparency in the Indian broadcasting sector.
The deadline to switch to set-top boxes ended on March 31. Viewers and local cable operators were out-raged after the signals were switched off. Thirty eight cities across 15 states of India were selected for the phase-II of the digitization process, initiated by the country's Information and Broadcasting Ministry. 
According to a report in India Today, union minister of information and broadcasting, Manish Tewari, disputed the claims of blackout. "It is not that after the expiry of the deadline we automatically cut the cable connections. We do it in a calibrated manner, giving the TV users some additional time to undertake the switchover."
According to the report, the ministry sources said 75 percent digitization had already taken place in the 33 cities covered under Phase-II.
The report quotes Roop Sharma, president of the Cable Operators Federation of India, alleging that the government was misleading people by providing wrong data. "Set-top boxes come from China and they are in short supply. The truth is that only about 30 per cent of digitization has been done." 
The report claims that in Hyderabad and Visakhapatnam cities, on Monday afternoon, 12 hours after the deadline expired, nearly 5 million TV sets blacked out. A huge chunk of consumers couldn't switch to digital mode as quality set-top boxes were not available and many had gone unaware of the government's notice.
In October 2011, the Indian government passed an ordinance making it mandatory to digitize the distribution of TV signals by cable operators. 
In India, unlike in developed markets, broadcasters mainly depend on advertising to sustain themselves. Digitization of system will make sure that every household accessing signals is accounted for and cable operators share their collections with multi-system operators and broadcasters.  
Except a better viewing experience and access to a larger number of channels, currently there seems to be no major benefits for consumers—though they have to lighten their pockets a bit, to install the set-top box for digital TV experience.