NEW DELHI—Condolences poured in from around the world after India's first Commander of Defense Staff (CDS), Gen. Bipin Rawat, died along with his wife and 11 others in a helicopter crash on Dec. 8 in the southern Indian state of Tamil Nadu.
Rawat was a four-star general who assumed office on Jan. 1, 2020.
While India's Prime Minister Narendra Modi, Defense Minister Rajnath Singh, and other civil and defense leaders paid homage and released condolence statements, experts noted an eerie similarity between the incident and a helicopter crash that killed Taiwanese CDS, Gen. Shen Yi-ming in early 2020.
Brahma Chellaney, an author and leading strategic analyst based in New Delhi, pointed out the "eerie parallel" between Rawat and Shen's deaths.
"Each helicopter crash eliminated a key figure in the defense against PRC aggression," Chellaney noted on Twitter, referring to the Chinese regime, adding that the "strange parallel" doesn't necessarily mean there is any connection between the two incidents or an outside hand.
Chinese state media Global Times didn't take kindly to Chellaney's tweet and used it to make accusations of its own.
"This view is like suspecting the U.S. played a role in the crash because India and Russia are moving forward with the delivery of a Russian S-400 missile defense system, which the U.S. strongly opposed," the Global Times wrote.
The Indian strategic analyst said it was "misusing" his tweet "to accuse the U.S. of being behind the helicopter crash," adding that it "sadly points to the depraved mindset of the CCP folks."
Frank Lehberger, a sinologist and a senior fellow with the India-based think tank Usanas Foundation, said that while it's too early to say anything about the crash that killed Rawat, there's certainly some similarity with the crash that killed Shen in Taiwan, a place he said "is full of Chinese spies."
"That happened on Jan. 2, 2020, just a few days before the Taiwan election," said Lehberger. "Like the late Gen. Rawat, Gen. Shen Yiming was the most capable and highest military member trusted by the president of Taiwan. Shen was also a vice-ministerial rank in the Defense ministry. In the crash of 2020, eight military leaders of the Taiwan Armed Forces died and five people were severely injured."
The helicopter involved in the crash that killed Shen was a relatively new American type UH-60M Blackhawk, Lehberger noted.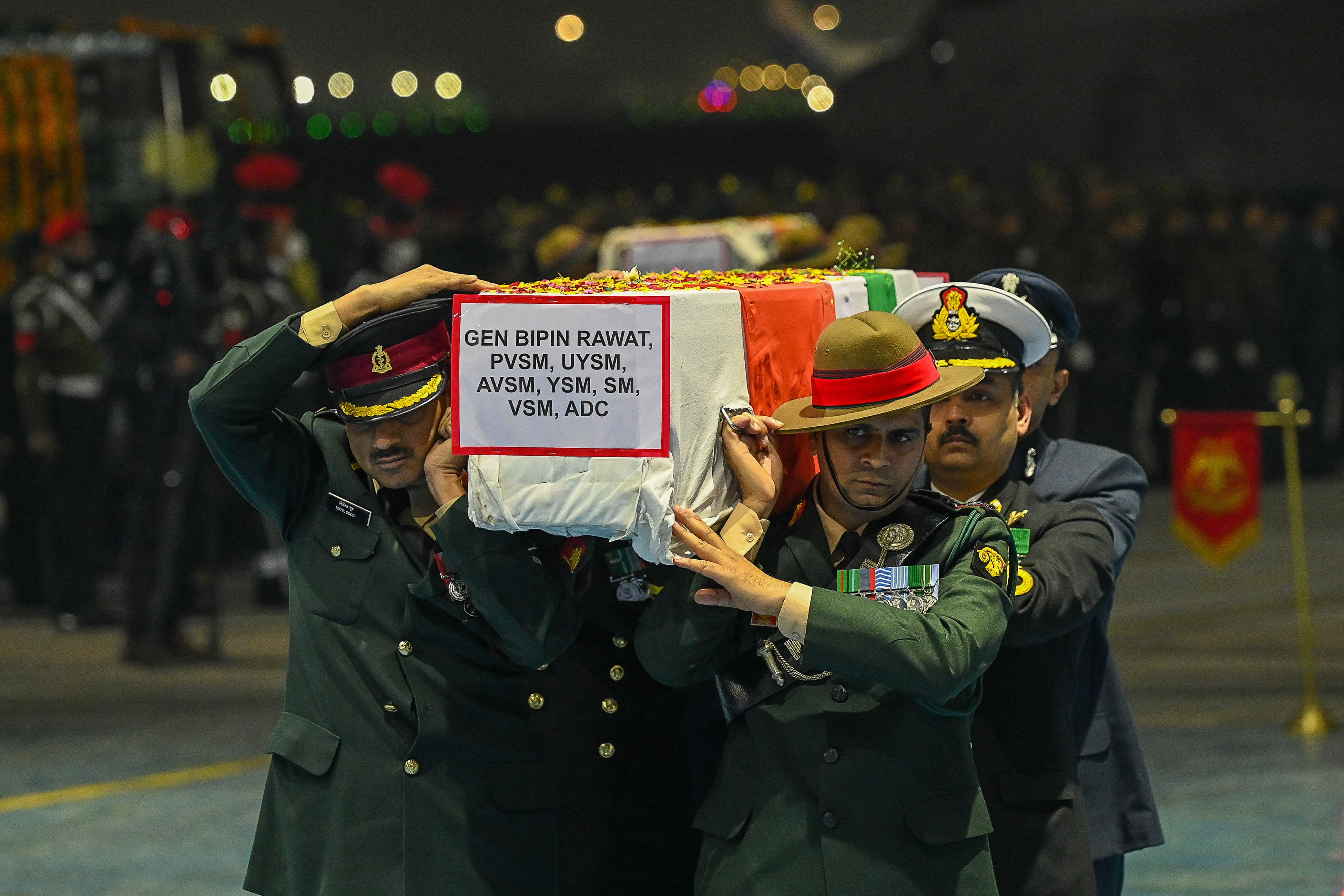 Rawat was Reforming Indian Defense
Rawat, as the first CDS of India, was responsible for reorganizing the armed forces of India, Satoru Nagao, a fellow at the Washington-based Hudson Institute, told The Epoch Times.
Traditionally there are the Army, Navy, and Air defense but when a war happens they coordinate for joint operations and need a common command.
"Thus, the U.S. set up a joint force such as the Indo-Pacific command," said Nagao. "India also started the reorganization process. This reform is very important."
He gave the example of the Balakot airstrike, during which India bombed terrorist camps 50 miles inside Pakistan.
"Such an operation demands effective coordination of politics, the three forces, and other related governmental organizations. India did this in 2019," said Nagao adding that as India's first CDS, Rawat was spearheading it and his death is a big loss for India's defense forces.
With coordination among its three armed forces and overall defense resources, Nagao said, India becomes capable of not only "defensive-defense" but "offensive-defense."
"Under the reform, India is setting up new commands such as Maritime Theater Command, Air Defense Command, (maybe Space Command) and another one or two commands against China and one or two commands against Pakistan," said Nagao.
Rawat was leading this reform and managing the direction of the army, navy, and air force.
"The army has a chief, the navy has a chief and the air force has a chief. The army has its opinion. The navy has its opinion. The air force has its opinion. Thus as Chief of Defense Staff, Gen. Rawat plan, coordinate these three," said Nagao adding that with new and latest defense technology acquisition such a coordinated effort becomes indispensable for defense and the sovereignty of a nation.
Nagao said only time will tell if it's an "accident or assassination," but it surely is a big loss for India's efforts for strengthening its defense and it is yet to be seen how the country will propel itself toward the defense reforms that it needs to position itself in the evolving global order.
"The key is enhancing coordination to make India far stronger, and if India gets offensive defense capability, it will affect the military balance between China and [the Quadrilateral Security Dialogue]. Gen. Rawat has contributed a lot in this case. That is the reason India needs a successor," he said.
If India can't swiftly find suitable successors to Rawat and his advisers, the Chinese regime will take advantage of the time to expand its influence, said Nagao.