Brandon Scott Hole, the suspect in the FedEx shooting in Indianapolis, used two rifles that he had purchased legally last year, Indianapolis Metropolitan Police Department said on April 17.
"During Thursday's incident, the suspect, Brandon Hole, was witnessed using assault rifles in the assault. ATF conducted a trace on the two weapons," police said. "IMPD learned that Brandon Hole purchased the rifles legally in July and September of 2020."
The department didn't provide further details on the types of rifles.
Hole, 19, allegedly opened fire at a FedEx facility near the Indianapolis Airport, killing eight people, police said. Authorities say Hole was a former employee at the facility and last worked at FedEx in 2020. They said they weren't aware of Hole's reason for leaving employment or whether he had ties with any other employee.
About 100 employees were at the facility when the shooting occurred, police said.
Earlier on April 17, authorities identified the victims as Matthew Alexander, 32, Samaria Blackwell, 19, Amarjeet Johal, 66, Jaswinder Kaur, 64, Jaswinder Singh, 68, Amarjit Sekhon, 48, Karli Smith, 19, and John Weisert, 74.
Hole died from a self-inflicted gunshot wound.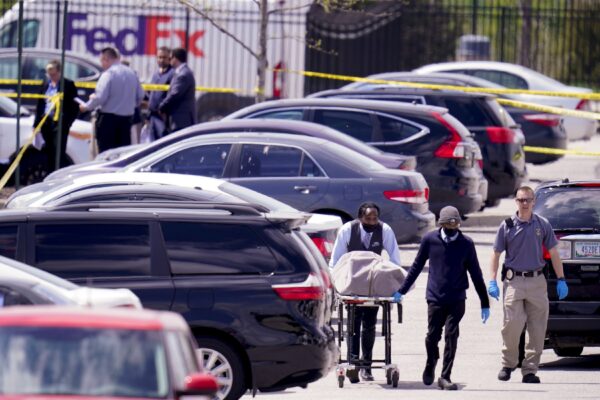 Local media reported that four members of the Sikh community were killed in the incident, prompting some voices in the community to call for the investigation into the possibility of bias as a motivator in the shooting.
The FBI revealed that Hole's mother had alerted agents in March 2020 that her son might try to commit "suicide by cop," or force police officers to shoot him. FBI Indianapolis Special Agent in Charge Paul Keenan said in a statement to media outlets that Hole was placed on immediate detention mental health temporary hold by the Indianapolis Metropolitan Police Department and a shotgun was seized at his home.
Keenan also said agents interviewed Hole in April 2020 but found no criminal violation and no evidence of racially motivated violent extremism.
Hole's family apologized for the incident in a statement on April 17. They also said they had tried to get the 19-year-old the help he needed.
"We are devastated at the loss of life caused as a result of Brandon's actions; through the love of his family, we tried to get him the help he needed," the statement obtained by the Indianapolis Star reads. "Our sincerest and most heartfelt apologies go out to the victims of this senseless tragedy. We are so sorry for the pain and hurt being felt by their families and the entire Indianapolis community."