Police in Indiana said they have solved a 47-year-old cold murder case involving the slaying of a 19-year-old woman.
Terre Haute Police Chief Shawn Keen said in a news release cited by NBC that Pamela Milam's likely killer was Jeffrey Lynn Hand.
Milam's body was found on Sept. 16, 1972, in the trunk of her car, Fox News reported. Detectives determined she had been raped and strangled.
Using Hand's DNA and a sample collected at the crime scene, investigators were able to match the two with a 99.9 percent probability, Keen said in the release.
Hand was killed in a shootout in 1978, NBC reported, when a deputy saw him trying to kidnap a woman and intervened.
"At least we now know who he is and he won't hurt anyone else again," Milam's sister Charlene Stanford said, according to Fox.

Keen began working the cold case in 2008 but it was only last year that a break came after he submitted a data profile to a public genetic genealogy database.
Assisted by a genealogist from Parabon NanoLabs, a company that does genetic profiling for ancestry databases and also works with law enforcement, Keen eventually made a positive identification of the suspect.
"It's been a long 46 years, 7 months, and 20 days," Sanford told Monday's news conference, according to NBC. "Many of us, as we got older, thought we would die before we ever learned who killed our sister."
The company has helped police departments across the country close over 30 cold rape and murder cases, according to Fox.
"This type of genetic genealogy can help with other cases," Keen said, according to Fox.
Crime in the United States
Violent crime in the United States has fallen sharply over the past 25 years, according to both the FBI's Uniform Crime Reports (UCR) and the Bureau of Justice Statistics (BJS) National Crime Victimization Survey (NCVS).
The rate of violent crimes fell by 49 percent between 1993 and 2017, according to the FBI's UCR, which only reflects crimes reported to the police.
The violent crime rate dropped by 74 percent between 1993 and 2017, according to BJS's CVS, which takes into account both crimes that have been reported to the police and those that have not.
"From 1993 to 2017, the rate of violent victimization declined 74 percent, from 79.8 to 20.6 victimizations per 1,000 persons age 12 or older," the U.S. Department of Justice stated (pdf).
Both studies are based on data up to and including 2017, the most recent year for which complete figures are available.
The FBI recently released preliminary data for 2018. According to the Preliminary Semiannual Uniform Crime Report, from January to June 2018, violent crime rates in the United States dropped by 4.3 percent compared to the same six-month period in 2017.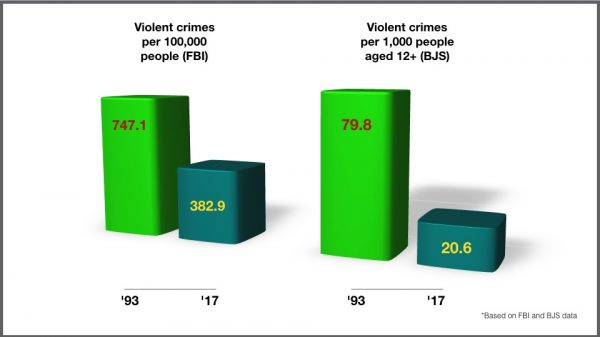 While the overall rate of violent crime has seen a steady downward drop since its peak in the 1990s, there have been several upticks that bucked the trend.
Between 2014 and 2016, the murder rate increased by more than 20 percent, to 5.4 per 100,000 residents, from 4.4, according to an analysis of FBI data. The last two-year period that the rate soared so quickly was between 1966 and 1968.
Property Crime
The property crime rate fell by 50 percent between 1993 and 2017, according to the FBI, and by 69 percent according to BJS.
According to the FBI's preliminary figures for the first half of 2018, property crime rates in the United States dropped by 7.2 percent compared to the same six-month period in 2017.
As with violent crime, the FBI survey only takes into account crime reported to the police, while the BJS figures include reported and nonreported crime.
Public Perception About Crime
Despite falling long-term trends in both violent crime and property crime, opinion surveys repeatedly show Americans believe that crime is up.
The vast majority of Gallup polls taken since 1993 show (pdf) that over 60 percent of Americans believe there is more crime in the United States on a national scale compared to the previous year.
Pew Research surveys show similar findings. A survey in late 2016 revealed that 57 percent of registered voters said crime in the nation as a whole increased since 2008, despite both FBI and BJS data showing double-digit drops in violent and property crimes.
Perceptions differed on a national versus local level.
Surveys of perceptions of crime levels on a local scale showed that fewer than 50 percent of respondents in every single Gallup survey (pdf) done since 1996 believed that crime in their area had risen compared to the previous year.