An Indiana man has been indicted on multiple charges, including attempted murder of two police officers, stemming from separate riots in Portland last year in which he is accused of throwing Molotov cocktails at law enforcement.
Malik Muhammed, 24, was arrested in Indianapolis on Friday on multiple warrants, according to the Multnomah County District Attorney's Office.
Muhammed will be extradited to Oregon, where he will face multiple felonies as part of a 28-count indictment, which includes charges of riot, unlawful manufacture of a destructive device, and attempted murder in the first degree.
Prosecutors said the charges stem from four separate incidents in the fall of 2020 in Portland, where Muhammed allegedly traveled "for the specific purpose of engaging in multiple criminal acts."
In the first incident, on Sept. 5, Muhammed "engaged in tumultuous and violent conduct near the Portland Police Bureau's East Precinct that resulted in a grave risk of causing public alarm," prosecutors said.
Later, on Sept. 21, Muhammed is accused of throwing a burning object—described as a large yellow bottle similar to a beer growler—toward a police vehicle occupied by a Portland Police Bureau sergeant during a demonstration near the Penumbra Kelly Building.
"The bottle had a burnt rag stuffed in the mouth of it and contained a large amount of liquid," prosecutors said, noting that, while the device did not explode, investigators tested the liquid inside and found it to be flammable.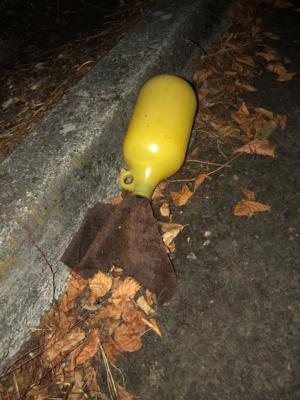 A third incident, which took place on Sept. 23, involved a similar burning object that prosecutors said Muhammed threw at a group of police officers outside the Multnomah County Justice Center. This time, the device exploded and a large fireball reached one officer, whose lower leg briefly caught fire.

The fourth incident, on Oct. 11, involves allegations that Muhammed used a metal baton to smash out the windows of the Oregon Historical Society, Portland State University, Sprint T-Mobile, Bank of America, and Ben Bridge Jewelers. Police searched Muhammed and found a loaded magazine that fitted a 9 mm pistol recovered in the vicinity.
The Portland Police Bureau said Muhammed is responsible for tens of thousands of dollars in damage to properties in downtown Portland.
"I am grateful to the investigators who spent many hours over the last few months following up these violent attacks against police officers and the community," Portland Police Bureau Chief Chuck Lovell said in a statement. "I am also grateful to the brave officers who put themselves in harm's way serving this community. More investigations are underway. Anyone who thinks they can get away with trying to murder police officers and destroy this city should think again."
Muhammed has been booked into the Marion County, Indiana jail, where he awaits extradition to Oregon, prosecutors said.
Portland has seen regular demonstrations since the police-custody death of George Floyd. Last summer, protests and riots took place in Portland for more than 100 straight days.
While many of the demonstrations took the form of peaceful marches and rallies around the city, some became violent, with police declaring 27 riots in the space of four months.
Shootings and murders significantly increased in Portland, starting in May 2020, and have plagued the city ever since.
Murders spiked 255 percent while shootings rose 173 percent in the months following the unrest in May, according to Portland police data analyzed by the Maryland Public Policy Institute.
Sean Kennedy, a visiting fellow at the institute, told The Epoch Times that he sees a clear link between the spike in violence and the demoralization, disempowerment, and defunding of police following Floyd's death.
"When the police stand down, criminals step up is the simplest way to put it," Kennedy said.
Zachary Stieber contributed to this report.