LEH—Maan is a beautiful village on India's border with China in Ladakh, on the banks of the iconic Pangong Tso lake.
Far away from crowds, markets, and the urban clutter, Maan, home to 28 households, offers some of the most picturesque homestay facilities to Indian tourists for the four months that the region remains open. Meanwhile, its residents struggle with the day-to-day necessities of life.
"In our village, we have a water problem, electric power problem, and … we don't get internet connectivity at all. Due to COVID, all schools are closed. To work online, we need internet, but we have no connectivity," said Dorjee Dadul, a resident of Maan and grandfather to four young children.
Lying on the border, these villages are strategically important, and the Indian government should extend telecom connectivity in the region under its defense budget, said Kunchok Stanzin, counselor of Chushul, a wider constituency that covers 12 villages on the border, including Maan.
"The government should give special attention to the border areas," he said.
When The Epoch Times drove from the tourist camp base in Lukung, where the Pangong Tso starts in India, to Maan village a few miles away on June 22, the route went on a high cliff road under construction in many places, running parallel to the lake on one side, with high, snow-covered peaks on the other.
"The road construction has muddied the freshwater streams, and the water is no longer drinkable. The road construction has also broken the water pipes that supplied water to the Maan village," Stanzin said.
There are five community water points for the households in Maan village that are currently running dry, he said.
The Pangong Tso is an 83.5-mile-long brackish water lake, more than half of which lies in China. Some of its avenues are militarized, and it was in the news last year due to heavy military build-up on both sides. Maan village is located on one side of the lake, and an Indian army base is located on the other bank.
On the way back from Maan to Lukung, there were tourist camps—some were open, some were closed, and some were in ruins. The camps are an extra source of livelihood for the locals, who for centuries have survived on growing barley, mustard, and vegetables and rearing sheep, goats, and yaks.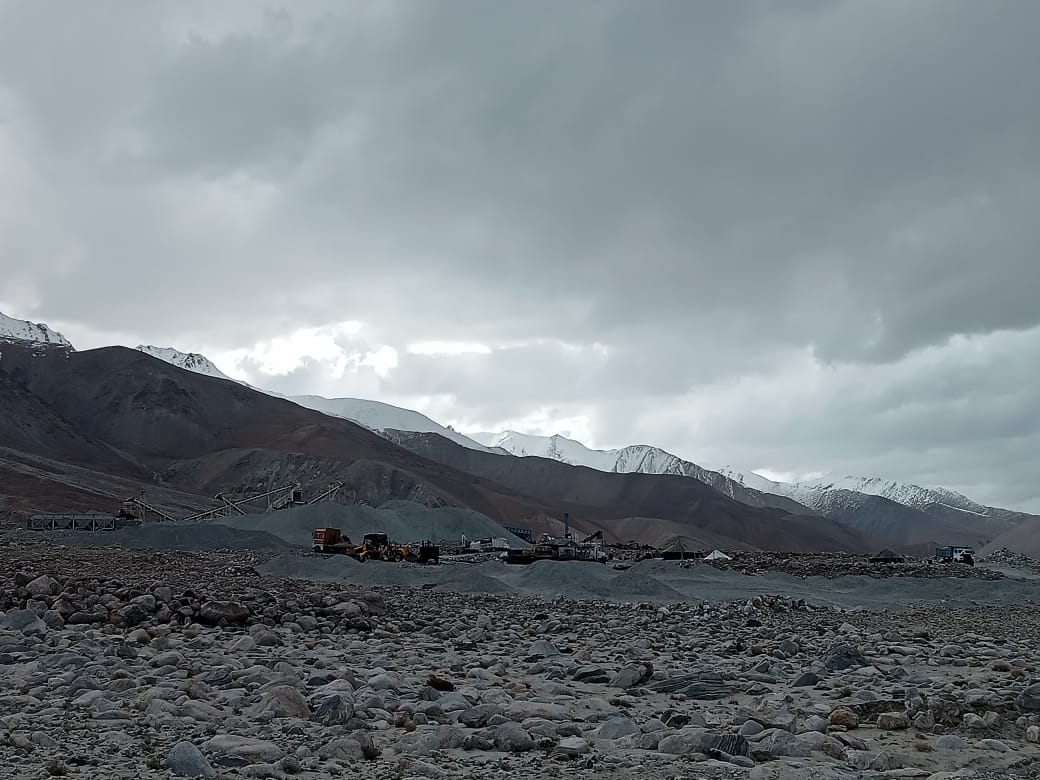 Land for the tourist camps was sanctioned to the 110 households of the Maan Pangong-B Panchayat (village council) by the Ladakh Autonomous Hill Development Council, an elected council that decentralizes the planning process with the involvement of grassroots communities in Ladakh. The council also provided initial investment for setting up the campgrounds.
On June 22, the restaurants serving tourists at Lukung had notices posted, saying: "We don't have Wifi. Talk to each other. Pretend it's 1995." The tourist bases also don't have electricity, and hot water is a luxury. Most camps provide diesel-generator power for three hours at night—although if a generator breaks down, repairing it isn't easy, as markets and mechanics are far away.
"Pangong Tso became a popular tourist spot after the Bollywood film '3 Idiots' [was shot on its banks]. Before that, only 10 to 12 vehicles used to come here every day," said Tsering Tundup, deputy leader of the village council of Maan Pangong-B, which also administers the villages of Urgu, Phobrang, and Lukung.
Tundup, 36, runs a tourist camp and restaurant in Lukung. He told The Epoch Times that the main problems in the region are "communication and electric power."
"We don't have that much of a water problem [in Phobrang]. Villagers drink water from the brooks and streams that run through our village. [Electricity] and communication are the main problems," he said.
When The Epoch Times drove through Tundup's residential village, Phobrang, a girl could be seen fetching water from a snow-fed brook that was directed into a small drain that crisscrossed through the courtyards of the small stone homes, while a young child bicycled on a tar road that meandered through the homes.
"All these roads constructed here—we're very happy about it," Tundup said. "When we were small children, the only means of transport from Leh to Pangong Tso was horses. At least we have vehicles coming here now."
Stanzin said the main issues of the region continue to be telecom connectivity, infrastructure development, access to education facilities, health care, and sports.
"When someone falls critically ill, we have to carry that person to Leh," he said, adding that recently a critical COVID-19 case was airlifted with the help of the Indian air force, since it takes about six hours to travel on the high altitude road that passes through the world's second-highest motor road pass, Chang La, at over 16,800 feet above sea level.
Stanzin said that the administration of Ladakh union territory recently assured him that under India's Jal Jeevan Mission, a flagship program of the Indian government to provide a tapwater connection to every household, every remote border village in Ladakh would be covered by 2024.
Tundup said the batteries of the solar lights provided to Phobrang village are more than 8 years old and need to be replaced. "For two to three months, the batteries haven't been working. We've been using smaller emergency lights. We've informed the authorities," he said.
Stanzin said the solar batteries of Lukung and Spangmik villages were replaced on June 3o, and the authorities recently also installed a 10-kilowatt-hour solar power plant for a residential school in Satoo village on July 5.

Walking Long Distances for Internet
Tampa Tashi, 13, grazes his family's pashmina goats in the trans-Himalayan valleys of Changthang in Ladakh while the schools remain closed due to the pandemic. Tashi also regularly walks several miles from his village, Muglip, to another village, Tangtse, to be able to access the internet for his online classes.
Mobile connectivity infrastructure started being set up last year for the rural regions of Ladakh under the Universal Service Obligation Fund, with Indian telecom giant Jio contracted to provide the services. Under this contract, Jio has set up 54 towers around Ladakh.
While the capital town of Leh and adjoining areas and other nodal towns get 4G coverage and high-speed internet through several telecom service providers, larger tracts of the region, including the remote border areas, remain unconnected.
Stanzin said there's a need to set up 50 more towers around the rural regions to provide internet access to everyone.
For Tashi, walking long distances to graze his family's expensive goats comes as a natural way of life, so walking to another village for online school lessons may not be seen as too difficult, but for younger children and those in very remote regions, it has changed the way families live.
Dadul laments the difficulties his family has to endure to ferry his two school-age grandchildren to a panchayat office regularly to access the internet and attend online classes.
Tsundup, with daughters in 8th and 10th grades, said: "Most of the children here are school-age. For 1 1/2 years, we are under lockdown. If a child can't reach the internet, the child can't get an education. We have Wifi running in a panchayat house. Even there sometimes the Wifi doesn't work, and then we have to take our children to Leh."
All those in higher grades from the border villages have to migrate to Leh to study, he said.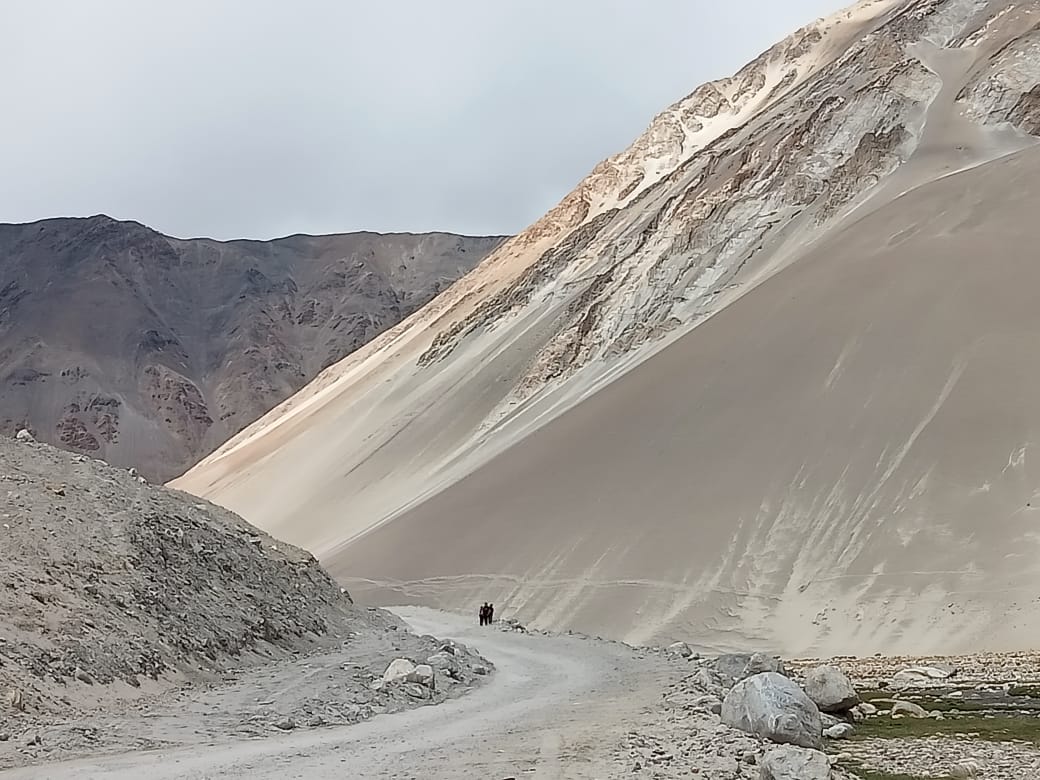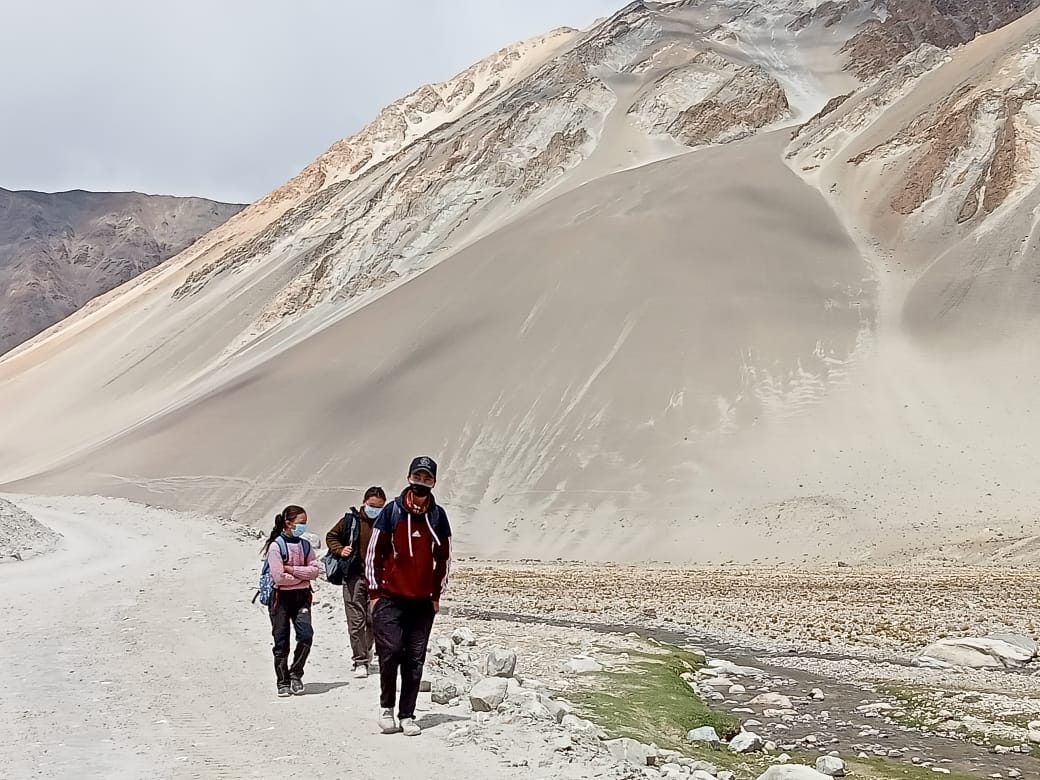 While driving from Urgu to Lukung, The Epoch Times spotted three children walking along the road to reach the Pangong-B Panchayat office to use the internet, about eight miles away.
Tundup said it's hard for the children because they have to carry their water, food, and books and walk miles in high-altitude terrain to attend the online classes.
"During the India–China conflict in 2020, we worked for four to six months giving our horses and labor to the Indian army. Now the administration should listen to our issues," he said.