Indian Students Choosing an Ancient Performance Tradition
March 22, 2013 12:50 am Last Updated: April 3, 2013 7:58 am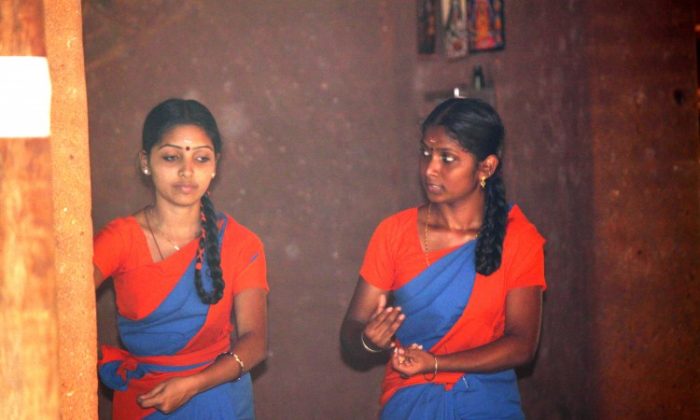 CHERUTHURUTHY, India—It's end of the annual academic session in India, and all students are busy preparing for exams. Twenty-year-old Keerti, however, sits relaxed in a traditional music class in Kalamandalam Deemed University of Arts and Culture in Cheruthuruthy, Kerala. She has chosen a classical form of Indian dance—Mohiniattam—over many other career options.
Mohiniattam is a feminine classical dance form of Kerala in India. The dance follows a music style called Sopana, which in its lyricism is evocative of the spiritual element. Keerti is attending that class.
"I'm interested in it because it's our traditional art form. Traditional art forms are blessed by God," said Keerti, while her classmates dressed in orange and blue sarees look on. The girls are seated on the floor, on bamboo mats while the teacher is seated on a chair.
In India, teacher-student relations are considered very sacred in all classical learning traditions, and discipline and imparting good values are an irreplaceable aspect of the learning.
No doubt it doesn't come easy. "We start our class at 4:30 a.m. and it goes on till 5 p.m.," Keerti said. Most of the students live in a hostel on the university campus.
The students are enrolled in the dance courses at 12 or 13 years of age, and it takes 10 years to attain graduation. "I joined when I was 13 years of age, and I'm here for the past 7 years," Keerti said.
Keerti believes that Mohiniattam is a good career option as she can work as a teacher in the same university and also open her own school of classical dance. "I can also work in another university."
Kalamandalam Deemed University of Art and Culture, is a major center for learning Indian classical performing arts, especially those arts that developed in the southern states of India, with the special emphasis on Kerala.
Getting a job is obviously what every artist in Kalamandalam needs but it becomes a boon when the artist finds a job that also embraces the traditions and culture he or she learned from the institution.
N. Mukundan, a teacher of Kathakali traditional art form in Kalamandalam was influenced in childhood by traditional art performers in his village. Supported by his parents, he studied at the university and later started teaching there.
"In my village called Vakyom, in Kottayam district of Kerala, traditional classical dancers used to perform often, and I was always in awe of them," Mukundan said.
While Mukundan sits on a chair and his students perform to the constant beating of traditional Indian drums, the intricate language of his hands and eyes keep guiding his students. Not a single word is uttered to instruct.
"Kathakali uses 24 mudras or intricate gesture language. These mudras are mentioned in an ancient text 'Hastha Lakshina Deepka,'" Mukundan said.
The mudras form a complete vocabulary of more than 500 words that most commonly occur in a story. After around two hours of nonstop practice, which mostly involved mudras and eye expressions, the students take a break.
Mukundan's most senior student, P. Sibichakravarithy, was surprised when asked why he had taken up Kathakali as a career. "I've been studying here for the past 8 years, since I was 12. It's a deemed university and possibilities of getting a job are better," said Sibichakravarithy, while wiping sweat from his face. A deemed university is an educational institution established or incorporated by or under Indian laws.
The inception of Kalamandalam Deemed University of Art and Culture gave a second life to three major classical performing arts of Kerala. Kathakali, Kudiyattam and Mohiniattam were, by the turn of 20th century, facing the threat of extinction under various regulations of the colonial authorities.