Indian Mother Becomes the First Woman Porter
March 18, 2013 1:17 pm Last Updated: October 1, 2015 10:48 am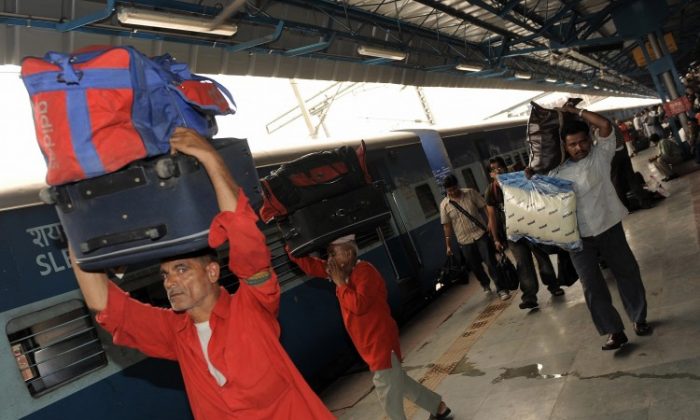 A young widow chose a humble, male-dominated profession of a railway porter, becoming the first woman porter in Rajasthan, the largest state of India.
Manju Devi, a 33-year-old-widow, like all other women in Rajasthan, was a homemaker merely a few months ago, her life revolved around her children and household chores. However, after the death of her husband, Mahadev, she faced challenges to look after her children and decided to take up his laborious job at Jaipur city's railway station.
"I lost my husband due to a prolonged illness a few months ago. After his demise, I faced a hard time in fulfilling our requirements. I am illiterate but I can work as a porter," Devi told the Press Trust of India (PTI).
On Friday last week, the authorities of the Jaipur railway station, formally handed over the work license to her—the transferred license of her deceased husband.
"I have no land, no money, and I understand that I have to struggle to educate my two daughters and son. I have to stand alone, so I took the hard decision and I am satisfied with this," she said to PTI.
Devi now lives in a rented accommodation near the railway station while her children live with her brother in a village.
"When I am settled here, I will bring them to Jaipur and make arrangement for their education," she told PTI.
Rajasthan's first woman porter works for almost 10–12 hours and manages to earn Rs.100 to Rs.150 ($2 to $3) in a day.
Media reports quote her praising the male porters on the railway station, "It is a male-dominated job but they support me."
Manju is slowly getting used to her job with constant help and support from male porters, who are proud to welcome a woman in their profession.
However Manju has another wish. "I hope another woman joins as a porter, so I have someone to talk to here," she said in another interview with Hindustan Times.
Recently there are lots of reports of women crossing over the age-old gender divide and venturing into male dominated professions in India. Women cabbies taking the wheel in the country's capital are among a few courageous women, like Manju, who are finding their way ahead, doing what earlier generation of women would have never thought of doing.
The Epoch Times publishes in 35 countries and in 21 languages. Subscribe to our e-newsletter.