Indian Life Lends Colors to Its Fashion
September 15, 2013 10:49 am Last Updated: September 16, 2013 3:58 pm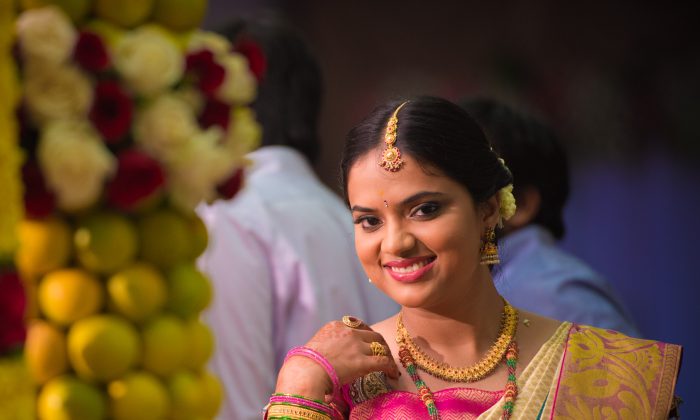 Indian women love colors and don't shy away from being brightly attired. While fashion is turning more contemporary by the day, the penchant for colors hasn't changed.
In India, bright colors traditionally denote auspiciousness. Colors are something people relate to nationwide, in spite of diversity of religion, culture, and economic status.
"Colors are related with being cheerful and happy; it's related with festivity in life. It's difficult to think of happiness or festivity in India without colors. It brings harmony for us," said Lakshmi Keerti, 41, a fashion designer who owns a wedding lounge in Bangalore.
"It's basically the way we are brought up—we have been always brought with colors like Sindur and Haldi," said Keerti.
Sindur is a red-colored powder that married women use to adorn the parting of their hair and is traditionally used to draw a dot on the forehead. Haldi is turmeric and is used in many auspicious rituals of life like marriage, birth, and worship.
The fashion sense of Indian women is also governed by other factors, Keerti said.
"Most of my clients make their choices considering two factors—they don't want to look dark and they don't want to look fat. I, however, try to tell them that it's rather about how they carry themselves in a particular attire," Keerti said.
Wedding Attire
Indians generally associate different hues with different aspects and emotions of life. Red and similar shades are usually used to make bridal garments.
Preparations for wedding dresses and jewelry start months ahead of the big day—a wedding gives the ultimate opportunity to indulge in fashion.
Aishwarya Ramanujam, 26, from Chennai is getting married in November and has already selected her wedding dress. "I wanted a red saree for the wedding and I have bought it."
Ramanujam generally prefers to wear anything that suits her taste and mood. "Otherwise I'm buying whatever I like. I always wanted a red saree [for my wedding]. I love red," she said.
Changing Culture
However, with the greater purchasing power and changing culture, the fashion sense of Indian women have also changed, though the penchant for colors has to an extent become more flamboyant. "Traditionally people liked red, pink, and organic blue for their weddings, but now they ask for neon green, hot pink, neon pink, and more such flamboyant and flashy colors," said Keerti.
According to Keerti, in the old days, mothers and elderly women shied away from wearing colors as bright as younger women. "Now there are no color bars and women are trying out more," she said.
Women in general have become more experimental with their looks and are not just choosing fashion to look good.
Sense of Identity
Saima Majid, 30, a young mother from New Delhi said, "I think nowadays we have much choices that can serve our purpose and are comfortable. Before generation women were homemakers and they were constrained to typical type of dresses and our generation is more outgoing."
Majid said colors make her feel fresh and happy. "I try to match mine and my baby's clothes."
According to Majid it's more of a psychological thing than cultural. "Because everyone wants to show the other person how happy and content they are with their lives [which they are not]."
However more and more young and working women in the country are looking to a wardrobe beyond weddings, festivals, and flashy-wear. "For me as a mother of two, it completely means comfort," she said.
More and more Indian women like Majid are choosing colors according to their sense of identity.
"Fashion for me is never to stand out in a gathering … to grab everybody's attention … it's the color to suit the occasion and something I'm comfortable and confident [in]."