NEW DELHI—The Indian government banned 43 more Chinese apps on Nov. 24 saying they are "prejudicial" to India's sovereignty and integrity.
"This action was taken based on the inputs regarding these apps for engaging in activities that are prejudicial to the sovereignty and integrity of India, defense of India, the security of the state, and public order," the Indian Ministry of Electronics and Information Technology said in a release on Tuesday.
The Ministry said the decision was taken based on comprehensive reports from the Indian Cyber Crime Coordination Center of the Ministry of Home Affairs.
"Government is committed to protecting the interests of citizens and the sovereignty and integrity of India on all fronts and it shall take all possible steps to ensure that," said the Indian administration.
The country has so far banned 267 Chinese apps, with 59 banned in June after the bloody conflict with China in Galwan, 47 in late July, and another 118 in September during heightened border tensions.
The Chinese apps banned on Tuesday from immediate access include: AliSuppliers Mobile App, Alibaba Workbench, AliExpress-Smarter Shopping, Better Living, Alipay Cashier, CamCard, and many dating apps like Soul-Follow the soul to find you, Chinese Social-Free Online Dating Video App & Chat, Date in Asia-Dating & Chat For Asian Singles, WeDate-Dating App, Free dating app-Singol, start your date!, Adore App, TrulyChinese-Chinese Dating App, TrulyAsian-Asian Dating App, and other media apps.
The popular apps banned earlier include Tiktok, UC Browser, Baidu, PUBG Mobile Nordic Map, and WeChat Work.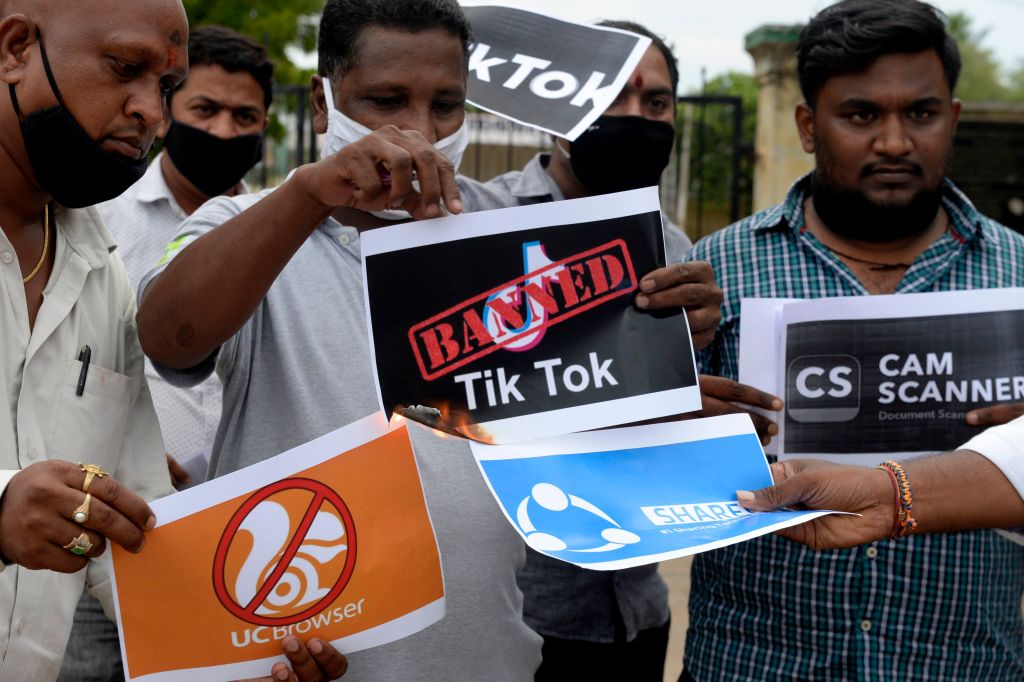 "Cynics may argue that banning digital apps does nothing to real intrusions by the People's Liberation Army (PLA) of the Chinese Communist Party (CCP)," said Gautam Chikermane, the Vice President of Observer's Research Foundation, an Indian think tank in an analysis published on Wednesday.
"They ignore the fact that tech intrusions by Xi Jinping's ambitions are as dangerous to the privacy and data security of citizens as hostile attempts at the border. If anything, it is a digital copy-paste of Beijing's territorial aggression and intent," said Chikermane adding that while India and the United States have started dealing with Chinese digital intrusion, the rest of the world must follow suit.
He said those who are unconvinced of the CCP's ploy to convert "every entity, from companies to citizens to apps into spies" should go through the Articles 7, 9, 12, and 14 of China's National Intelligence Law (2017).
China's National Intelligence Law calls for "unified leadership for national intelligence efforts" and says that all citizens and organizations should "support and assist" its efforts. It provides for "commendations and awards" to those who contribute to the intelligence efforts.
"It's not just India, CCP's aggression is being rejected with bans across the world—13 countries in the EU and Europe, from the UK and Italy to Sweden and Czech Republic—are rejecting Beijing's other tool of tech intrusion: Huawei and ZTE in their 5G rollouts. These bans, on Chinese apps as well as Chinese equipment across the world, will continue," said Chikermane.