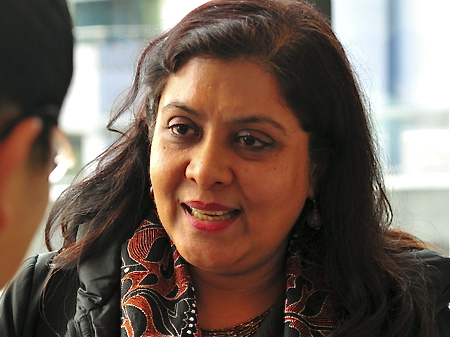 NAGOYA, Japan—Shen Yun Performing Arts New York Company once again touched people's hearts in Nagoya with its performance of classical Chinese dance and music, displaying great compassion, beauty and a strong energy field.
After seeing Shen Yun in Tokyo two years ago, Indian dance instructor, Ms. Ishii Sukoushna, especially took her daughter, who is majoring in fine arts, to watch Shen Yun perform at the Nagoya Congress Center on Friday afternoon, Feb. 17.
Having lived in Tokyo for 25 years, Ms. Ishii Sukoushna said that when seeing Shen Yun, she could feel a very strong energy field, and she enjoyed watching the performers' exquisite body movements and postures. She said: "The energy field is very strong. It is really remarkable. Though I have never been to China, I've seen [traditional Chinese culture] here. It has made a significant impression on me. They are whole-heartedly promoting their own culture. They are really wonderful."
She expressed that as such a spectacular show cannot be performed in mainland China, there must be a lot of problems with the Chinese regime. She added: "I don't quite understand the current situation in China, but I feel that there must be something sinister in disguise. On the surface, China makes people feel it is great, but in fact, there are many problems in it. Only without those problems can such a big country with such an abundance of cultures be really great. I sincerely hope that those problems can be solved soon."
The daughter of Ishii and her Japanese husband, Ms. Ishii Tomo, is a junior of the fine arts department at a Japanese university. Seeing Shen Yun for the first time, she said she enjoyed watching the performing arts on stage, the music and the backdrops. She said: "I feel the colors are very beautiful, which are seemingly something that cannot be seen in Japan; the music performed by the live orchestra sounds great. I like the dance Sleeves of Silk so much, as the fluttering long sleeves are indeed very beautiful."
According to the program, classical Chinese dance uses what are known as "water sleeves" for some of its loveliest expressions. Acting as extensions of a dancer's arms, these sleeves linger in the air long after a movement is finished.
"The dynamic backdrops are very interesting too. It can help the audience comprehend the meaning behind the stories," she added.
She explained that she wanted to engage in the performing arts in the future, and seeing Shen Yun has inspired her. She also wished to see Shen Yun again.
Reporting by Lili Wu and Billy Shyu.
Shen Yun Performing Arts, based in New York, tours the world on a mission to revive traditional Chinese culture. After its performances in Japan, Shen Yun Performing Arts New York Company will continue to top venues in Korea and Taiwan, followed by Australia and New Zealand.
For more information visit ShenYunPerformingArts.org