India Raises Soldiers to Counter China's Military Might
July 18, 2013 9:44 pm Last Updated: July 18, 2013 9:45 pm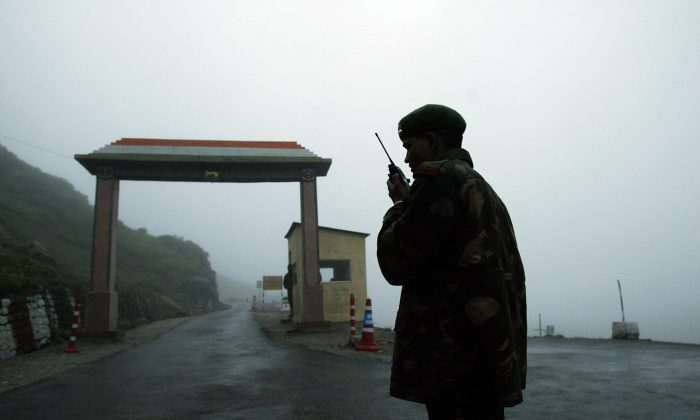 India's Cabinet Committee on Security has approved the army's proposal to raise a 45,000 strong Mountain Strike Corps to counter China's military might.
India shares a more than 3000 kilometer-long (1,864 mile) border with China, almost all of it along the Himalayas.
According to a report by the Indian daily The Hindu, the proposal was approved at a Committee's meeting in New Delhi on Wednesday, presided over by the Indian Prime Minister Manmohan Singh.
The proposal was pending with the committee for the past many years and was approved two weeks after Indian Defense Minister A.K. Antony returned from his maiden visit to Beijing.
Expected to cost Rs 62,000 crore (US$11.5 billion), the strike corps will be built up during India
S 12th Five-Year Plan (2012-17). With about 45,000 soldiers and headquartered at Panagarh in West Bengal in east India, it will provide India the capability to launch offensive action in the Tibet Autonomous Region (TAR) in the event of a Chinese offensive.
The country had earlier raised two infantry divisions at Lekhapani and Missamari in Assam state in 2009-10 to take care of operational needs in Arunachal Pradesh. China doesn't recognize Arunachal Pradesh state as a part of India.
According to the Hindu report, China has about five fully-operational airbases, a well laid down rail network and over 58,000- km of roads along the Indian border, which enable it to move over 30 divisions (each with over 15,000 soldiers) to the LAC, outnumbering the Indian forces.
The report mentions that the Indian Army has been evaluating the People's Liberation Army (PLA) ground-air combat military drill on the Tibetan plateau that took place in March.
"The PLA has held at least 21 exercises in the Tibet region over the past one-and-a-half years. These have been designed for specific scenarios. These exercises also convey to India that they are gearing preparations in high altitude conditions. China wants to convey that it is testing and strengthening its conventional deterrents and enhancing military capability in hostile territory," Srikanth Kondapalli, chairman of Centre for East Asian Studies at Jawaharlal Nehru University, had earlier told The Hindu.