India-Pakistan Relationship Uncertain
September 4, 2014 7:47 pm Last Updated: September 4, 2014 7:48 pm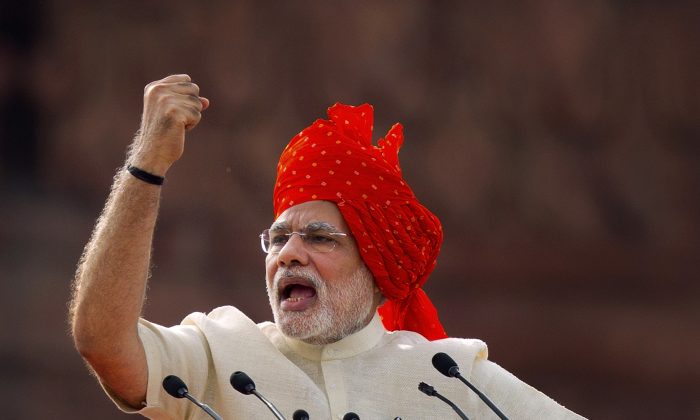 NEW DELHI, India—On Thursday, some Indian states were put on high alert after Al Qaeda commander Al Zawahari released a video announcing plans to form a militant wing in India. Until now there has been no evidence of an Al Qaeda presence in the country.
Zawahari is thought to be residing in Pakistan, as are other high-level Al Qaeda terrorists. But India's problems in Pakistan do not end with Jihad. 
The two countries' relationship has been strained recently, with the new Indian government strongly and openly accusing Pakistan of a proxy war via militant groups in its border region, which the Pakistani government denies.
Modi Foreign Policy 
Narendra Modi's government, unlike earlier Indian governments, is pursuing a more robust foreign policy. Before coming to power, Modi's Party promised in its manifesto to deal with cross border terrorism with a heavy hand and to take bold measures if necessary. 
In mid-August, the Indian government cancelled high-level talks with the Pakistani government when the latter met with Kashmiri separatists, despite India's objections. 
India has always asserted that Kashmir is its internal matter, and that Kashmiri separatists do not represent the voice of the entire state, which includes the provinces of Jammu and Ladakh. Kashmir has multiple ethnicities and religions besides the Muslim-Kashmiri majority.
"India is taking the indo-pakistani relationship to a highly uncertain phase," said Bibhu Prasad Routray, a New Delhi-based Security Analyst.
"It may not be so dangerous as people outside think, it may not get into a nuclear war kind of situation, but it's uncertain, and that uncertainty can be taken advantage by various forces, including the Pakistani military and the kind of militants who wage a war against India in Jammu and Kashmir."
Conflict
For more than a month, the two countries have been exchanging indiscriminate firing on their border, known as the Line of Control. The Kashmir region, which is claimed by both countries, has long been cause of dispute, and since the independence of both countries in 1947, also the cause of three wars.
On top of that, Pakistan is facing its own internal battles. 
Currently, the Nawaza Sharif government is facing mass protests and public demands for it to step down. So far, Sharif has refused protesters' demands.
"The crisis in Pakistan… in the coming days is going to complicate [things] further," Routray predicted.
According to Routray, the Indian government fears that with NATO forces moving out of Afghanistan at the end of this year, the terrorists engaged on the Pakistan-Afghan border will be diverted to the Pakistan-India border.
Addressing some of India's armed forces on Aug. 12, Modi said India is "committed to strong armed forces with modern arms and technology," according to a translation by his press office. 
So far, however, he has not publicly laid any concrete plans to deal with the border conflict or the terrorist organizations that threaten India.