Independent Election Candidate Campaign Thwarted
September 15, 2006 12:00 am Last Updated: September 15, 2006 12:00 am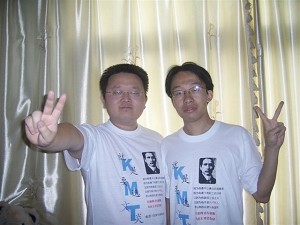 CHINA – Sun Buer, leader of the China Pan-Blue Coalition, and members Wan Li and Ni Jiangfeng have been monitored and followed by Wuhan police and community security guards as they prepare to run for the lowest level People's Congress election.
Sun Buer explained that local authorities are trying to use any means to stop 'grassroots' candidates running for office. "Election candidates have to endure a lot of pressure, both politically and financially," he said. Some voters have told journalists that the election committee is buying votes.
Sun Buer used his original name Wen Yan to run for election this time. He has been publicizing his key campaign messages and distributing T-shirts with slogans calling for equality and prosperity. The T-shirts also feature a portrait of Sun Yatsen [the first provisional president when the Republic of China was founded in 1912].
After Sun Buer declared his intention to run for office, he was pressured regularly by the election committee and police. Sun Buer said that the police originally began interfering covertly, but then started confiscating T-shirts openly.
The Chinese Communist Party called a conference and the police began going door-to-door to spread rumors that the Pan-Blue Coalition was sent from overseas. The CCP also began bribing voters—offering 50 yuan (approximately US$6.3) to everyone who votes in favor of the CCP.
"This kind of corruption in running elections is very common here," Sun Buer explained. "It is a black box operation. The CCP distributes votes to each household and tells them they will get 50 yuan when they vote. The money is distributed according to the number of people present. Some voters were even complaining that the money was less than they were offered last time."
"CCP always hands down its orders verbally so that it's hard to catch them" one voter said.
Sun Buer said that voters told him the police photographed him from their patrol cars while he was hanging up his posters. One voter said that when Sun Buer went out to canvass votes, the police followed him. They destroyed Sun Buer's election flyers and the Wuhan Municipal Government told the police to treat Sun Buer and the other members of the China Pan-Blue Coalition as criminals. The police also wanted to investigate Sun Buer's source of funding.
Local residents said that the China Pan-Blue Coalition had 6000 flyers, and the police knew the exact number. The police were confiscating the flyers as soon as they were distributed. The local authorities increased the wages for staff employed to stop the China Pan Blue Coalition running for election.
Ni Jiangfeng, the election candidate in the Qingshan area, was also monitored by the local police and followed everywhere. Ni Jiangfeng's father was summoned to the police station to be 'reformed' [a pseudonym for brainwashing or mental torture]. His father is under a lot of pressure.
Sun Buer said, "I resigned from the Communist Youth League and joined the Kuomintang spiritually [the Kuomintang is in Taiwan, so he cannot physically join] and then founded the China Pan-Blue Coalition. We really want to do something for the people. Our flyers ask voters to vote for civilian representatives instead of communist bigwigs. Because I openly and proudly list my non-CCP identity on the flyers, the CCP is very afraid because it has had a big negative impact on the CCP."
"Media reports about these incidents are still very limited. We feel isolated and our safety is certainly under threat. "
Sun Buer is calling for international attention and support, and he is determined not to give up. "Evil can never beat justice," he said. "I will keep walking this path."
China Pan Blue Coalition is an internet-based alliance established over two years ago in mainland China. Since its foundation, the coalition has promoted democracy and freedom in China, and provided a voice for minority groups. Although the Chinese government shut down the coalition's website many times, the alliance has grown bigger, and gained attention and support from people both in China and abroad.