Incumbents are expected to prevail in the Republican primary elections in South Dakota, recent polling data indicates.
And, given that the state hasn't elected a Democrat in decades, the incumbents are likely to sail to re-election in the general election in November.
"They have slapped Democrats around in just about every campaign, even running unopposed for a U.S. Senate seat in 2010 and U.S. House seat in 2020," University of South Dakota political science professor Michael Card told The Epoch Times. "South Dakota hasn't elected a Democrat for governor since 1974. It's a solidly Republican state."
Card said that the Democrats voters are split between populist liberal Republicans and GOP stalwarts.
"Even most Democrats are conservative, largely due to lives in agriculture," he said.  "Conservative populists have liked Trump and other brash politicians."
However, intraparty tiffs between moderate and conservative Republicans have dominated South Dakota headlines in the run up to the primaries.
"It's not clear what started the in-fighting," Card said. "Some of it had to do with the governor's veto about a bill to keep transgender athletes from participating in college or high school athletics."
Card explained that the initial transgender bill that was passed by the state legislature was vetoed by Gov. Kristi Noem, a Republican. She instead sent the bill back due to "language disputes."
The legislation would have prohibited male athletes from participating in female sports in South Dakota. Initially, Noem indicated via a tweet that she was "excited" to sign. However, Card said pressures mounted from business interests, the possibility of losing NCAA collegiate athletic events, and the threat of further litigation, which prompted Noem to veto the bill using a "style-and-form" veto, that kicked the legislation back to the statehouse demanding changes.
Noem was elected governor in 2018.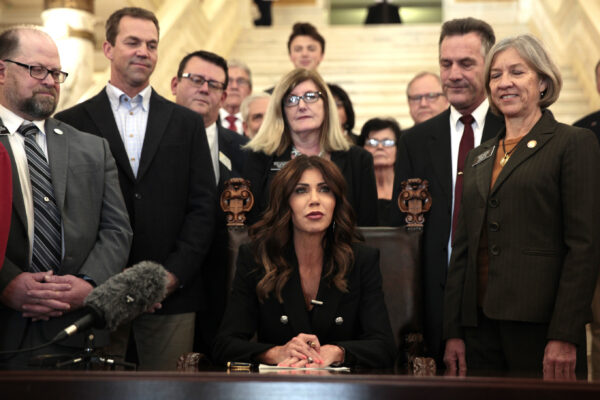 Voter registration totals in South Dakota indicate a steady decline in Democratic party registrations and an increase in no-party and Independent registrations. Just under 50 percent of the voters are registered as Republicans, according to the South Dakota Secretary of State website.
Sixty-one percent of likely voters in a recent poll byfrom South Dakota State University's School of American and Global Studies said that they would pick Noem over her Republican primary challengers. Her opponent, former state speaker of the house, Steve Haugaard received 17 percent while 22 percent said they "were not sure."
The other incumbents in the state have little to worry about, the poll's results suggest, David Wiltse a political scientist at SDSU said in an emailed statement.
"Their political style reflects that," Wiltse said in the survey. "Right now, there's this tension in the Republican Party between the more institutional types and the more populist types. At the moment, populists are edging out the more institutional types in most states."
"The governor's strong standing is largely based on her close affiliation with the former President (Trump) who remains very popular among state Republicans and her solid relationship with the GOP's new base of support," he said.
In the U.S. Senate race, Wiltse said the poll found that incumbent John Thune has solid support heading into the primary election.
John Thune is a political fixture in South Dakota where he has been in office since 1996.  For the first time, he is being challenged for the U.S. Senate seat he first won in 2004.  Standing in between him and his fourth Senate term, are Republicans Bruce Whalen and Mark Mowry.
Whalen, a member of the Oglala Sioux Tribe and a former ally of Thune, is running to the right of Thune and once said that Thune was a "porker" with taxpayer money.  However, he said he parted ways with Thune over his criticisms of President Trump. He warns of government handouts that he says, "created a culture of dependence and unemployment."
"If you want to see what failed socialism is, come to an Indian reservation," Whalen told reporters in a May 8 press conference. He continued by telling voters to heed his warnings about where the country is headed.  He said that this was his "last bid for office."
Mowry, on the other hand, was so upset with the outcome of the 2020 election that he went to Washington on Jan. 6 to protest but did not participate in the riots. Mowry touts a conservative message of pro-Second Amendment, pro-life, pro-family, and opposition to "bigger government."
In November, the winner of the GOP U.S. Senate primary will face off against Democratic candidate
Brian Bengs and Libertarian Party nominee Tamara Lesnar.  Neither candidate returned phone calls or emails by press time.