Increasing Security During China's National Congress Session
March 10, 2008 12:00 am Last Updated: March 10, 2008 12:00 am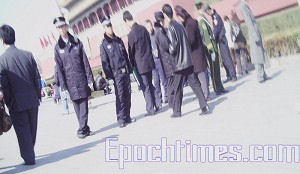 During the National Congress session, Beijing set up heavy security measures around Tiananmen. For the past several days, many appellants managed to pass the tight security checks and entered onto Tiananmen Square to express their anger in public to raise attention to their complaints.
An eye witness who wants to remain anonymous told The Epoch Times reporter that at 11 a.m. on March 7, 2008, an appellant was arrested for throwing flyers while on the Tiananmen Tower. Because there are many people visiting Tiananmen daily to appeal during the congress session, according to past experience, Tiananmen security has added more checkpoints around the area. Visitors need to go through seven checkpoints before entering into the Gate Tower, which is also a famous tourist attraction.
"Many appellants were put into the police vehicles at the second checkpoint. They quickly filled up one vehicle and there were still many waiting to be expelled. The police vehicle shuttles appellants continuously," said the witness.
Officials Take Homes and Businesses
On March 5, Huang Liuhong, the eight-month pregnant wife of a businessman from Taiwan, and three of her family members went to Tiananmen to throw fliers detailing their complaint. They were arrested along with other appellants who protested about the government's illegal demolition of their homes and private property.
Huang, a Chinese citizen, and her husband Chang Ping-Nan from Taiwan bought many shops in Liuzhou, Guangxi (a province in southern China) five years ago. The local authority invalidated their property rights certificates overnight that they had legally obtained. Having no where to turn for help, Huang's family members have gone to Beijing many times to appeal. Their efforts were in vain.
Businesses Deeded to Official's Girlfriend
She said the local government declared their properties obsolete in the newspaper overnight without notice. The properties now belong to Wang Cuiping, lover of the former Vice Chair of the Guangxi government standing committee. The current government told Huang it is impossible to get her properties that are worth millions back because of the corruption and the many high level officials involved.
"How come it's so easy to rob me but so difficult to give it back? I went to Beijing to appeal. Instead of trying to fix the problem, the government sent dozens of police to monitor my whole family around the clock. What a waste of police power and tax payers' money. The government is no different than bandits," said Huang.

Another appellant Wei Yujuan from Liuzhou was taken back to Guangxi the morning of March 7. She was guarded by over 20 police. In the afternoon, the police took her to the Liuzhou Public Security Bureau and locked her up. The local police said she went to Beijing to "disturb social order and needed to be severely punished." The police took her cell phone to prevent this reporter from interviewing her.