The federal government has updated its travel advisory for Hong Kong to warn Canadians that it may be riskier to travel to the region now that the controversial national security law imposed by Beijing has come into effect.
"National security legislation for Hong Kong came into effect on July 1, 2020. You may be at increased risk of arbitrary detention on national security grounds and possible extradition to mainland China," says a statement on Travel Canada's website.
The agency also warns Canadians to "exercise a high degree of caution" in Hong Kong, since there are "ongoing large-scale demonstrations."
"Police have often reacted more swiftly and severely to unauthorized protests. They have used tear gas, rubber bullets and live ammunition as crowd control measures," says the advisory.
The national security law went into effect at midnight on June 30 after being passed by China's rubber-stamp legislature, the National People's Congress. The law criminalizes individuals for any acts of subversion, secession, terrorism, and collusion with foreign forces, with maximum penalties of life imprisonment. Critics fear the law will be used to crack down on those critical of the Chinese Communist Party.
On July 1, as thousands marched through the streets to oppose the new law in defiance of a police ban, police fired pepper spray, tear gas, and water cannons at the protesters. The Hong Kong Police Force said it had detained 10 people—six men and four women—on suspicion of violating the new law.
In total, about 370 were arrested for a number of offences, including unlawful assembly, obstructing police, and possession of weapons, officials said.
Four Epoch Times distribution personnel were among a group of people who were cordoned by police and arrested; they were later released on bail after paying 500 HKD (about C$87.5).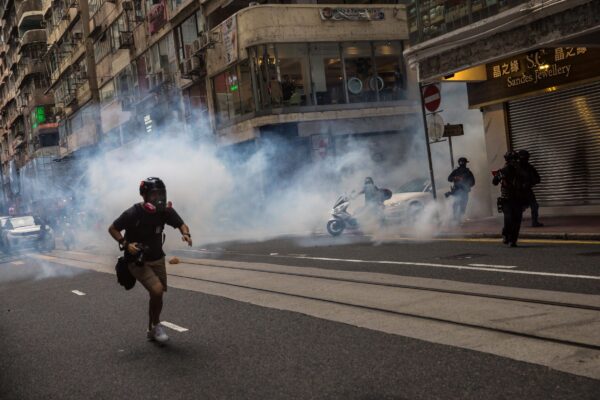 International Outcry
The move to enact the legislation has sparked an international outcry, with Canada and 26 other countries expressing their concerns in a joint statement to the United Nations Human Rights Council on June 30.
"We urge the Chinese and Hong Kong Governments to reconsider the imposition of this legislation and to engage Hong Kong's people, institutions and judiciary to prevent further erosion of the rights and freedoms that the people of Hong Kong have enjoyed for many years," the statement reads.
Ottawa, however, has not issued an official response condemning the legislation, leading Opposition Leader Andrew Scheer to urge Prime Minister Justin Trudeau on Twitter to "do the right thing and stand up for the democratic aspirations of Hong Kongers."
"Canada's Conservatives condemn Beijing's unilateral move to impose a 'security law' on Hong Kong. This directly undermines its heritage of freedom and the rule of law," Scheer tweeted.
On July 1, the U.S. House of Representatives unanimously passed a bill imposing sanctions on banks doing business with Chinese officials involved in the implementation of the national security law.
"The law is a brutal, sweeping crackdown against the people of Hong Kong, intended to destroy the freedoms they were promised," House Speaker Nancy Pelosi said at a House Foreign Affairs Committee hearing on the situation in Hong Kong.
Concerns have been raised that the legislation breaches Hong Kong's Basic Law, which guarantees that the International Covenant on Civil and Political Rights can remain in force in the territory.
The U.S. Senate last week unanimously approved a companion bill, the Hong Kong Autonomy Act, which would impose mandatory sanctions on individuals or companies that back efforts by China to restrict Hong Kong's autonomy, also including secondary sanctions on banks that do business with anyone found to be backing any crackdown on the territory's autonomy.
The United States has already taken measures to eliminate Hong Kong's special status, halt defence exports, and restrict the territory's access to high technology products in response to the new law.
According to Sky News and other British media outlets, Britain's Foreign Office chief Sir Simon McDonald summoned China's ambassador Liu Xiaoming to express its concerns over the implementation of the law.
McDonald expressed the U.K.'s "deep concern" over the move, pointing out that the law breaches the 1984 Sino-British Joint Declaration, in which the Chinese regime promised to guarantee Hong Kong a high degree of autonomy for 50 years after the territory was handed back to China in 1997.

Offering a Safe Haven to Hong Kongers
Pro-democracy groups like Hong Kong Watch, Alliance Canada Hong Kong, and Vancouver Hong Kong Political Activists are urging Canada to provide a safe haven for democracy activists and others who may wish to flee Hong Kong. 
"It's imperative that the Canadian government show leadership and so far we haven't seen a very strong response compared with the U.K. and Japan," said Jane Li, spokeswoman for Vancouver Hong Kong Political Activists.
The British government announced on July 1 that it will extend immigration rights for an estimated 3 million Hong Kong residents who hold British National (Overseas) status.
Under the proposed "bespoke immigration route," according to Foreign Secretary Dominic Raab, BNO status holders will be able to stay in the U.K. for five years with the right to work or study. After five years, they can apply for settled status, and for citizenship one year later.
The Australian government is also working on a scheme to offer similar "safe haven" arrangements for Hong Kong residents, Prime Minister Scott Morrison said on July 2.
According to the Globe and Mail, some 50 Hong Kongers who fear persecution are seeking asylum in Canada, citing police harassment and brutality. Many of them participated in last year's massive demonstrations.
With reporting by Epoch Times Hong Kong Staff.