KENOSHA, Wis.—President Donald Trump has carried Kenosha County, Wisconsin, by a margin that's 10 times larger than his narrow victory in 2016, according to unofficial election results.
Four years ago, Trump became just the second Republican presidential candidate to carry the county in nearly a century. The margin was small, only 255 votes. This year, with over 88,000 votes counted, Trump leads by almost 2,800.
Both Trump and Democratic presidential candidate Joe Biden visited Kenosha, the largest city in the county of the same name, after devastating riots in August put it in the international spotlight. Trump and Biden offered different reactions to the rioting, which was blamed on the police shooting of a local black man named Jacob Blake and resulted in more than $50 million in damage.
Trump condemned the violence, urged law and order, and expressed support for law enforcement. Biden's comments focused more heavily on what he called systemic racism.
While Trump did make gains within the city, he made greater gains in the surrounding suburbs and rural towns. Biden leads statewide by a margin of 0.62 percent. On Nov. 18, Trump's campaign filed a petition seeking a partial recount in the two most populous counties in Wisconsin, Milwaukee and Dane.
Residents of Uptown Kenosha, an area heavily damaged by the riots, spoke to The Epoch Times following the Nov. 3 election about the importance of law and order in their community. They expressed sadness about the destruction and spoke of the rebuilding that's begun.
'We Need Law and Order'
José Martínez, a longtime Uptown resident from Puerto Rico, said he thinks the rioters want to remake America into a socialist country, as happened in Venezuela.
"They want to destroy this nation and rebuild it from scratch," Martínez said, while standing in front of a commercial building on 22nd Avenue that collapsed after rioters set it on fire. "I don't believe in socialism, equality, all that stuff. I believe in you building yourself from the ground up."
He said he wanted to vote for Trump, but said people scoffed at his support for the president, so he didn't vote. Martínez acknowledged that he has some mental health issues that started when he was incarcerated as a teenager, so he easily breaks down when under stress.
He said of Trump, "He was putting people on blast and the truth is coming out."
"[There are people] more about what's happening in the mainstream media than what is really happening in our country," Martínez said. "I'm a realist. I like seeing things for what they are."
Antonio Franklin, a black resident of Uptown, said, "I do not feel like Joe Biden is for this community." He says he voted for Kayne West.
"I believe in law and order. Without law and order, you will have anarchy," Franklin said. "However, you can't obey a law that is sideways."
Black parents should teach kids how to properly deal with police officers, he said.
"When we send our kids outside and we have them deal with the law enforcement, we tell them to comply," Franklin said. "Do what officers say, make it home, and tell us your story. [If the officers act unlawfully], we'll go out and be the mouthpiece for you."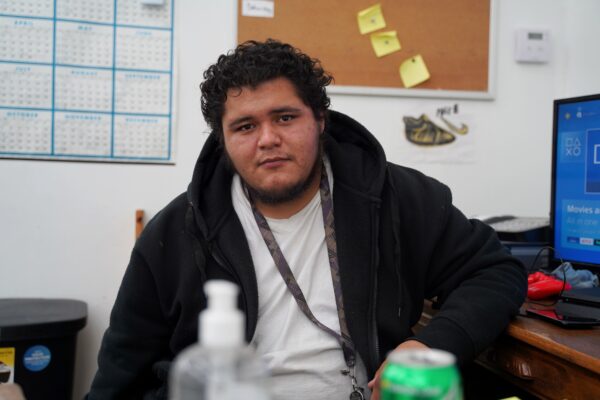 Diego Salaris, who is of Mexican descent and manages an appliance repair store in Uptown, told The Epoch Times, "We need law and order."
He thinks many criticisms of police officers are unfair.
"Cops, they're people too. Everybody wants to go home at the end of the night."
He said people should look at the broader issue of officer training instead of directing blame at individual officers.
"Sometimes, they aren't trained properly to handle situations," he said.
Salaris likes neither Biden nor Trump; he voted for Biden, however, because he dislikes Biden less. He disagrees with Trump's stance on immigration.
From Laughter of Children to 'Laughter of Hobos'
Salaris's store is part of a commercial strip on 22nd Avenue in the heart of Uptown. Many businesses on that strip were looted and burned, including a beauty store, a furniture store, an ice cream shop, and the Uptown Restaurant, which was considered a neighborhood fixture.
Salaris's store wasn't looted, but when the commercial building across the street collapsed after being set on fire, the force blew out his store windows. He just finished repairs in early November.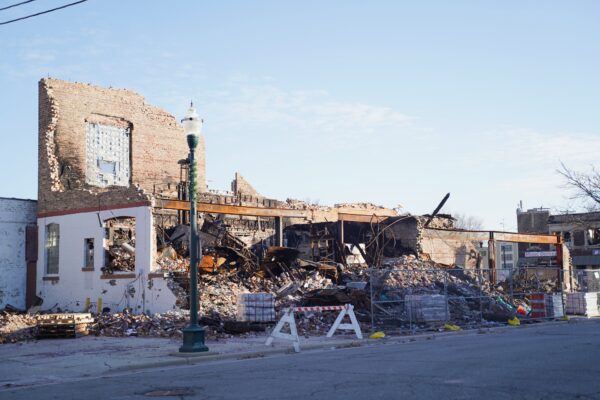 "There used to be a lot of people outside all the time," Salaris said of the commercial strip. Now, instead of shoppers, people who are drunk or on drugs fill the street, he said.
"Who would want to be around stuff like that? … Everything is pretty much gone now. … It's going to be a while before they build it back up."
Franklin, who was born and raised in Uptown, remembers 22nd Avenue as a place full of life and the laughter of children.
"You hear the laughter of hobos now, drunken men that come and sit out, vagrants, [who think,] 'There's nothing here, we might as well just hang out,'" he said.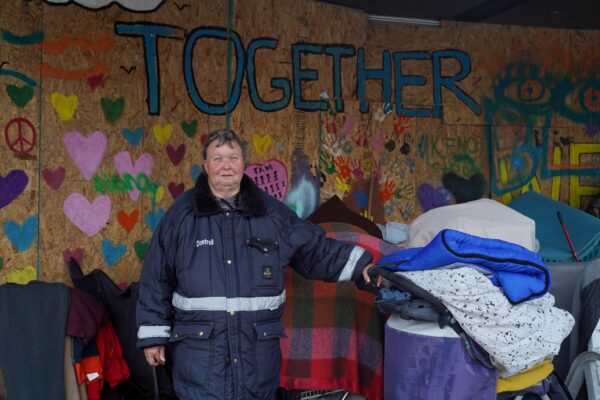 "Crime travels here now. It travels," Franklin said.
He moved back to Kenosha about six months ago to reconnect with his childhood memories. As a child, he spent a lot of time on 22nd Avenue with his brother, Tico, who was murdered in 2005.
Now, many of the stores he and his brother frequented either sit in ruins or are boarded up, he said.
"The memory of my brother who's no longer here … is gone," he said.
"Now you have to build new memories."
'Rebuild Brick by Brick'
"As you look around, you see emptiness," Franklin said. But people also see hope, he said. "Let's rebuild brick by brick."
Both the Uptown Pantry and the Family Dollar store on 22nd Avenue "were looted to the point of 'forget it,'" he said. "You think these stores are gonna just pack up and leave—but they stayed and rebuilt."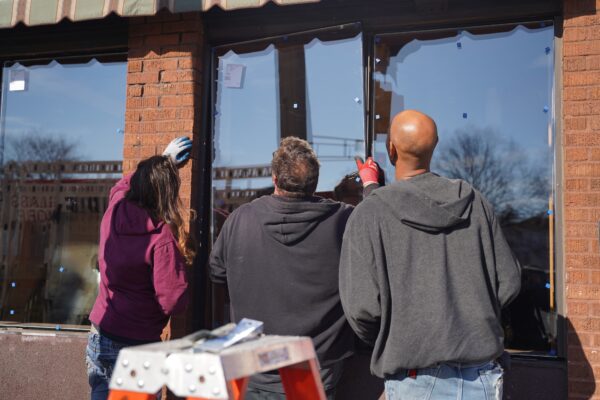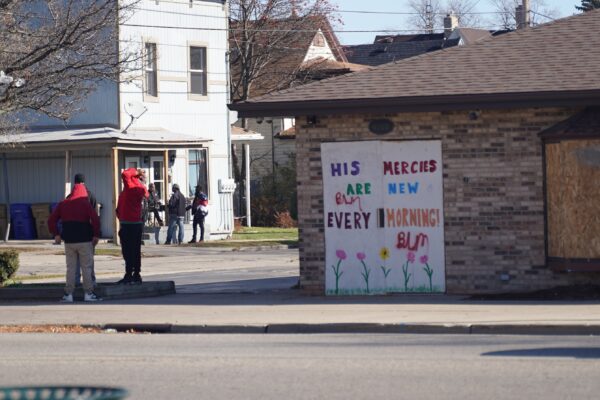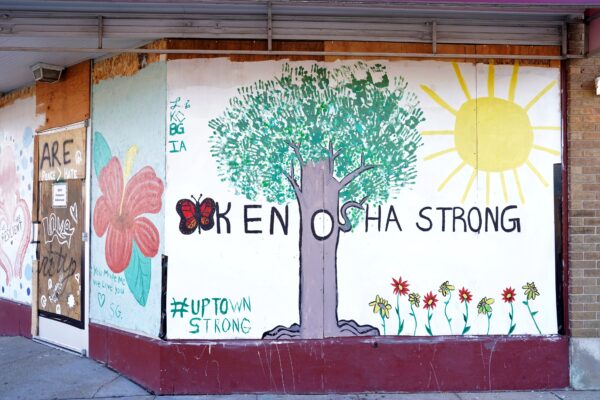 "Stay here, buy here," Franklin said. "Every penny spent here is another memory for a child coming up with their brother or sister."
Joe, a Family Dollar employee who declined to give his last name, said that the business is slowly getting back to normal. The first day it reopened, no shoppers came. Now, about half of the shoppers have come back.
Gov. Tony Evers and the Wisconsin Economic Development Corp. have announced up to $4 million in zero-interest loans to Kenosha businesses damaged in the riots.
Dylan G., a lifelong Uptown resident who didn't want to give his full last name, told The Epoch Times he was sad to see businesses, including the Uptown Restaurant, destroyed. He got his first job as a teenager, washing dishes at the restaurant, and it taught him the value of hard work and working well with others.
"It was part of my character-building, like, you know, learning how to be a man," he said.
He said he hopes Trump will make good on his promise about Kenosha.
"We are going to work with you," the president said in September, while standing in front of a ruined building. "We're going to help you. We're going to help you rebuild. … It should have never happened. Things like this should have never happened."