When Fang, a nurse in her late 20s from northwest China, left home a month ago after being directed to join the front line against the outbreak in the coronavirus epicenter of Wuhan, her husband couldn't hold back his tears.
He didn't know when—or if—they would see each other again.
Fang (not her real name) was working a night shift when the hospital told her and some 100 other medical staff to get ready to join the containment efforts in Wuhan. They would be gathering the next morning, at 10 a.m.
"I didn't know it would come so fast," Fang said in an interview with the Chinese-language edition of The Epoch Times.
That night, she finished packing at around 3 a.m., and barely got any sleep.
Trapped in a Stifling Suit
Fang works night hours in the intensive care unit (ICU) of a hospital in Wuhan. In line with protocol, she puts on three layers of protective suits, masks, shoe covers, goggles, and multiple pairs of gloves before entering the patient wards.
Putting on the protective gear takes at least half an hour and a lot of teamwork, Fang said; the same goes with taking it off.
Sealed in an airtight suit, Fang has grown accustomed to sweat-drenched clothes, having little oxygen, and the groggy feeling that often accompanies that—similar to mild altitude sickness.
On her second day of work on the front line, a coworker from the team sent to Wuhan vomited into her mask. To avoid wasting a full set of medical gear—which is subject to severe shortages—the nurse wore the same mask until the end of her shift.
To avoid the hassle of taking off the suit, Fang, like her colleagues, wears adult diapers to manage bathroom needs and abstains from eating and drinking during her shift. When she finally clocks off, drenched with sweat and heart still racing, she downs water in large gulps—despite being advised against that because of a preexisting heart condition.
Even simple procedures are a challenge when performed within a bulky suit.
It normally takes around 30 seconds to check someone's pulse, but with thick gloves and sweat-smeared goggles, it takes about 10 times longer, Fang said. Drawing blood, typically a 10-minute procedure, can stretch to longer than half an hour.
Fang says she wears a mask even during sleep, and only takes it off when eating or drinking.
'Can't Set Expectations Too High'
She packed light, assuming that she wouldn't be in Wuhan for long. Soon though, she came to regret that thinking—Fang now fears that she will have to stay on until the end of the outbreak.
"Wuhan is getting warmer, and you can experience four seasons in one week," Fang said. "Today, it may be 24 degrees Celsius (75.2 degrees Fahrenheit), tomorrow it'd be snowing." It took her weeks to get used to the erratic weather.
Fang, who arrived with only one set of winter clothes with her to fend off the cold, gave up the hope of online shopping upon realizing that 90 percent of the deliveries wouldn't reach Wuhan.
"The most pressing medical supplies need to go first," she said.
However, Fang has managed to find some useful items in a growing stream of donations sent to front-line health care workers. She recently picked up a pair of donated shoes that weren't a perfect fit.
"You just have to make do, can't set expectations too high," she said. "We are content with having some change of clothes."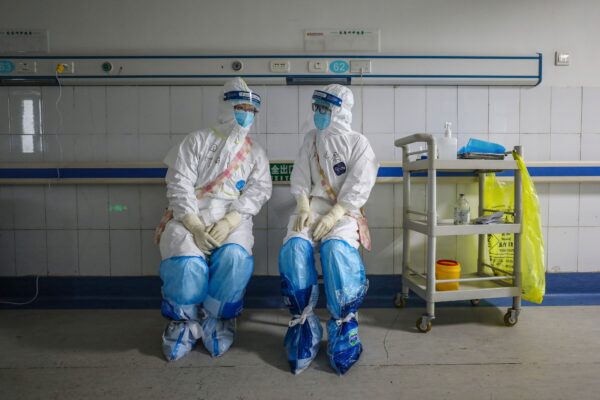 Longing, Worries
For Hua (not her real name), a nurse from another city in Hubei Province—the capital of which is Wuhan—was also sent to the front lines. Her top concern is about her mother, who suffers from breast cancer.
Hua's mother was going through her fourth course of chemotherapy when provincial lockdown measures brought her treatment, scheduled in Wuhan, to an abrupt halt. By then, Hua was stationed at an infectious disease department at one of Wuhan's hospitals, and was too far away to help.
"Breast cancer is curable, but if the cancer spreads and multiplies, we could lose her quickly," she said. "Now she just wants to leave it all to fate."
Hua doesn't want her mother to go to local hospitals, which are flooded with infection risks from coronavirus patients. While her mother has been given permission by local authorities to travel to Wuhan to receive treatment, Hua said that there's still no guarantee that she would be let in or out of the city, as that decision is left to officials in Wuhan.
Because of Hua's anxiety surrounding her mother's predicament, her menstruation has been irregular, she said.
For herself, Hua plans to take all the necessary precautions and stay safe while in Wuhan.
"Of course I'm afraid, but this is my job," Hua said.