KINNEY COUNTY, Texas—Charging an illegal immigrant with a misdemeanor such as criminal trespass sounds simple enough.
But throw 1,008 cases at a small county with a jail that has 14 spaces and a court system that usually handles six or seven cases per month—using Microsoft Word—and the wheels start to fall off.
On June 10, when Texas Gov. Greg Abbott directed state troopers to start arresting illegal aliens—on charges including trespass, criminal mischief, and evading on foot—officials in Kinney County jumped on the idea.
County Sheriff Brad Coe was keen to stick illegal immigrants with any charges he could to deter them from coming to his county.
"We're going to try to hold these people accountable," Coe said. He also wanted to get them in the system because the illegal aliens captured in Kinney County have evaded Border Patrol, so they're unknown.
Since January, ranchers and local law enforcement had seen an unprecedented increase in the number of illegal aliens traversing the county, and they'd given up on expecting federal solutions. Local ranchers, tired of cut fences and property damage, signed affidavits allowing the sheriff and the Texas Department of Public Safety (DPS) to press charges on their behalf.
Although Abbott announced the Operation Lone Star border security initiative in June, it took almost two months to secure enough jail space and for the DPS to work out the process. The state set up a temporary 100-bed detention center in neighboring Val Verde County and cleared out the 1,000-bed Briscoe Unit in Dilley.
Meanwhile, in July, almost 10,000 illegal aliens evaded Border Patrol in the Del Rio Sector, according to preliminary Customs and Border Protection numbers.
By August, DPS was ready to start the initiative in Val Verde and Kinney counties. In Kinney, DPS assigned a small team to work the brush near the U.S.–Mexico border in areas of high foot traffic. The officers quickly started arresting an average of 25 illegal aliens per day from private ranches, often at night.
At the sheriff's office, state troopers and local jail staff took about two hours to complete the paperwork and magistrate seven Mexicans who were arrested late on Aug. 7. They'd been walking for two days before being caught on a ranch.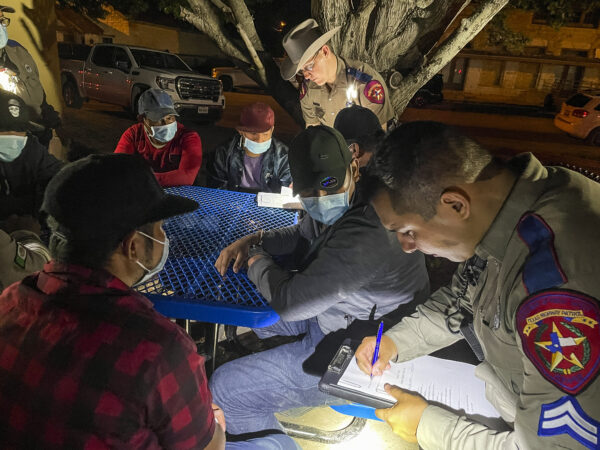 Two said they had already tried crossing a month ago but got caught by Border Patrol and expelled. Another man, who said he was aiming to get to New York, said this was his third time trying to get through. He said his cousin intended to pay the $4,000 smuggling fee upon his delivery to New York.
Several said they'll probably try again, while others weren't as enthusiastic. They all said a "travel agent" on the Mexican side of the border directed them on where to cross, gave directions of where to walk, and had planned to coordinate a vehicle pick-up for them.
At first, Kinney County Justice of the Peace Narce Villarreal came down to the sheriff's office in the middle of the night to magistrate the groups before DPS transported them the 30 miles to the Val Verde facility. But the hours became untenable and the sheriff's office parking lot was overwhelmed with detainees, so the whole process was moved to Val Verde.
From Val Verde, the illegal aliens would eventually be transported 126 miles to the Briscoe Unit in Dilley while they waited for their court hearing. Subsequently, some were then transported another 200 miles to the Segovia jail facility in Edinburgh.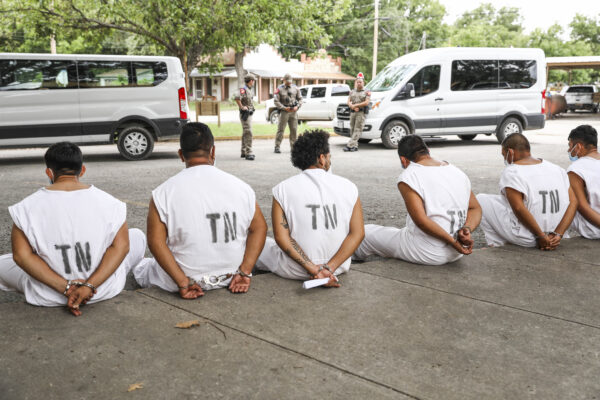 The Prosecution
Meanwhile, Kinney County Attorney Brent Smith was scrambling to take up the flood of new cases. He had started the job in January and was building the backend process on the fly. He had to go to the county commissioners to request a software system that would streamline the paperwork on the cases—Word documents had become too unwieldy under the volume. He contacted two other county attorneys to double-check that his complaints were solid.
Smith said he's filed around 900 charges for criminal trespass since August, with more pending, and has had to rely heavily on Mason District Attorney Tonya Ahlschwede, who is part of Texas's border prosecution unit, to keep up.
Former chief of the Del Rio Border Patrol Sector Austin Skero, who retired at the end of July, also joined the unit as an investigator.
After a misdemeanor arrest, Smith examines the evidence in the case file from the sheriff's office or DPS. If it's determined that trespass occurred, he'll file a complaint against the individual for trespassing, which is a Class B misdemeanor. The charge is elevated if the individual has a deadly weapon, is found more than 100 feet past the property line on agricultural land, or if the alleged crime took place during a disaster (the county has been in a perpetual state of disaster since April).
Once charged, the suspect will make a plea, and if he pleads guilty, he'll most likely get time served and be turned over to Immigration and Customs Enforcement (ICE).
It's not a hefty penalty, but "we're hoping they avoid our county," Smith said.
The maximum punishment for a Class B misdemeanor in Texas is 180 days in jail and a $2,000 fine, whereas a Class A is one year in jail and a $4,000 fine.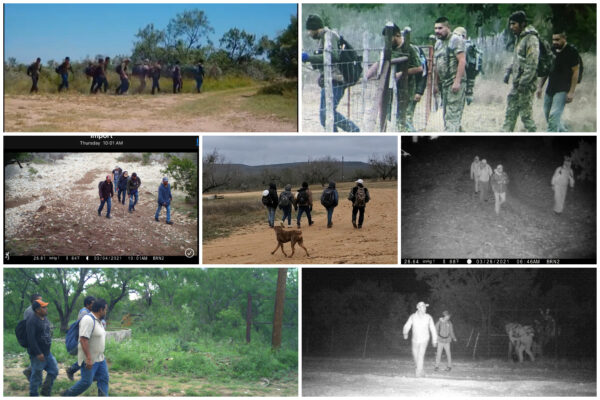 As the cases have piled up, it has become a race against time for Smith.
"If they don't make bail, they're in jail the whole time until trial," he said. From the time of the arrest, he has 30 days to file a Class A misdemeanor complaint against a detained individual before the habeas corpus statute requires a personal recognizance (PR) bond to be set and the individual released.
In some cases, Smith received the arrest files from DPS on day 29, or even beyond day 30. In other cases, the complaints were filed within the 30 days, but the inmate had bonded out of jail and was nowhere to be found.
Logistics and lack of manpower were the bottlenecks, he said.
"Because what the state did, when they planned on this process, they got the jails set up, they got defense attorneys funded, but not one prosecutor was there to get the prosecution set up for this," he said.
"So we're playing catch up, trying to get the resources at the same time to do everything—versus the defense had everything set up from the very beginning."
On Oct. 14, Abbott announced $36.4 million in grant funding toward border prosecutions and 12 border counties, including more than $3.1 million in grant money to Kinney County, as part of Operation Lone Star.
But the money doesn't just appear in the county bank account. It's grant money that requires an application process, and the county must carry the costs in the meantime.
Smith has already spent more than his annual office supplies budget (about $1,200) on file folders for the trespass cases.
Court Proceedings
The first of Kinney County's cases came up on the court docket during the last week of October. They were conducted over video conference with retired judges coming in to fill the gaps.
On Oct. 26, Judge Vivian Torres sat on the virtual bench. The cases proceeded slowly, with frequent pauses for the translator to ensure the defendant understood the goings-on.
Defense lawyer Sylvia Delgado had arranged a plea deal for several defendants that reduced their charge from a Class A to a Class B misdemeanor and a sentence of "time served," with court costs being waived.
The defendants pleaded guilty, and the judge agreed to the plea deal terms, which included a 72-day sentence, which had been served.
Delgado said she's been assigned about 190 cases so far by the Lubbock Public Defenders' Office and has been focusing on getting the first ones out of jail because they'd been detained so long.
She said she meets her clients via Zoom video conference. "And I tell them specifically: 'You have not been forgotten. I'm your attorney, I'm going to work to get you out,'" Delgado told The Epoch Times on Oct. 28.
Delgado said she lets them know that she'll attempt to get them released on a no-fee PR bond, try to get charges reduced, and, if they want to plead guilty, ask for time served.
"And then, unfortunately, when I go back to see them before docket, a lot of them are gone," she said. Of her 18 clients for the Nov. 2 court docket, she has only been able to follow up with the six who are still in jail.
"I met with Joselito, and Joselito had told me, 'Well, Ms. Delgado, I just want to plead guilty and get sent back to Mexico. I just want to go back to Mexico.'
"So I was looking for Joselito. And he's nowhere to be found."
She was told by the other inmates that Joselito was transferred to ICE, while others had returned to Mexico after bonding out.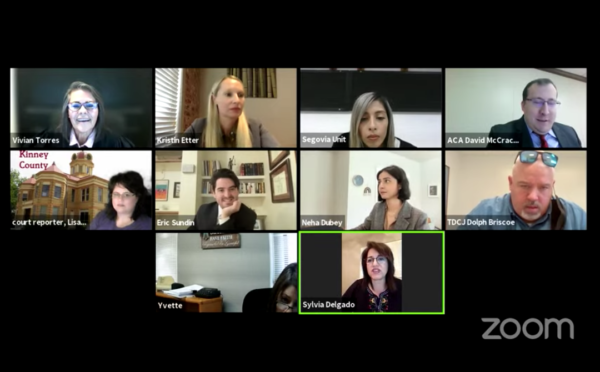 Other defense attorneys have also said they had no idea where their clients were after they bonded out.
The region's district attorney, Suzanne West, told The Epoch Times that she believes inmates who bond out are released to ICE.
ICE didn't confirm that it was taking custody of the inmates, or what happened next. A spokesperson said the agency is following the enforcement priorities set out by the Biden administration.
"In Texas and elsewhere, ICE conducts an individualized determination in each case to assess whether arrest and removal is warranted. This determination includes an assessment of aggravating and mitigating factors, as well as a determination of whether the person is removable under the law," ICE spokesperson Monica Yoas stated in an email to The Epoch Times.
"ICE fully respects the civil rights and liberties of all people when conducting this assessment."
The Texas Department of Criminal Justice, which operates the Briscoe and Segovia jails, said that as of Oct. 29, the Briscoe unit held 654 illegal alien inmates, with 536 from Kinney County, 105 from Val Verde, 10 from Zavala, and three from Frio County. In Segovia, all 291 illegal alien inmates are from Kinney County.
Delgado said she has asked for an investigator to help on the ground to find the missing people and has meanwhile obtained a continuance in court for their hearing dates.
"If they're truly lost, like we don't ever hear from them again, we don't know what happened. If I can't really find out, then they're probably just going to keep getting reset," she said.
"So I suppose a warrant may issue, but we're not there yet. We're just not there in that system yet."
Most of the defendants on the next several dockets, totaling about 60 cases, had their cases dismissed because defense lawyers argued that the complaints were deficient as they lacked the landowner's name.
Smith later said he was disappointed that the name of the ranch wasn't sufficient for the court, as he was hoping to avoid naming the landowner in public records. The landowner's name is usually included in the arrest file, which the lawyer can access.
"A lot of ranchers are concerned about cartel retribution, possibly, if their name comes up in complaint after complaint after complaint" he said.
"So we can still refile it and prosecute once we correct that information. But you know, they're not going to show up."
Smith's office scrambled to amend the 900 complaints already filed to include the landowner name and the GPS location of the alleged offense.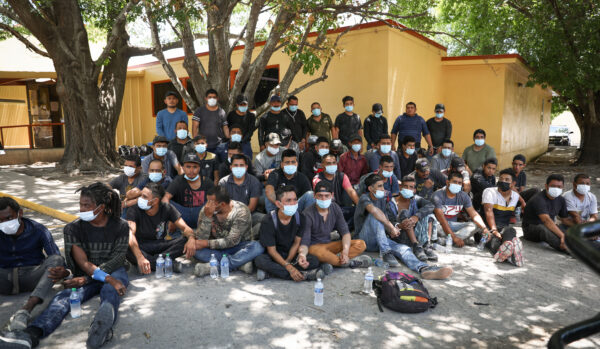 Defense lawyers appeared to change tack on the Nov. 2 docket and entered "not guilty" pleas for all their clients who were still present.
The judge subsequently ordered the release of each defendant on a no-fee PR bond and set a pre-trial hearing for Nov. 18.
Ahlschwede, from the border prosecution unit, told the court on Nov. 2 that several illegal aliens who had been released from jail after paying a cash bond have since been arrested again for criminal trespass in Kinney County.
Smith said one man was released after paying a $4,000 cash bond. "Then we re-arrested him 10 days ago. And despite it being a multiple offense, they gave a $500 bond. Well, we filed the motion to revoke [the bond] once we got the case file—which was 10 days after it occurred," Smith said.
The man had been released three days prior to receiving the motion.
"By the time we got the file, he was already gone. Who knows where he's at now," Smith said.
Coe said his office has been juggling a steady stream of people coming in to pay cash bonds with wads of crisp $100 bills.
"Some of them are $5,000. Where are they getting the money?" he said. At one point, he had more than half a million dollars in cash sitting in his vault.
"I'd bet there's a 99 percent chance that they don't show up [to court]," Coe said of the released illegal alien defendants.
"They'll probably end up in places like Michigan, Missouri, West Virginia, Washington—we'll never see them again. So are we doing this all in vain? I mean, it's doable. It's very, very new. It's just getting the mechanism rolling."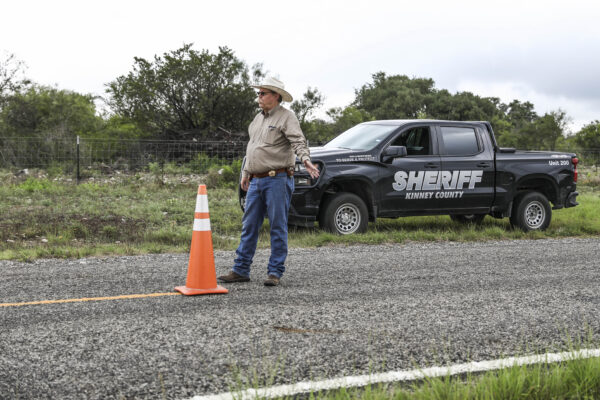 Impact
Coe said he hoped the convictions might be a roadblock for illegal aliens if they ever tried to file for some type of assistance or become U.S. citizens.
"That'd be a check mark against them. Some type of consequence has to be there," he said.
However, in reality, having a trespass conviction on record will act more like a speedbump, according to former immigration judge Andrew Arthur, who is now a resident fellow in law and policy for the Center for Immigration Studies.
"Generally, this isn't going to have any effect on them from an immigration standpoint, but again, sleeping in a room with 30 guys for six months really does have a way of concentrating one's attention," Arthur told The Epoch Times on Oct. 27.
Even if the Texas legislature passes a bill that would enhance punishment to a third-degree felony for illegal alien trespassers, the impact on future immigration status would be negligible, Arthur said.
"But again, anything that impedes people's ability to enter the United States, anything that's going to require them to be detained pretrial, or imprisoned post-trial, is going to be a deterrent," he said.
"Now, how strong a deterrent effect that is remains to be seen."
Arthur said the deterrent effect was worth the taxpayer dollars spent on the trespass prosecutions.
"The problem is that Texas is doing the job that the federal government should be doing."
Volume
The majority of Border Patrol apprehensions along the southwest border occur in Texas. Of the more than 1.6 million illegal alien apprehensions in fiscal year 2021, Border Patrol apprehended almost 958,000, or 58 percent, crossing into Texas.
Customs and Border Protection doesn't publish the number of illegal aliens that Border Patrol agents have detected but who subsequently evade apprehension, but the internal numbers have sat at around 50,000 per month this year, according to an inside source. It's impossible to estimate the number of those who aren't detected at all.
Within the Operation Lone Star border effort, the DPS had made 7,744 criminal arrests as of Oct. 14, including 1,300 for criminal trespass and 6,339 on felony charges. State troopers had been involved in 822 vehicle pursuits, mostly chasing smugglers who were transporting illegal aliens.
Kinney County has charged significantly more illegal aliens with trespass than Val Verde County so far, which started the initiative at the same time. Other counties, such as Frio and Zavala started prosecuting more recently, while Uvalde and Brooks counties are considering getting started but are strapped with the same lack of resources that Kinney County has experienced.
Smith said the volume of prosecutions coming from Kinney County were a result of the county officials caring about the issue.
"They want to do something more about it than just close your eyes and not watch what's happening to your county," he said.
Smith said he's been accused by a defense lawyer of being racist for prosecuting illegal aliens.
"The criminal complaints make no mention of immigration status or hinge on race. If you come down to Kinney County and trespass on private property, we'll arrest you too," he said in a statement on Oct. 26.
Delgado, the defense lawyer, said she hadn't seen any malfeasance, despite the scramble to pull everything together.
"It's a big ship and it's making a large turn in a small canal. And so we are all working really hard to get things moving. And I believe it is starting to unclog," she said.
Smith predicted that the system will be much more robust within a couple of months.
"What we're working on right now is tweaking the language of the complaints, researching everything, making sure there's nothing else they [the defense] can pick at," he said.
"Now, will this Operation Lone Star continue for the next three years? Probably so. Unless the federal government decides to actually follow the laws passed by Congress—which at the moment they're not doing.
"The only realistic solution to this crisis will require deploying all of the Texas military on the border and actually prevent the illegal entries from occurring. Right now, it's like trying to build a dam after the flood gates have already been opened."