KATHMANDU, Nepal—Thanks to preservation efforts, the population of Nepal's endangered Royal Bengal tigers has doubled.
On the day Nepal observed National Conservation Day, Sept. 23, wildlife officials in the capital city of Kathmandu announced that the country's protected areas are now home to 235 tigers.
The latest numbers were determined by a study conducted between November 2017 and April 2018 when 1,600 cameras photographed the elusive predator.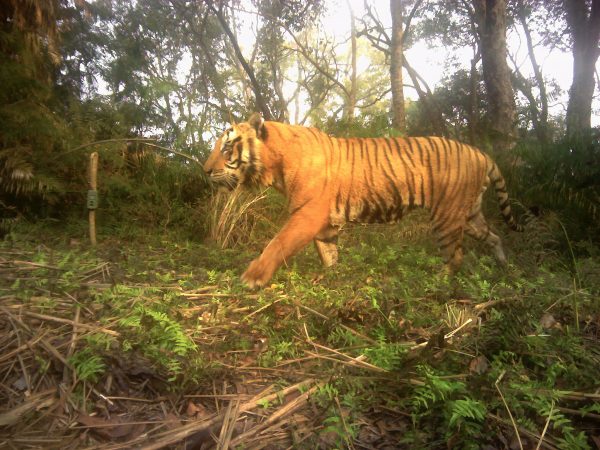 Backed by Hollywood celebrity Leonardo DiCaprio and supported by conservation groups such as World Wildlife Fund (WWF) and Zoological Society of London, Nepal's efforts to save the big cat have started bearing fruit—eight years ago 13 tiger range countries—including Nepal—pledged in the Russian city of St. Petersburg to double the number by 2022, the year of the tiger, according to the Chinese calendar.
Milestone Protecting Rare Animals
Experts say measures such as strict law enforcement, anti-poaching campaigns, securing livelihoods of local communities, mitigating human-wildlife conflicts, and compensation for victims have helped achieve the milestone in protecting the rare animal whose global population is estimated at 4,000.
Nepal in 2001 designated a huge swath of land that stretched from Bagmati River in the east to the Mahakali River along Nepal's Western border with India as Tarai Arc Landscape.
It covered 24,710 square kilometers of the country's Himalayan foothills and Terai plains, encompassing five national parks: Chitwan National Park, Bardiya National Park, Shuklaphanta National Park, Parsa National Park, and Banke National Park. Home to large mammals including tigers, rhinos, and elephants. These inhabitants were synced to 11 national parks across the border in India.
Kanchan Thapa, a wildlife expert at WWF Nepal, said Nepal's embrace of the landscape-based approach to conservation proved crucial to recovery of the tiger population in the wild.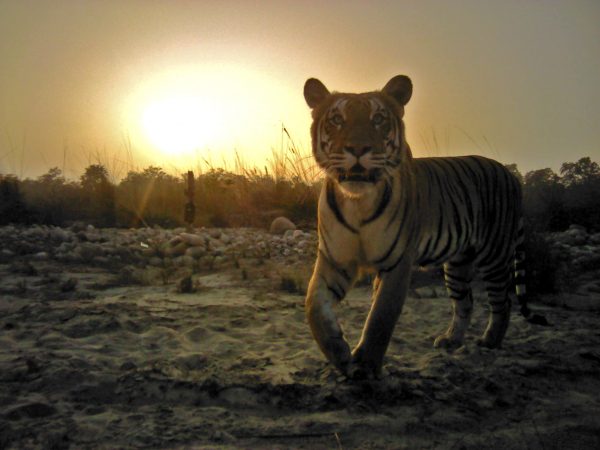 "If we could manage tiger corridors, they can freely roam, which will help protect the species. Even if tigers were decimated in one habitat, their numbers could be restored in another since they tend to return through the corridors," Thapa said.
"These trans-boundary corridors provide ecological connectivity among the protected areas. Loss of the corridors would be a huge setback for tigers because they need huge landscapes to establish territories and to mate."
The tiger, an indicator species at the top of the food chain, thrives in a mosaic of an ecosystem with forest, grassland, water sources, and an abundance of prey.
Massive Crackdown
Nepal's strategy of protecting core areas and restoration of wildlife corridors began to show results.
After 2010, the tiger population saw a dramatic rise. In the past five years, their numbers in Parsa National Park increased from 7 to 17. Similarly, tigers in Banke National Park rose from four in 2013 to 21 in 2018. The population nearly doubled in Bardiya National Park: from 50 tigers in 2013 to 87 this year.
Other initiatives such as Real Time Smart Patrolling—use of smartphones to send photos and locations to an army commander monitoring the patrol in real time—were also key to the recovery.
A massive crackdown on wildlife traffickers was another critical element.
Over the past three years, Nepal police have arrested over 800 wildlife traffickers and poachers who smuggle animal parts to China and Southeast Asia, where demand is high.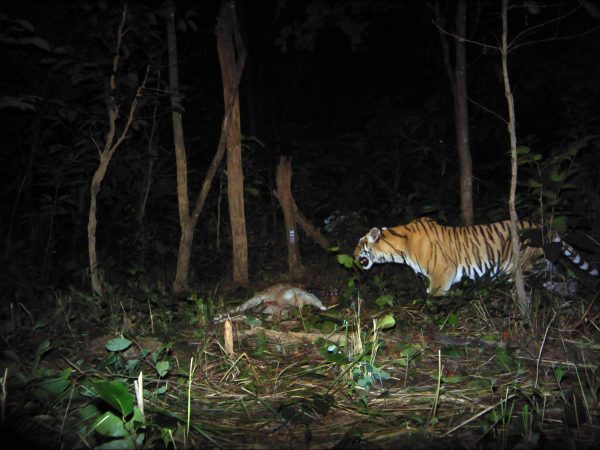 In a major operation on March 12, police arrested Lodu Dhime, a 40-year-old trafficker in Kathmandu after being deported from an airport in New Delhi. Dhime was convicted in 2013 after a police raid found five tiger skins and 114 kilograms (250 pounds) of tiger bones at his home in Nepal. The animal parts were reportedly destined for China.
The number of endangered animals—including tiger and rhino—nosedived during Nepal's 10-year civil war, when security forces were deployed to fight the war, triggering a dramatic rise in poaching. However, the numbers began to rise after the end of insurgency in 2006, with army soldiers returned to the posts and increased patrol.
Nepal is the only country in South Asia that deploys its army to guard protected areas. It also pioneered the concept of buffer zones, areas that separate people and the park, helping build trust between the two.
An increase in the number of wild animals inevitably leads to conflicts with humans. As tigers become old, they leave their home range and stray into human settlements, leading to attacks that result in human deaths.
The government has introduced a quick relief fund, which enables victims' families to carry out last rites before the release of a government-sanctioned fund of 1 million rupees ($8,491). It also allocated 30 to 50 percent of income generated from the parks to the community.
The conservationists also have turned local community members, particularly young people, into their ally in saving the wildlife.
Community-based Anti-Poaching Unit, which began in 2007 with 15 youth volunteers, has grown into a 2,308-member network, which assists in intelligence gathering and patrolling.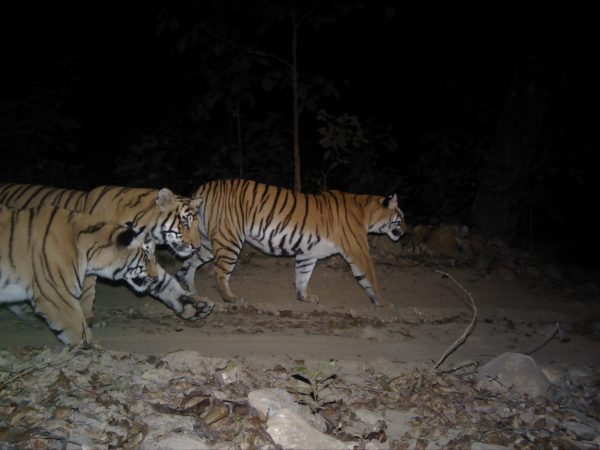 "We keep an eye on human activities around buffer zones. Our members help patrol during their day off and closely work with park authorities in providing vigilance," said Hemanta Acharya, the network's president, who lives in Thakurdwara near Bardiya National Park.
Acharya said the members went to households and raised awareness about anti-poaching and the significance of protecting wildlife.
Ramesh Thapa, a former chief warden of Bardiya National Park, said the availability of prey species, water holes, and grasslands has demonstrated that tigers can thrive even in small areas.
"There is solar-generated water supply in place in Babai Valley (in Bardiya), which helps retain the animals in the area. We also cleared bushes and grew tall grasses instead," he said.
New Threats
Kanchan Thapa, of WWF Nepal, however, said new threats such as shrinking of grassland have emerged.
"The grassland is converting itself into forest. It's a natural phenomenon. So, our challenge now is to maintain the current habitat," he said.
The Terai region is also rapidly transforming, with a wave of infrastructure projects, including highways, railways, and airports, being planned and under construction close or parallel to the sanctuaries.
"As population increases, so does the human-wildlife conflict," said Thapa, who is also a member of an expert panel engaged in a study on carrying capacity of Royal Bengal tiger in Nepal.