On Wednesday, Oct. 26, I attended the Fifth Annual United Nations (UN) Memorial Service at their headquarters in New York City.
The solemn event, presided over by UN Secretary General Ban Ki-Moon, commemorated men and women who have made the ultimate sacrifice working for peace.
This year, the UN honored 210 members who perished between January 1, 2015 and the end of June 2016.
Inspirational Remarks
After lighting a candle, the UN Secretary General recognized the sacrifices of the fallen with words including the following:
"The men and women we recognize today came from all corners of the world.  They served in difficult and dangerous conditions.  What drew them together? Our blue flag and all it represents. All countries.  All faiths.  All people. One flag.  Others have tried to turn it into a target.  But the flag remains a beacon."
As hundreds of UN representatives, peacekeepers, and family members of the fallen listened to the Secretary General, these words from his speech echoed throughout the assembly: "There is nothing more powerful than the human spirit."
Jori DeMarco: Peacekeeper

Jori DeMarco. (courtesy DeMarco family)
Aside from the over 200 fallen peacekeepers honored at this sacrosanct memorial, the Secretary General paid special tribute to Jori DeMarco, a security officer killed while serving the Observer Mission in Tajikistan.
This was a profound honor for DeMarco, a peacekeeper for the world.  It was also an inspiration for his family who attended, including his beloved wife Beatrice, his mother Jo, his brother Daren, and other family members, including myself. Jori was my cousin.
Related Coverage
The Secretary General also met with DeMarco's family privately after the ceremony.  During this time he one again praised Jori's heroism.
His words were complemented in a letter shared with me by Jo, Jori's mother. In the letter, written by Andrew James Collingwood, a colleague of Jori, were powerful words addressed to Jori's parents.
Collingwood shared these reflections on Nov. 6, 1998, shortly after Jori's death:
"Although over two months have passed since the untimely death of your son Jori, I want to pass on to you my deepest thoughts and sympathies for the tragic loss you are facing … I clearly recall Jori's arrival in Tajikistan.  From my own point of view, Jori was right out of the movies, and the more I got to know him, the more I realized it.  With his characteristic swagger, and his thick New York accent, I always thought he should play a leading role in the movies.  He was always well dressed, and took pride in his appearance.  He arrived proud and silent, with a large moustache, wearing sun glasses, rugged clothes, and minding his own business … His Marine experiences made him cautious, but not fearful of the unknown, which translated into an adventurous spirit … Jori was a leader, both at work and away from it … always entirely professional.
"Many of us used to say that if we had to be in a bad, life threatening situation, Jori was the man to have around … He was a beautiful man whose memory will live on with those who knew him."
NYPD's Daren DeMarco: A Peacekeepers Brother
Complementing the peacekeeper spirit of Jori is his brother, NYPD Sergeant Supervisor Daren DeMarco.
The leadership, determination, and character of Daren is comparable to the virtues of his co-peacekeeper brother.
Daren's passion to serve in the NYPD are inspired by the tragedy of his brother Jori, as well as the tragedy of his sister Dana.  Dana was murdered in 1994 by a serial killer who was pardoned by the Governor of Pennsylvania.
Prior to his law enforcement vocation, Daren, like his brother Jori, also served in the U.S. Marine Corps.
After the Sept. 11, 2011 World Trade Center attack, Daren worked for 16 hours per day for 90 straight days at Ground Zero.  For the next two months, he worked 12 hour shifts.
Sgt. Supervisor DeMarco's NYPD awards include the World Trade Center medal, as well as numerous excellent duty and meritorious duty awards.
After one of Daren's promotions at NYPD headquarters, his inspiring words to me echoed the sentiments of peacekeepers all over the world.
"As an NYPD law enforcement officer, I am privileged because each day is an opportunity to combat crime and help the community."
Final Reflections
On a wall recognizing UN heroes at their headquarters is a plaque that pays tribute to the greatness of Jori DeMarco.
Its words exemplify his courageous spirt, as well as those of his brother Daren, and all peacekeepers throughout the world.
"Jori DeMarco joined the United Nations Security and Safety Service in New York on July 1, 1991. He served on the Conference and Tour Platoons and the UN Secretary General's Protective Detail before his field assignment to the UN Observer Mission in Tajikistan.
"Jori DeMarco was killed on August 17, 1998 in Dushanbe, Tajikistan while serving on the Protective Detail of the Special Representative of the Secretary General.
"Jori DeMarco performed his duties with high professionalism, dedication, efficiency, and enthusiasm.  He was friendly, extremely cooperative, and his dedication to duty was second to none.  His military experience made him cautious but not fearful of the unknown-which translated into an adventurous spirit.
"One always felt safe in his company. His performance made him a credit to the United Nations.
"His memory will live on within all those who knew him."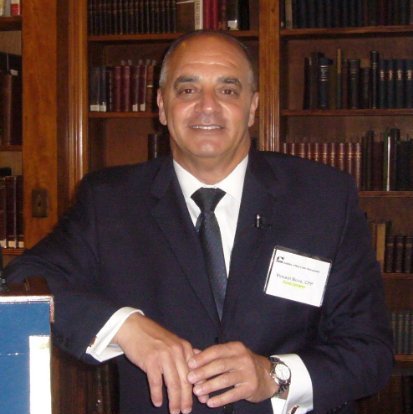 Vincent J. Bove, CPP, is a national speaker and author on issues critical to America. Bove is a recipient of the FBI Director's Community Leadership Award for combating crime and violence and is a former confidant of the New York Yankees. His newest book is "Listen To Their Cries." For more information, see www.vincentbove.com
Views expressed in this article are the opinions of the author and do not necessarily reflect the views of The Epoch Times.