In Hong Kong, Questions Over an Education Too China-Friendly
October 26, 2010 9:49 pm Last Updated: October 1, 2015 6:41 pm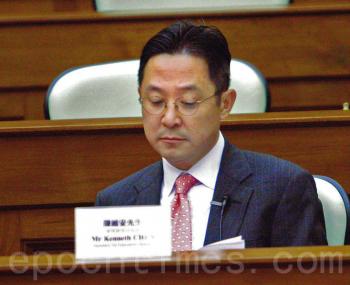 HONG KONG—Despite being ostensibly autonomous from mainland China, legislators here say their education sector is fast succumbing to Beijing's pressure and is increasingly marred with political undertones.
In his latest policy address earlier this month, Hong Kong's Chief Executive Donald Tsang talked about strengthening National Education in primary and secondary schools.
The proposed reforms will require every student in elementary and middle school to visit the mainland at least once, and current students will have to visit the Shanghai World Expo and write an essay about "a great invention at the 2010 World Expo that will change the world."
For Hong Kong residents, long suspicious of the Chinese Communist Party's (CCP) influence over their city, this may lead to more mainland-style censorship at schools, closed thinking, and even the gentle beginnings of slow political indoctrination.
Of concern, too, is the proposed inclusion of Hong Kong's Basic Law into the graduation exams for secondary students. The Basic Law is like Hong Kong's constitution, which was drafted in consultation with the CCP.
Cyd Ho Sau-Lan, a Legislative Councilor, says that putting the Basic Law on the exam may force students to simply agree with the rules set by Beijing, without a chance to question their validity. "For any student having to face this test, the only way they can answer is: absolutely don't think, don't analyze, don't be critical in any way, and absolutely don't be honest," she said.
"Isn't this telling kids to 'cover your conscience' when answering?" she quizzed. Parents may even tell their children to "sacrifice an honest answer for a high score."
Alongside the Basic Law, she says, students should also be exposed to international human rights conventions. To not provide a plurality of views on the subject, she says, would be tantamount to "making children give up principles in exchange for survival at an early age." This is "sabotaging the principles of education," she says.
Cheung Man Kwong, another member of Legislative Council involved in education, says there have been strong criticisms from within the education community.
"Speaking frankly, by doing this class, it's telling young people to go to China and look at all the development, but not letting them know about the imprisoned dissidents or June 4 activists. The National Education is avoiding parts of modern Chinese history and all those sensitive topics," he said.
Since the Chief Executive will be leading the design and proposal of curriculum subjects, he questioned whether the government consulted thoroughly with the education community.
"Is it based on a consensus of the education community or is it a political decision? Is it the Chief Executive's idea, or the Communist Party's opinion? Is it an elective, or a required course?"
Dr. Leung Yan Wing, an associate professor of the Department of Education Policy and Leadership, the co-head of the Centre for Citizenship Education, said that tightening the education system runs at odds with international trends.
"When National Education is radical, it can create a strong mentality of exclusiveness and nationalism. We, therefore, see the need to balance it with human rights education and global civic education," Leung told Sound of Hope Radio.
Leung cited the example of National Education being broadcast on TV every evening, saying that, "Basically it is a National Education that sings the praises of the positive sides of China and avoids the negative sides."
"If we only tell our students the positive side [of China]" she says, young people may be instilled with the wrong ideas about things. "Therefore, we worry about it."