Thousands of Hong Kong hospital workers turned out in force to support a strike called by local union Hospital Authority (HA) Employees Alliance on Feb. 3.
The alliance wants the Hong Kong government to meet their five demands, such as banning the entry of all travelers from China, providing enough isolation wards, and suspending non-emergency hospital services.
Formed in December last year, the alliance has about 18,000 members, including nurses, doctors, and other hospital workers.
The alliance voted in favor of a strike 3,123-to-10 on Feb. 1 during a general meeting, according to Hong Kong media.
Feb. 3 marked the first day of a planned five-day strike. According to Hong Kong media HK01, hundreds of hospital workers lined up outside several hospitals in the morning, including Queen Elizabeth Hospital and Queen Mary Hospital, to sign their names in support of the strike.
The sign-up was scheduled to end at noon, and hospital workers planned to take to the streets at several locations in the afternoon.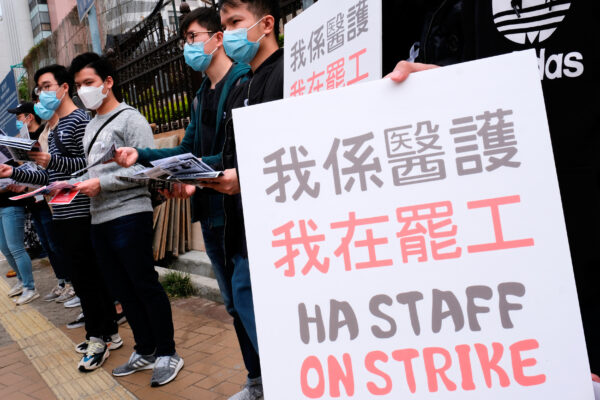 According to Hong Kong media, Lai Ching-lung, a professor in gastroenterology at the University of Hong Kong's Department of Medicine, voiced his support for the strike outside of Queen Mary Hospital.
Lai said that closing the city's border with mainland China was a good preventive measure to safeguard Hongkongers.
Currently, Hong Kong has 14 known cases of coronavirus.
According to Hong Kong media Stand News, 3,000 of the Alliance's members, including 1,000 nurses, 1,000 full-time medical staff, 300 doctors, and other hospital workers, were expected to take part in the strike.
"If there is no full border closure, there won't be enough manpower, protective equipment, or isolation rooms, to combat the outbreak," Winnie Yu, the alliance's chairwoman, told reporters on Feb. 2, according to RTHK.
Yu's remarks came after talks with Hong Kong's Hospital Authority broke down because Hong Kong leader Carrie Lam did not show up for the discussion.
The alliance has said that if the Hong Kong government is unable to respond to their demands by 6 p.m. local time on Feb. 3, about 9,000 hospital workers, including those in the hospital's emergency units, will take part in the second phase of the strike beginning on Feb. 4.
According to RTHK, the Hong Kong government has shut down six of the city's 14 border crossings with China.
However, Hong Kong leader Carrie Lam rejected the idea of closing the border with China to contain the spread of the new coronavirus in a press conference on Jan. 31, saying that such measure "contradicts the WHO [World Health Organization] suggestion," according to Reuters.
On Jan. 30, the WHO declared the coronavirus outbreak a public health emergency of international concern.