Canada's top court has ruled that a comedian who joked about a teen singer who is disabled did not meet the criteria for discrimination under Quebec's charter of human rights.
Between September 2010 and March 2013, standup comedian Mike Ward, in his show "Mike Ward S'Exposé," made fun of a number of prominent figures in Quebec's artistic industry, including Jérémy Gabriel, then a high school student.
Gabriel was born with a congenital disorder marked by skull and facial deformities as well as deafness. He started his singing career after an operation to install a hearing aid, and once performed with Celine Dion
In a series of shows mocking several Quebec celebrities, Ward said people were only being nice to the young singer because they thought he would soon die, and joked that when he found that this was not going to happen, he tried to drown Gabriel.
The Supreme Court's 5-4 split decision, released on Oct. 29, ended the 11-year court battle in Quebec, with a majority of justices saying the case brought by the singer had not met the high level set by the Quebec law for proving discrimination.
Chief Justice Richard Wagner and Justice Suzanne Côté, in writing for the majority of judges, said the reason Gabriel became the target of Ward's jokes was due to his fame, not his disability, and fame is not a prohibited ground of discrimination under the Quebec charter. As a result, the Tribunal did not have jurisdiction to proceed with the case.
The Court said a reasonable person would not view Ward's comments as inciting others to discriminate against Gabriel, as the singer had claimed.
"His comments, considered in their context, cannot be taken at face value. Although Mr. Ward said some nasty and disgraceful things about Mr. Gabriel's disability, his comments did not incite the audience to treat Mr. Gabriel as subhuman," the judges said in their decision.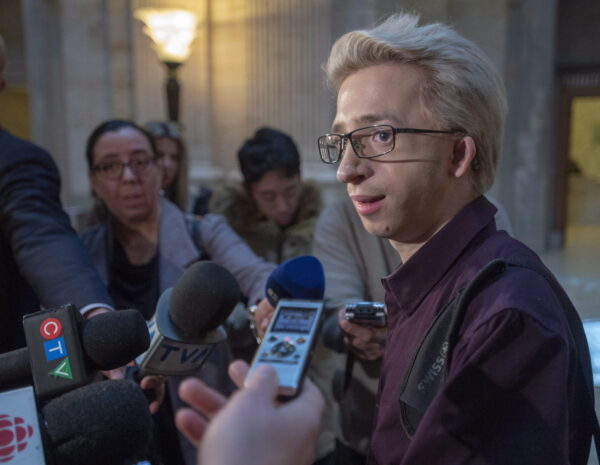 In 2012, Gabriel's parents filed a complaint to the Commission des droits de la personne et des droits de la jeunesse [the human right and youth rights commission], which was created under the Quebec Charter of Human Rights and Freedoms.
The Commission found there was basis for discrimination, and brought Ward before the Quebec Human Rights Tribunal, arguing that the comedian and his show infringed the charter on the basis of Gabriel's disability. Ward, in response, claimed that he was protected under the charter's right to freedom of expression.
In 2016, the Tribunal ordered Ward to pay $35,000 in damages to Gabriel, which was upheld by the Quebec Court of Appeal.
In a news conference, Gabriel said the long court battle had been exhausting, but noted: "I regret nothing about what we have accomplished these past 10 years."
After the ruling, Ward tweeted: "We did it Norm, we won," a reference to comedian Norm Macdonald, a former Saturday Night Live star who died recently.

With files from Reuters