The U.S. Department of Interior's (DOI) reauthorization of its five-year National Outer Continental Shelf Oil & Gas Leasing Program is months overdue and feared lost at sea—a sea that is of regulatory deceit, claim Congressional Republicans and some Democrats.
The update to the 2017-22 federal offshore leasing program was required by statute in June 2022. But the DOI, citing pending litigation, missed the deadline.
In March, the DOI said its final reauthorization will be ready in September, with implementation likely in December after a 60-day public comment-and-review period. There were nearly 800,000 comments already lodged in April.
Until then, there is no system in place to orchestrate oil/gas lease sales in U.S. waters. Even once reauthorized after what will likely be an 18-month suspension, it could take another 18 months of permitting and environmental reviews before leases secured under the new program can be worked.
This didn't happen by accident, critics say, claiming federal agencies are pushing President Joe Biden's green energy initiatives at the expense of oil/gas development, and promoting wind energy leases offshore while the OCS Oil & Gas Leasing program remains lost at sea.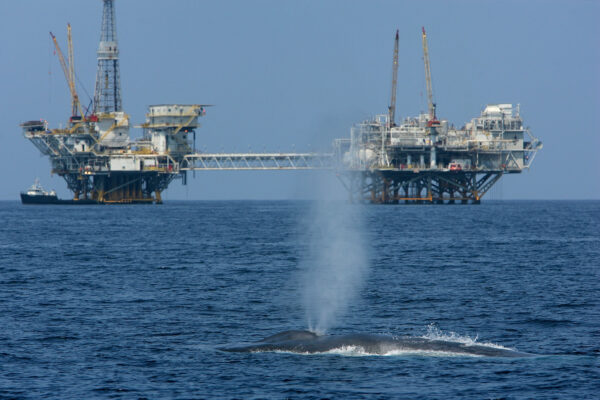 Republicans, Some Democrats, Drill DOI
In a March statement, Senate Energy Committee Chair Sen. Joe Manchin (D-W.V.) said that by enabling the delay, the DOI "made it painfully clear–again–that they are putting their radical climate agenda ahead of our nation's energy security, and they are willing to go to great lengths to do it."
Implementing the leasing plan 18 months late could not have happened unless the administration allowed it to happen, he said.
"This is the first time in our nation's history that we haven't had a five-year leasing program released before the old plan expired. Every other administration, Democrat and Republican, has managed to follow the law in a timely fashion," Manchin said.
During March and April budget hearings before House and Senate panels, DOI Secretary Deb Haaland and agency chiefs responsible for offshore oil/gas development policy were grilled about the delay and about elements of the draft reauthorization published in July.
The late plan is "causing an unprecedented gap in lease sales" and "putting American jobs and revenues at risk," House Natural Resources Committee Energy & Mineral Resources Subcommittee Chair Rep. Pete Stauber (R-Minn.) said in an April 26 hearing.
"Without a timely plan, investment and development will stagnate, jeopardizing future production," he said.
House Natural Resources Committee Chair Rep. Bruce Westerman (R-Ark.) in an April 20 hearing told Haaland that since the DOI "has failed to follow the law" already, he doesn't trust that it will have a final reauthorization ready this year.
"The department has claimed the plan will be finalized and published September 2023 but has made—and failed to keep—similar promises before," he said.

Delay Violates Law, Evokes IRA
The Outer Continental Shelf Lands Act (OCSLA), adopted in 1953 as a successor to a seminal 1945 federal leasing program, regulates oil/gas leases on outer coastal shelf (OCS) waters up to three miles offshore.
As required by OCSLA's Section 18, the DOI's Bureau of Ocean Energy Management (BOEM) is required to update the National Outer Continental Shelf Oil & Gas Leasing Program every five years.
As of April 1, BOEM is managing 2,145 oil/gas leases on 11.5 million acres spanning about 25 percent of the nation's OCS waters.
More than 8 million of those acres, or 75 percent of the leases, are idle, the bureau reports, which is one reason why the DOI is in no hurry to reauthorize the five-year leasing plan.
The DOI awarded 203 offshore oil/gas leases during Biden's first 19 months in office. In 2022, BOEM reports, offshore leases produced 630 million barrels of oil, 14 percent of U.S. domestic oil output; and 784 billion cubic feet of natural gas, roughly 2 percent of domestic natural gas production.
In January 2021, Biden issued an executive order pausing new leases for onshore and offshore oil/gas, so this 2022 offshore oil/gas production—99 percent of which was from the Gulf of Mexico—was induced by legal action and, ironically, by statutory requirement under the Inflation Reduction Act (IRA).
The $437 billion IRA, signed into law in August 2022, directed the DOI to reinstate three offshore lease sales suspended by Biden's executive order and installed a provision that prohibits BOEM from issuing leases for offshore wind energy development for a 10-year period unless it has offered at least 60 million OCS acres for oil/gas development within the previous year.
With 11.5 million acres now under oil/gas lease, that means the DOI must offer oil/gas lease sales across nearly 50 million OCS acres before advancing the wind leases the Biden administration prefers in meeting its goal of generating 30 gigawatts (GWs) of offshore wind energy by 2030 and a fully carbon-free energy sector by 2035.
As of April, BOEM had conducted sales in 11 areas, granting 27 commercial wind leases across more than 2.5 million OCS acres. The bureau says it has initiated reviews of 14 proposed projects that could provide up to 27 GW.
The delay in reauthorizing the five-year offshore leasing plan could imperil Biden's green energy push, Manchin told Haaland during a March hearing.
"I will remind the administration that the Inflation Reduction Act also prevents them from issuing any leases for renewables, like offshore wind or onshore solar, unless there are first reasonable lease sales for oil and gas that actually result in leases being awarded," he said.

DOI: Delay, Deny, Defer
In Congressional budget hearings, Haaland, BOEM Director Liz Klein, and Bureau of Safety and Environmental Enforcement (BSEE) Deputy Director Paul Huang maintained that the delay is related to litigation brought by Republican states and the oil/gas industry.
House GOP leaders and industry associations maintain just the opposite, noting the delay is a result of lawfare being waged by groups such as the Center for Biological Diversity seeking to restrain oil/gas development with litigation.
Among significant legal actions that resulted in judicially-imposed regulatory revision is the U.S. 9th Circuit's December 2020 ruling in Center for Biological Diversity v. Bernhardt, which determined oil/gas project reviews must consider greenhouse gas emissions from foreign oil consumption and the "economic impacts of alternative leasing scenarios."
The DOI and agency officials say the delay is related to incorporating these new regulatory requirements into environmental reviews related to lease sales and drilling permits.
"We are following the law," Haaland told the House Natural Resources Committee on April 20. "We have done that since I have been in this position, so we have career staff who take their jobs very seriously and we are moving those forward."
Rep. Doug Lamborn (R-Colo.) was not convinced, claiming the DOI's policies support the Centers for Biological Diversity's legal argument against producing more oil/gas, because doing so lowers the cost of oil/gas and thus encourages more oil/gas production.
While pending litigation and the December 2020 greenhouse ruling were cited among reasons for the delay, neither were mentioned in the DOI's draft reauthorization published in July 2022.
The DOI's July draft 2023-28 offshore plan proposes opening anywhere from zero to 11 lease areas—10 in the Gulf of Mexico and one in Alaska's Cook Inlet—to oil/gas development.
By contrast, under former President Donald Trump's 'American Energy Dominance' offshore lease proposal, 47 new offshore drilling lease areas were identified in the Atlantic and Pacific, opening 90 percent of the nation's coastal waters—including in the Arctic, off California, and in the Atlantic—to oil/gas development.
That draft plan drew immediate fire from the American Petroleum Institute, among other industry groups, which insisted that the DOI must dramatically increase the number of lease areas and leases offered for sale.
Rep. Stauber agreed, noting that the DOI is offering leases on "only a fraction"—less than a quarter—of leasable OCS acres.
"This untapped acreage has the potential to yield significant energy resources and federal and state revenues, but the delay in completing the five-year program and holding scheduled lease sales has left Congress, industry, and taxpayers in the dark," he said.
Stauber said the prospective "zero lease" option in the draft reauthorization would also be illegal because it "violates OSCLA's language: 'The leasing program shall consist of a schedule of proposed lease sales indicating, as precisely as possible, the size, timing, and location of leasing activity …'"
By the time all is said and done, even if the reauthorization is adopted and implemented in December, new leases won't go online until at least 2025, he said.
"BOEM has not yet started the necessary environmental reviews for the potential lease sales included in the new plan," he said. "These reviews generally take 14-18 months to complete, meaning sales may be delayed for another year or more.

Regulatory Devils in Budget Details
Another reason for the reauthorization delay, critics say, is because the BOEM, BSEE, and the Bureau of Land Management (BLM)—the three DOI agencies that handle public waters and land oil/gas leasing—are larding the programs with additional layers of regulations in response to the IRA and the Bipartisan Infrastructure Law, or 2021's Infrastructure Investment and Jobs Act (IIJA).
The IIJA requires BOEM and BSEE to collaborate on creating a carbon sequestration program for the OCS that will place new regulatory requirements on "any lease, easement, or right-of-way."
BOEM's $211.24 million Fiscal Year 2024 (FY24) budget request seeks a nearly $36 million increase in funding from this year's spending plan—a 20.5-percent increase from this year's spending plan.
BOEM's Klein told the Energy & Mineral Resources Subcommittee that the budget includes funding for "specialized experts to implement and enforce the regulations" to be created under the carbon sequestration program.
BSEE is seeking a 13.6-percent increase in its annual funding with a $191 million FY24 budget request.
Deputy Director Huang told the House panel that the BSEE wants to charge a per-visit production facility inspection fee rather than the once-annual fee that has been in place for a decade and adjust the existing fees for inflation.
"This will allow BSEE to recover a greater share of the actual costs incurred in overseeing these operations and reduce the direct cost to taxpayers, while providing an incentive to operators to improve safety performance and reduce the need for follow-up inspections," he said.
Huang said BSEE is also working on several other "regulatory priorities," including the oil-spill response requirements, pipeline rights-of-way rules, and the carbon sequestration program.
Stauber raised "several concerns" with BOEM's and BSEE's budget requests. Among them were "new and increased inspection fees on offshore operations," including the "followup inspection fee" on operating rigs that "would increase the cost of operations offshore."
He said BOEM's budget increases funding for oil/gas lease decommissioning by 900 percent, from $3 million to $30 million.
"This demonstrates a clear prioritization of decommissioning offshore infrastructure over new development," Stauber said, blasting Klein's "questionable ethics and continued zealous opposition to any sort of responsible energy development embodies this administration's radical, keep-it-in-the-ground position."
He vowed that "House Republicans will hold BOEM and the rest of DOI accountable while advancing pro-energy policies such as the bipartisan Lower Energy Costs Act."
Dueling Bills Offer Divergent Solutions

The omnibus energy package House Bill 1, the "Lower Energy Costs Act" sponsored by House Majority Leader Rep. Steve Scalise (R-La.), was adopted in a partisan vote by the House on March 30.
HB 1 incorporates more than a dozen legislative proposals to "increase domestic energy production, reform the permitting process for all industries, reverse anti-energy policies advanced by the Biden Administration, streamline energy infrastructure and exports, and boost the production and processing of critical minerals."
It would require the DOI Secretary to conduct quarterly offshore and onshore quarterly oil/gas lease sales.
Sen. John Kennedy (R-La.) is sponsoring the Senate iteration of the act, SB 947, which has been read twice and referred to the Senate Energy and Natural Resources Committee chaired by Democratic Biden energy policy critic, Manchin.
"In contrast to the anti-energy policies of the Biden administration," HR 1 is "a roadmap for successful energy development, long-term energy security, and a reliable source of federal and state revenues," Stauber said, although its passage in the Senate, where Democrats hold the majority, is doubtful.
In fact, another proposed companion bill sponsored by New Jersey Democrats seeks an alternate solution to the offshore oil/gas leasing debate—prohibiting it altogether.
Sen. Cory Booker (D-N.J.) and Rep. Frank Pallone (D-N.J.) are lead sponsors of the proposed "Clean Ocean and Safe Tourism (COAST) Anti-Drilling Act," which would permanently prohibit the DOI from issuing oil/gas leases on the OCS in the Atlantic Ocean and Straits of Florida.
The House version has been referred to the Natural Resources Committee's Energy & Mineral Resources Subcommittee. Its Senate companion has been read twice and referred to the chamber's Energy and Natural Resources Committee.
The bill has been filed before. In fact, Pallone has filed six similar measures since 1989.
While it has little chance in the House, it has momentum among some Republicans, including in Florida where there is bipartisan disdain for oil/gas drilling off the state's coast.
Rep. Mike Levin (D-Calif.) has also reintroduced his proposed "Restoring Community Input and Public Protections in Oil and Gas Leasing Act," in which he offers offshore/onshore lease regulation revisions that makes "common sense for taxpayers" and restores public participation in the leasing process.
He defended the IRA and Biden's push for alternative energy development, claiming American taxpayers have been subsiding the oil and gas industry under existing rules for decades.
"The IRA ended non-competitive leasing for oil and gas sales, raising annual rental rates, and increasing minimum bid for public land leases," Levin said. "All those changes were very overdue, very common sense, and create more balance for bringing federal [lease] prices" in line with what states and private owners are charging.
Even with a proposed 50 percent royalty fee hike on offshore leases and nearly 20 percent increase for onshore leases, federal rates are lower than assessed by "royalty states like Texas and Oklahoma," he said.
"What we did in the IRA will not raise prices at the pump or consumer energy prices. Let me say it again: It will not raise prices at the pump or consumer energy prices," Levin said. "But what it will do is raise hundreds of millions of dollars in additional revenues that could do to infrastructure improvements that could benefit everybody, not just a handful of oil and gas companies."