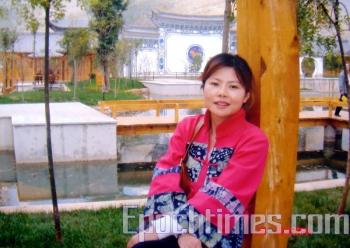 Jia Xueyang is a Chinese man in his seventies now living in New York City. On July 31, along with his son Jia Yazhou and granddaughter Zhang Zhishuo, he told The Epoch Times about the tragedy that has befallen his daughter Jia Yahun. She was unexpectedly arrested by the Shenyang police and sentenced to one year in the infamous Masanjia forced labor camp. Her alleged crime was that she had told the truth about the persecution of Falun Gong practitioners in China.
Thirty-five year-old Jia Yahun is a reporter for the Liaoshen Evening News. She had brought her nine-year-old daughter Zhang Zhishou with her to the United States to visit with her brother Jia Yazhou. Fifteen days after arriving in the United States, Jia Yahun left her daughter in the care of her brother while she returned to China to attend to some responsibilities associated with her job and family. Jia Yahun was unexpectedly arrested by the Shenyang police on April 25.
"On April 25, when my daughter was attending her cousin's wedding, some policemen stormed in and took her away," lamented her father. "Afraid of adding trouble to my daughter's already bad situation, we decided not to contact the media at that time," said Jia. "The government was being extremely unreasonable," continued Jia. "She was locked up and given a sentence, but we as her family were not given any documentation of her arrest nor the right to visit her."

Since that time, Jia Yahun's family members have not been allowed to visit her and have not received any information from the courts. After many attempts, they finally discovered that she had been first locked up at the Zhangsi Brainwash Center, but had since been moved to the infamous Masanjia forced labor camp with a sentence of one year.
"That is an evil place," her father said worriedly. "There are at least ten cases where female Falun Gong practitioners have been thrown into the male cells at Mansanjia." The family has tried many times to visit Jia Yahun at Mansanjia, but were not allowed because she continues to refuse to renounce her beliefs in Falun Gong.
Jia Xuegang's wife, Xu Min, was sentenced for five years and his son Jia Yagang for two years for practicing Falun Gong. Last year the older gentleman came to the United States and reunited with his son Jia Yachuan. He now worries about his daughter. His nineyear-old granddaughter is asking for her mother everyday.
Please Help Rescue My Mother
Jia Yahun's daughter Zhang Zhishuo handed The Epoch Times a letter asking everyone to help rescue her mother. The letter read:
"My name is Zhang Zhishuo. I am from mainland China and I lived in Shenyang, Liaoning Province. I have practiced Falun Gong with my mother and grandmother since I was very young. My mother said that Falun Gong can teach us to be good people and to return to our true nature. I do not understand why the CCP is persecuting innocent people. My mother told me that Falun Gong is not wrong; it is the government that is wrong. Although we are not wrong, I am afraid to let my teachers and classmates know, for if the school knows I will not be able to attend school. I feel stressed."
"I was very happy when my mother brought me to my uncle's house in the United States for we were able to do the exercises and study [Falun Gong] without fear of persecution. I was hoping that my mother could return to me soon, but a few days ago, my uncle had to tell me that my mother was arrested at her cousin's wedding on April 25. She is now locked up at the Masanjia forced labor camp in China with a year-long sentence, and no one is allowed to visit her. No one knows how my mother is now. I have heard the grownups say how bad the people in Masanjia are, how they have injured and killed so many Falun Dafa practitioners. I am so worried about my mother and I miss her a lot. She has not done anything wrong. I hope that the Chinese government will free my mother and all the other good people. My wish is that compassionate people will help and rescue my mother, so that we can exercise and study Fa together."