The impeachment trial of President Donald Trump resumed Friday, with Trump's lawyers and House impeachment managers led by Reps. Adam Schiff (D-Calif.) and Jerrold Nadler (D-N.Y.) making concluding arguments. The Senate Republicans rejected a resolution to call witnesses late Friday.
Senate to Vote on Impeachment Articles on Wednesday
Senate Republicans voted 53-47 late Friday to approve a resolution that calls for the vote on the articles of impeachment to be held on Wednesday, Feb. 5, at 4 p.m. ET.
The resolution also calls for closing statements to be heard starting Monday when the Senate is set to reconvene—there will be no trial action over the weekend.
Senate Votes Down Resolution to Call Impeachment Witnesses
Senate Republicans rejected a resolution to call witnesses, including former Trump national security adviser John Bolton, on Friday evening, setting up a potential acquittal vote in the coming days.
The Senate voted 51–49 to not subpoena any documents or witnesses in the trial. Sens. Susan Collins (R-Maine) and Mitt Romney (R-Utah) joined Democrats in the losing bid.
Potential swing-vote Sens. Lisa Murkowski (R-Alaska) and Lamar Alexander (R-Tenn.) voted against the measure. No Democrats joined the Republican majority.
Senate Majority Leader Mitch McConnell (R-Ky.) said that there is "no need for the Senate to re-open the investigation which the House Democratic majority chose to conclude and which the Managers themselves continue to describe as 'overwhelming' and 'beyond any doubt.'"
Another Moderate GOP Senator Won't Vote for Witnesses
Sen. Rob Portman (R-Ohio) said he will not vote in favor of a motion to call for more witnesses and documents in the impeachment trial.
"I do not believe that additional witnesses are needed," he said in the statement, adding that he believes Trump didn't handle his dealings with Ukraine well.
However, the actions do not "rise to the level of removing a duly-elected president from office and taking him off the ballot in the middle of an election," his statement said.
"Early voting has already begun in some states in the presidential primaries. The American people will have the opportunity to have their say at the ballot box," Portman, who is considered a moderate, added in his statement.
Nadler Not on Floor
Rep. Jerrold Nadler (D-N.Y.), an impeachment manager, said he won't be on the House floor because he has to deal with his ailing wife in New York City.
"In December, following the House Judiciary Committee markup of the Articles of Impeachment against President Donald J. Trump, my wife was admitted to the hospital where she was diagnosed with Pancreatic Cancer. She has undergone surgery and is taking further steps to address the spread of the cancer," Nadler said.
I am sorry to not be able to stay in Washington for the conclusion of the Senate impeachment trial but I need to be home with my wife at this time. We have many decisions to make as a family. I have every faith in my colleagues and hope the Senate will do what is right.

— (((Rep. Nadler))) (@RepJerryNadler) January 31, 2020
Nadler added: "On Monday, I will be in New York with her to meet with doctors, determine a path forward, and begin her treatment. I am sorry to miss some of the Senate Impeachment Trial, which is of critical importance to our democracy."
House Managers Ask Senate for One Week for Witnesses
The House impeachment managers have asked the Senate for one more week so witnesses can testify in the case. However, with Sen. Lisa Murkowski's (R-Alaska) statement that she will vote against witnesses, a Democratic measure to call them up seems likely to fail.
Democrats need four Republicans to vote. Sen. Lamar Alexander (R-Tenn.) indicated that he will not vote in favor of witnesses.
On the Senate floor, Rep. Adam Schiff (D-Calif.), a manager from the House, said they need "one week" to listen to witnesses in the trial.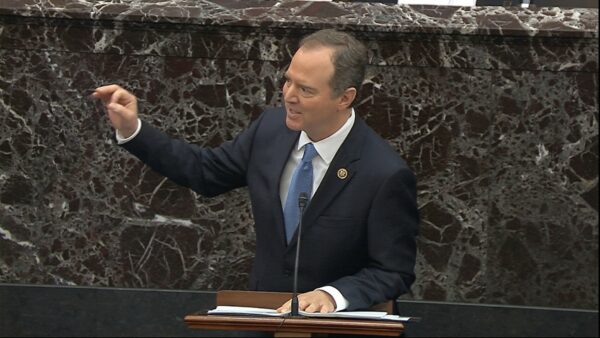 "I will make an offer to opposing counsel, who says this will stretch on indefinitely if you decide to have a single witness," Schiff said.
"Let's cabin the depositions to one week. I think we can. I think we should. I think we must," he continued.
Trump Denies Asking Bolton to Put Zelensky, Giuliani in Contact
President Donald Trump on Friday said he did not tell former national security adviser John Bolton to set up a meeting between Ukrainian President Volodymyr Zelensky and personal attorney Rudy Giuliani.
"I never instructed John Bolton to set up a meeting for Rudy Giuliani, one of the greatest corruption fighters in America and by far the greatest mayor in the history of N.Y.C., to meet with President Zelensky," Trump said in a statement. "That meeting never happened."
The New York Times reported Friday afternoon that Bolton said in a forthcoming book that Trump directed him to place Zelensky in contact with Giuliani.
Murkowski Against Voting for Witnesses
Sen. Lisa Murkowski (R-Alaska) revealed Thursday that she will not vote in favor of calling witnesses in the impeachment trial of President Donald Trump after a week's worth of speculation about whether she would be a key swing-vote to help the Democrats, but she admitted that "Congress has failed."
In a statement, Murkowski explained that House Democrats "chose to send articles of impeachment that are rushed and flawed" before she "carefully considered the need for additional witnesses and documents."
"Given the partisan nature of this impeachment from the very beginning and throughout, I have come to the conclusion that there will be no fair trial in the Senate," she wrote. "I don't believe the continuation of the process will change anything."
Murkowski also said that some of her colleagues in the Senate tried to politicize the trial and attack presiding officer Chief Justice John Roberts.
"We have already degraded this institution for partisan political benefit, and I will not enable those who wish to pull down another," she added. "We are sadly at a low point of division in this country."

GOP Senator: Trial Might Go Until Next Week
Sen. John Cornyn (R-Texas), a member of the GOP leadership, said that the impeachment trial could slog into next week and interfere with the Iowa caucuses and State of the Union address.
"My guess is it probably is going to carry us over to the first part of next week, but obviously we have the Iowa caucuses on February the 3rd, and we have the State of the Union the next day," Cornyn told reporters. "So I think for all sorts of reasons, it's probably a good idea to bring this thing to a close in the near future."
Some senators have said that they hope that a vote on witnesses could be done later on Friday.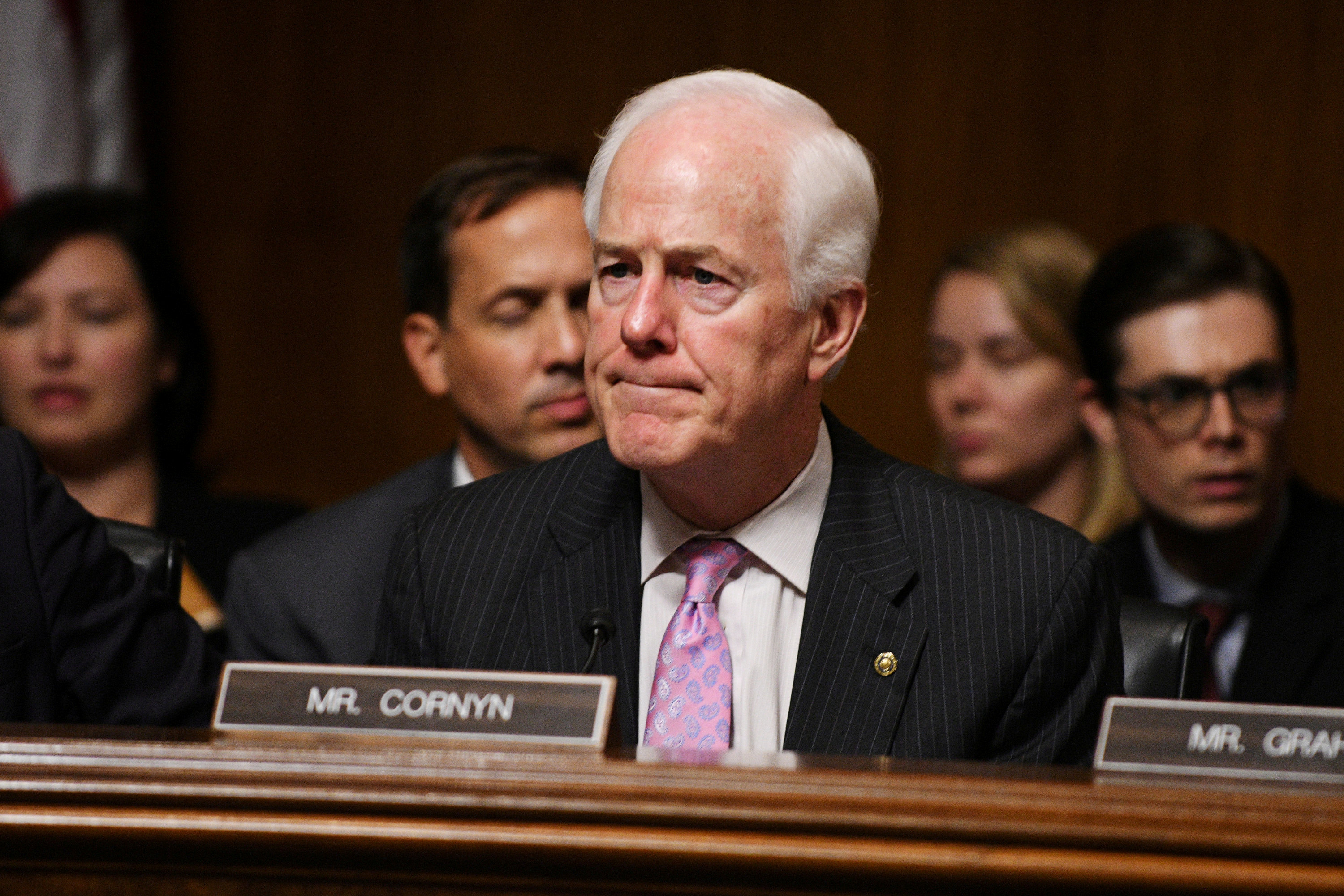 Schumer: Witnesses Needed
Senate Minority Leader Chuck Schumer (D-N.Y.) on Friday said witnesses are needed in the trial and accused Republican senators of trying to cover it up.
"The vote today is about whether the Senate will have a fair trial of the president," Schumer told reporters during his 11 a.m. press conference. "I believe the American people should hear what every senator thinks and why they're voting the way they're voting," Schumer said.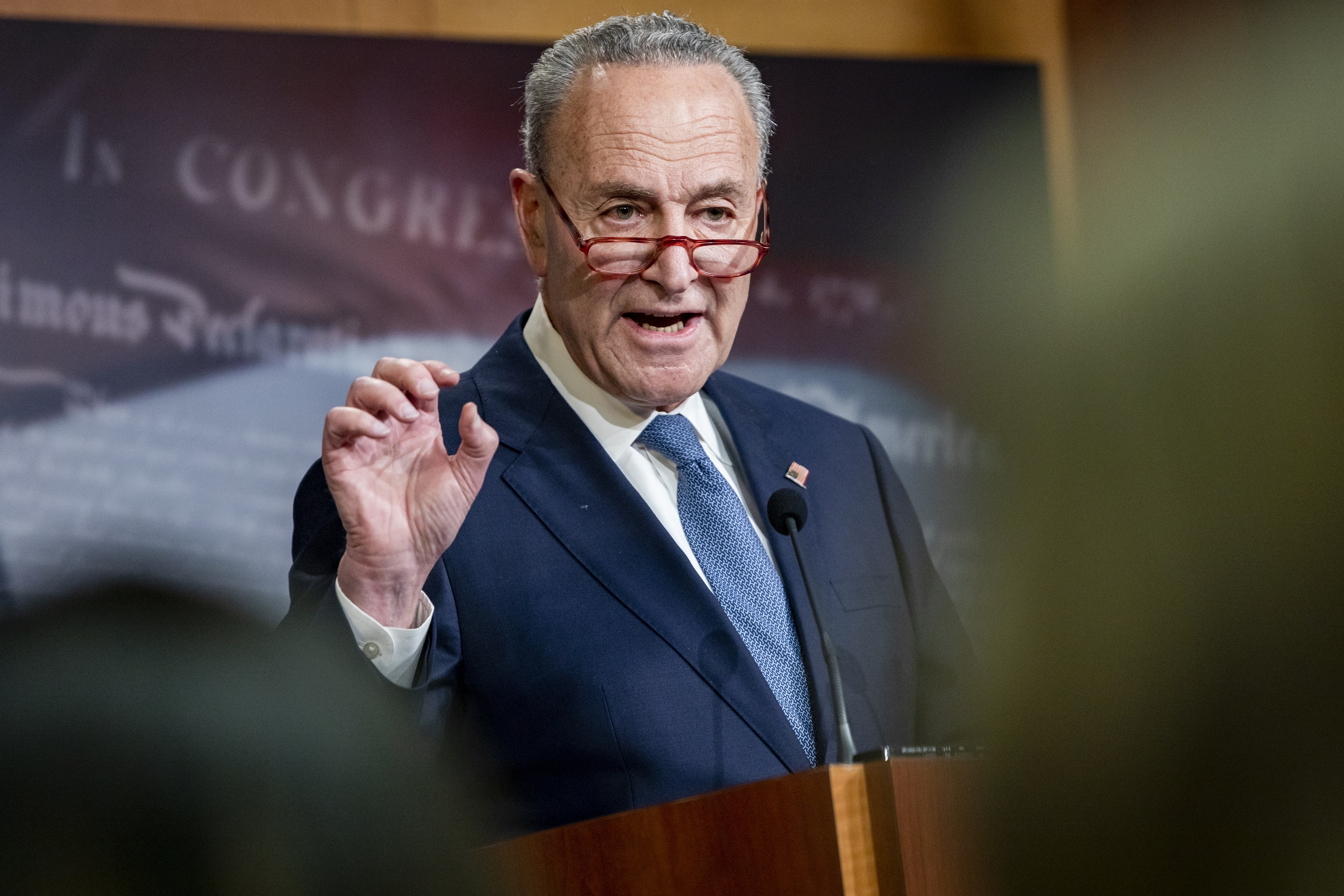 His remarks came after Sen. Lamar Alexander (R-Tenn.) said he wouldn't vote to call up witnesses in the trial. Sens. Mitt Romney (R-Utah) and Susan Collins (R-Maine) said they would vote to compel witness testimony after a New York Times report detailed an allegation from Bolton about Trump explicitly saying military aid to Ukraine was tied to investigations—which Trump has denied in no uncertain terms.
Alexander wrote that he believes Trump's conduct was not appropriate, but he felt that it does not rise to the level of an impeachable offense. "There is no need for more evidence to prove that the president asked Ukraine to investigate Joe Biden and his son, Hunter; he said this on television on October 3, 2019, and during his July 25, 2019, telephone call with the president of Ukraine," he wrote.
"That glimmer of hope that I had a few days ago disappeared last night with Lamar Alexander's decision," Sen. Dick Durbin (D-Ill.), the Democratic whip, told CNN on Thursday. "I don't see the fourth vote that's necessary."