Lt. Col. Alexander Vindman faced questioning from the House Intelligence Committee's Republican counsel Steve Castor during Tuesday's impeachment hearing on whether he was asked by Ukraine to become the country's defense minister.
Vindman, an official in the National Security Council, said that Alex Danylyuk, a former aide to Ukrainian President Volodymyr Zelensky, asked him in English about offers to become the defense minister of Ukraine.
Vindman said that he "immediately dismissed" the offers and "did not entertain them," saying he testified that he reported them to his chain of command.
He said it occurred three times. "I turned it down every time," he said.
Of the offer, he said, "It would be a great honor … but I'm an American, I came here when I was a toddler, and I immediately dismissed these offers."
"The whole notion is comical."
Earlier, Vindman said former Vice President Joe Biden's son, Hunter Biden, didn't appear to be qualified for a high-paying board seat on the Ukraine-based energy company Burisma Holdings.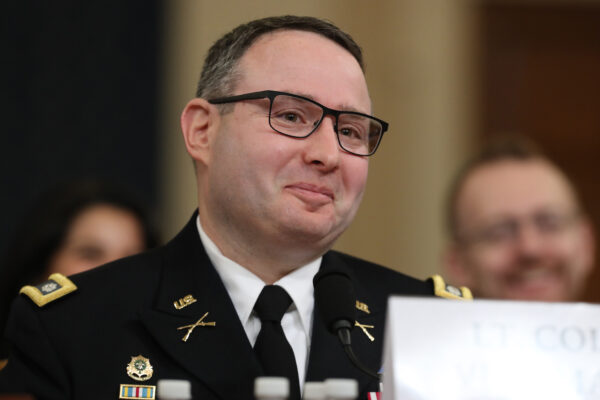 But he added that "I don't know his qualifications." Castor had asked, "Are you aware of any specific experience hunter Biden has in the Ukrainian corporate government world?"
"I don't know much about Mr. Hunter Biden," said Vindman, who has been described as the National Security Council's top Ukraine expert.
When he spoke to House investigators in a closed-door session last month, Vindman said he was concerned that Trump's push for Ukraine's leader to investigate former Vice President Joe Biden and his son's dealings with the energy company Burisma in the eastern European nation was harmful to both Washington and Kyiv's interests.
"I did not think it was proper to demand that a foreign government investigate a U.S. citizen, and I was worried about the implications to the U.S. Government's support of Ukraine," Vindman said in his deposition.
"I realized that if Ukraine pursued an investigation into the Bidens and Burisma, it would likely be interpreted as a partisan play, which would undoubtedly result in Ukraine losing the bipartisan support it has thus far maintained. This would all undermine U.S. national security."
Trump has denied allegations about whether he withheld aid to Ukraine in exchange for investigations.
Vindman was only 3 years old in 1979 when he and his two brothers, father and grandmother fled Ukraine, then a Soviet republic, for the United States. His twin Yevgeny is an attorney on the National Security Council. Earlier in his Army career, he served as an infantry officer and did tours in South Korea, Germany, and Iraq. In October 2004, not long into his yearlong tour in Iraq, he was wounded by a roadside bomb and awarded the Purple Heart, according to the Defense Department.
The Associated Press contributed to this report.