A congressman has said that upcoming hearings in the impeachment inquiry against President Donald Trump need to be postponed due to a new, undisclosed development that was unveiled in depositions over the weekend.
Rep. Lee Zeldin (R-N.Y.) said that there were closed-door depositions following a public hearing that included testimony from former U.S. Ambassador to Ukraine Marie Yovanovich.
"A lot of people didn't realize that once the cameras ended … on Friday, we then went back to this SCIF in the Capitol basement where there was a closed-door deposition," Zeldin told Fox News on Monday.
Mark Sandy, an official in the Office of Management and Budget, and David Holmes, assistant to Ambassador Bill Taylor in Ukraine, testified over the weekend in front of House Intelligence lawmakers.
He said that Sandy "went right to the heart of why there was a hold on aid to Ukraine" when he testified on Saturday. Zeldin called on the House Intelligence Committee to release his transcripts before the public hearings scheduled for this week.
"A great answer given, a very informative answer by Mark Sandy," Zeldin added, "and I think it would change some of the answers given by some of these other witnesses this week."
He did not elaborate in the interview about what Sandy told lawmakers.
Zeldin, who represents New York's 1st congressional district, also described Holmes's testimony as having a significant impact on the public hearings.
"You still have those several transcripts, including both David Holmes and Mark Sandy, that haven't been released to the public. I believe that we should not go forward with the next open public hearing until the rest of these transcripts are out because I would have questions to ask of these witnesses come Tuesday morning based off of what we heard," the lawmaker told Fox.
When pressed about the transcripts, Zeldin said it's up to House Intelligence Chairman Adam Schiff (D-Calif.), who has been essentially leading the impeachment inquiry, to release them in a timely manner.
"I don't know if there's that same sense of urgency from Chairman Schiff and his team to get those transcripts done by Tuesday morning," he said. "If they could get them released by Tuesday morning, that's fantastic. But, if they can't … then we'll move the open hearings back a day or two or three, because it's going to change some of the answers that some of these witnesses will be giving," he explained.
This week, Director for European Affairs Lt. Col. Alexander Vindman, adviser to the vice president Jennifer Williams, White House national security official Fiona Hill, under secretary of state for political affairs David Hale, Deputy Assistant Secretary of Defense for Russian, Ukrainian, and Eurasian affairs Laura Cooper, Ambassador to the European Union Gordon Sondland, former presidential adviser Tim Morrison, and former Ambassador to NATO Kurt Volker are slated to testify during the public hearings.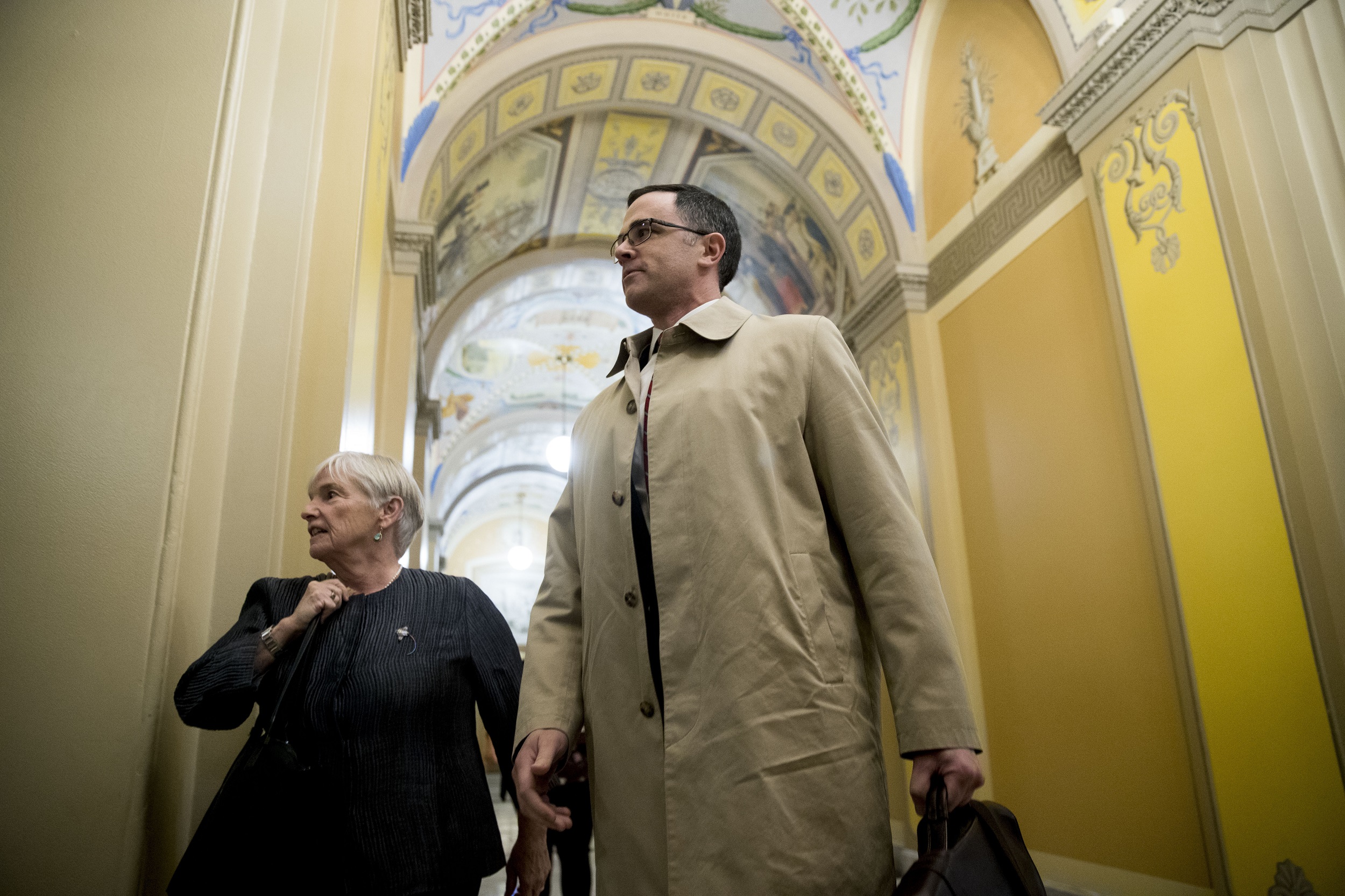 House Democrats released a transcript of former national security council Tim Morrison's deposition, which revealed that he believed nothing improper occurred when Trump spoke to Ukrainian President Volodymyr Zelensky on July 25. Democrats have alleged that the phone call indicates Trump waged a campaign to pressure Kyiv into opening investigations into former Vice President Joe Biden and his son Hunter Biden, who was on the board of a Ukrainian energy company that was long suspected of corruption. They have also alleged that the president withheld aid to Ukraine to apply that pressure, which Trump has denied.
Morrison said that Trump likely held off on releasing the aid until later because Trump is skeptical toward U.S. foreign aid in general.
His view, according to his testimonial, is that Trump has a "general antipathy to foreign aid" and also had a "concern that the Ukrainians were not paying their fair share, as well as his concern [that] our aid would be misused because of the view that Ukraine has a significant corruption problem."