Republicans in October have been able to haul in $25 million in fundraising as House Democrats lead an impeachment inquiry into President Donald Trump, according to a report.
The Republican National Committee (RNC) told the Washington Examiner that the $25.3 million raised in October is nearly triple what was raised in October 2017, and it is the most money on hand since 2012.
When the Trump reelection campaign is included, nearly $400 million has been raised.
The Examiner noted that the RNC has $61 million to play with after the latest round of donations in October. The Democratic National Committee was $7 million in debt in October, according to the report.
While House Democrats tried to distract you with their charade…

*the DOW hit 28,000 for the first time EVER

*@realDonaldTrump increased healthcare transparency

*@IvankaTrump is fighting for paid family leave

The Trump Admin never stops fighting for you!

— Ronna McDaniel (@GOPChairwoman) November 17, 2019
RNC Chairwoman Ronna McDaniel credited support for Trump and anger by many Republicans at the impeachment inquiry.
"While Democrats are focused on their sham impeachment charade, Republicans had another record-breaking fundraising month in October—the best off-cycle October in our party's history," said McDaniel. "When you look beyond the Beltway, it's clear that the American people are sick and tired of the Democrats' baseless investigations. In 2020, voters will choose results over the Democrats' polarizing political rhetoric, and the RNC is in the strongest position possible to reelect President Trump and Republicans up-and-down the ballot," she added.
Last week, Trump's reelection campaign announced that $3.1 million was raised during the first public impeachment hearing.
"One of our best fundraising days ever… again!" Trump's campaign manager, Brad Parscale, wrote on Twitter on Thursday. "Dems just don't get it. They are filling our bank and improving our turnout every day!"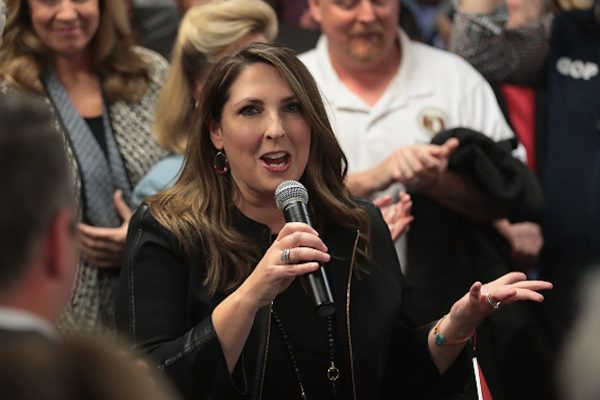 He also tweeted: "WOW! $3,144,257 RAISED YESTERDAY! [The president] loves these huge numbers. He knows that it isn't enough to end this IMPEACHMENT SCAM. We're upping the goal to $5 MILLION! ALL DONATIONS WILL NOW BE TRIPLE-MATCHED!"
Trump's campaign has countered the hearings, saying the probe is helping Trump, noting a spike in contributions and Republican enthusiasm coupled with a disdain for Democratic officials.
Last month, former Obama senior adviser Dan Pfeiffer tweeted a warning, saying that the numbers should be a "giant wake up call" for Democrats.
"Trump is going to have more resources to deploy earlier and more aggressively than any candidate in history," he wrote.