A Democratic governor who was impeached and removed from office wrote from prison, suggesting that his party abused the U.S. Constitution in impeaching Republican President Donald Trump.
Rod Blagojevich was convicted of federal corruption charges for soliciting bribes to fill President Barack Obama's vacant Senate seat, along with other charges, and was sentenced to 14 years in prison in 2011. He was removed as governor of Illinois in 2009.
Now 63, Blagojevich wrote in an op-ed published Tuesday that he believes House Democrats would have impeached President Abraham Lincoln based on what they impeached Trump for.
"I offer this interesting and unique perspective about impeachment as I sit here in prison," the former governor wrote, claiming Democrats would have impeached Lincoln for obstruction of Congress and abuse of power for his Emancipation Proclamation and called for Lincoln to be investigated over offering Robert E. Lee command of the Northern armies.
"It is hard to imagine how history would have been changed had Lincoln been impeached. Thankfully, that never happened. But to think that it could have happened is a reminder of how fragile our Republic is and how vulnerable our freedoms are," he wrote.
"No president is safe if a majority of hyperpartisan House members from the opposition party are willing to abuse the Constitution and vote to impeach. And the worst part of it is, that should this happen, those politicians are taking from the people their right to choose their own leaders th[r]ough free elections."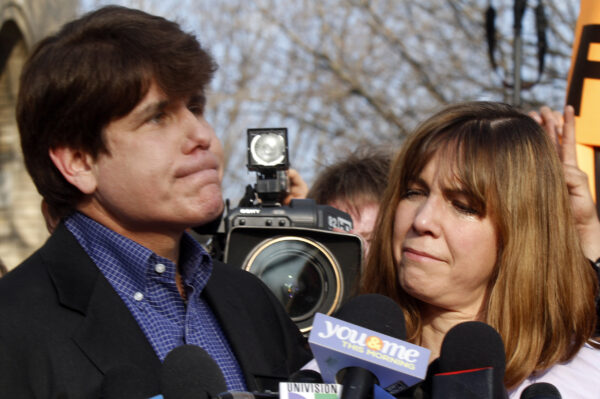 The impeached governor said that the framers of the Constitution in creating the criteria to impeach a president "rejected the weaponizing of impeachment as a political tool by expressly limiting it to 'treason, bribery, or other high crimes or misdemeanors,'" doing so "because they foresaw how tempting the use of impeachment could be to advance partisan ends."
Trump was impeached for obstructing Congress and abuse of office on Dec. 18, 2019.
Blagojevich's op-ed was published by Newsmax, a self-described conservative news website. The founder of the site, Christopher Ruddy, said on Wednesday that the ex-governor "makes good points" in the piece before calling on people to urge Trump to commute the rest of Blagojevich's sentence.
Patti Blagojevich, Blagojevich's wife, has for months called on Trump to commute her husband's sentence, appearing on Fox News and other outlets.
Patti Blagojevich said on Wednesday that her husband "is a bit of a Lincoln scholar" who owns at least 30 books on Lincoln alone, tagging Trump on Twitter.
Trump said over the summer he was "very strongly" considering doing so but later said the White House was reviewing the case.