The chief of Immigration and Customs Enforcement (ICE) is preparing for a nationwide crackdown on illegal immigrants in sanctuary cities, the Washington Examiner reports.
Emboldened by President Donald Trump's efforts to combat illegal immigration, acting director of ICE Thomas Homan said that he plans to send more resources and agents to sanctuary cities. Illegal immigrants are protected in sanctuary cities, where, among other measures, local policies restrict police departments and other municipal agencies from cooperating with federal immigration enforcement.
According to Homan, illegal border crossings have plummeted 70 percent to a historic low since Trump took office.
"You can like President Trump, not like him, like his policies, not like his policies, but one thing no one can argue with is the effect they've had," Homan, a 30-year immigration agency veteran, told the Examiner.
ICE and border patrol agents have been cheering the change under Trump, Homan said.
"Now they have meaning to their jobs," said Homan. "What this president has done is taken the handcuffs off of law enforcement officers who are charged with enforcing immigration laws."
Since the drop in border crossings, ICE has more resources to target illegal immigrants inside the country, whether locked up in jails, on the run, or working illegally. Sanctuary cities are a key target, since local authorities there are actively protecting people who have broken federal laws. Enforcement in sanctuary cities can send a clear message to those in the country illegally.
"The president recognizes that you've got to have a true interior enforcement strategy to make it uncomfortable for them," Homan said.
"In the America I grew up in, cities didn't shield people who violated the law."
Homan has gotten the go-ahead to hire 10,000 new agents and he plans to flood sanctuary cities with these new resources.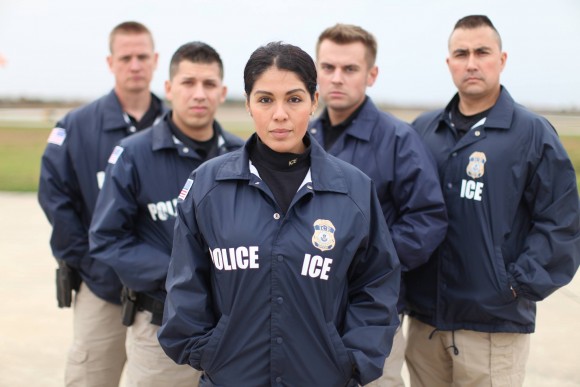 The ICE chief blasted sanctuary policies for creating fear in immigrant communities. By refusing ICE to make arrests in jails, agents are forced to catch people in their homes and workplaces, making it unsafe for everyone involved, creating an atmosphere of fear.
"I'm going to arrest him and anybody else with him because there is no population off the table any more. So if you really want to tap down the fear in the immigrant community, I would think the counties would want [ICE] in their jails," he said.
From NTD Television