WASHINGTON—The nation's 334 immigration judges are currently staring down the barrel of an astronomical 1 million case backlog.
The number of cases pending has doubled since 2012 and tripled since 2009. It's currently sitting at about 692,000, and climbing.
Pushing the number over the million mark are 330,000 cases that are administratively closed, which means the cases are still technically pending on the docket, but they're not on the active docket, according to James McHenry, director of the Executive Office for Immigration Review (EOIR), which oversees immigration courts and sits under the Department of Justice.
He said administrative closure was designed to be a temporary solution to remove a case from the active, pending docket while something else was going on.
"It first came about primarily in cases where individuals were being granted Temporary Protected Status, or some other temporary status—and then once that status was resolved or it's terminated, or it ends, then the case is recalendared and it continues," McHenry said during a May 1 event hosted by Center for Immigration Studies.
"It's been sort of expanded in different directions over the years. The judges were given a little bit more latitude in how they use it, starting in 2012. And with that expansion, though, has [come] an increase in the number of cases that are administratively closed."
When the Department of Homeland Security charges an alien for a violation of immigration law—anything from crossing the border illegally, to overstaying a visa, to working while on a visitor visa—the case gets handed to the EOIR.
Often, it is years before the first hearing is scheduled, but after the hearing, the immigration judge either renders a decision or reserves the decision to a later date. The judge will ultimately decide to order the alien removed from the United States, grant some form of relief, or terminate the case.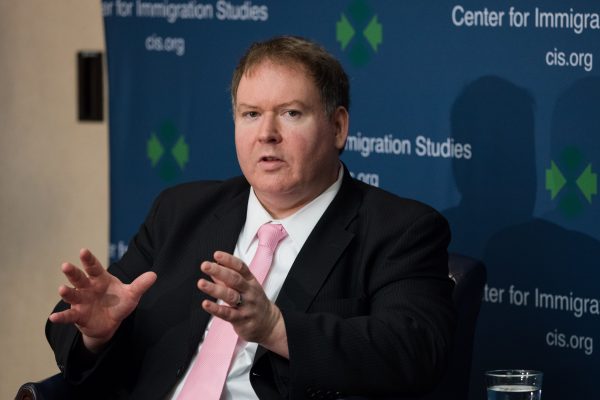 Judge Shortage
Several other factors have contributed to the pileup of cases, including a major increase in asylum cases, which are more complicated and take longer because they rely on more evidence. It's the same with criminal cases, McHenry said.
On top of that, a chronic shortage of judges and several switches in priority during the Obama-era have meant the situation ballooned out of control.
On average, it currently takes around 565 days for a case to be completed, according to data collected by Transactional Records Access Clearinghouse (TRAC) at Syracuse University. Ten years ago, in fiscal year 2008, it took less than half that, at an average of 231 days to complete a case.
The time it takes for a case to be determined also varies depending on whether the individual is in a detention facility or not. For example, in Imperial, Calif., the cases of non-detained individuals take an average of 1,490 days (four years) to complete, compared with 114 days for those who are detained, according to TRAC.
Improvements have been made under the Trump administration, but it will take years to make a dent in the pending cases.
"We're trying to get a handle on it. We're making some progress, but still, there's much more work to be done," McHenry said.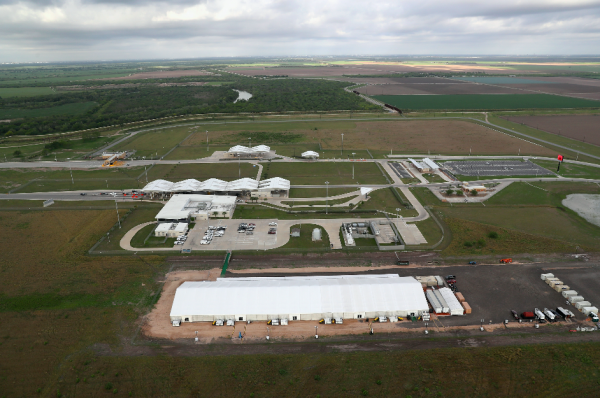 Last year, more than 100 immigration judges were reassigned to Homeland Security detention facilities, including at the border, to try to tackle the newest arrivals before they became integrated into U.S. communities.
The same tactic was tried under the Obama administration, but it resulted in the courts being less productive, according to Dana Leigh Marks, president of the National Association of Immigration Judges.
This time, however, it seems to be working.
McHenry said EOIR ran the numbers last year and found that the judges completed 2,700 more cases than they would have if they had been at their home courts.
Attorney General Jeff Sessions has imposed an expectation on judges, starting in October, to complete 700 cases per year, which McHenry says is reasonable. On May 2, Sessions also announced the deployment of 35 more prosecutors to U.S. Attorney's offices along the southwest border in Texas, Arizona, New Mexico, and California.
Sessions also announced a streamlined hiring process for immigration judges last April. A GAO report in June said it was taking 742 days (two years) to hire a new judge.
"It requires just as much vetting as before, but reduces the timeline, reflecting the dire need to reduce the backlogs in our immigration courts," Sessions said in a speech on April 11, 2017.
On average, it currently takes around 565 days for a case to be completed. Ten years ago, it took 231 days.
McHenry said that since then, the EOIR has been able to reduce the hiring time to around 10 to 12 months.
"Again, still room for improvement, but we're working on it," he said.
The number of judges has been creeping up, too. In the last 18 months, 56 new judges have been hired, McHenry said. Another 48 are slated to be hired by the end of the year, bringing the total to 382, which is still 102 shy of the 484 the new omnibus spending bill provides for.
"Ultimately, we could get enough judges that we could turn the backlog, but it would take a long time. So the judge part is a necessary, but it's not a sufficient, by itself, way of dealing with the caseload," McHenry said.   
"The second way we'd deal with it is by increasing our existing capacity. We worked on docketing efficiencies. We tried to reduce the number of courtrooms that aren't being used by utilizing video teleconferencing (VTC) technology. We're working on bringing back retired immigration judges to hear cases. And we're sort of shifting resources around; some courts have excess capacity, so they can hear cases from other locations [via VTC]."
McHenry said an anticipated move to electronic filing will be another boon.
"We're among the last agency that still uses paper files in the government," he said. "We identified a need for electronic filing in 2001, and there hasn't been a lot of progress made until last year."
He said a pilot program at a handful of courts over the summer will culminate in a nationwide rollout next year.
"We're looking for ways to be able to be more efficient," he said. "We feel we can both be efficient and maintain due process."