NEW YORK—Immigration officials arrested more than 680 individuals nationwide last week, according to numbers provided by the Department of Homeland Security on Feb. 13. Many major media outlets ran that number as a top news story.
In comparison, Immigration and Customs Enforcement (ICE) deported a total of 69,478 people in fiscal year 2015 from inside the country (not at or near the border). That is an average of 1,336 people per week deported; the number arrested could have been slightly higher. Ninety-one percent of those deported were convicted criminals.
The number of arrests last week is low, according to Michael Cutler, a former ICE agent and immigration official for 30 years.
The fact that this makes a headline blows my mind.
, former ICE agent and immigration official
Of the 680 arrested, 41 were arrested in the New York area, and of those, 38 were convicted criminals. Cutler said arresting 40 people in a day in the New York City area alone was routine when he was an agent in the '70s and '80s.
"The fact that this makes a headline blows my mind," Cutler said.
"Our immigration laws are supposed to keep out criminals and terrorists. I don't know how this became a right-wing issue."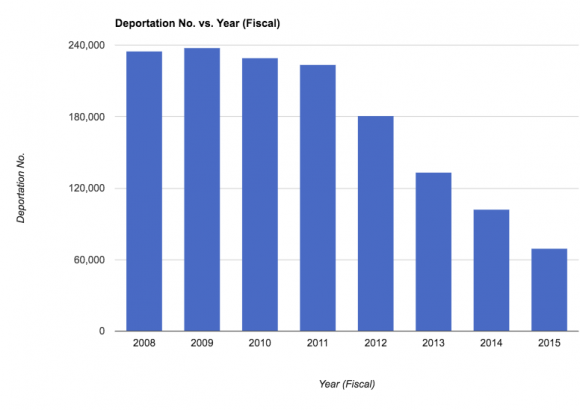 Those arrested "pose a threat to public safety, border security, or the integrity of our nation's immigration system," said Department of Homeland Security (DHS) Secretary John Kelly in a statement.
"ICE conducts these [kinds] of targeted enforcement operations regularly and has for many years," he said.
The ICE statement calls reports of checkpoints and sweeps false, dangerous, and irresponsible. "These reports create panic and put communities and law enforcement personnel in unnecessary danger."
The recent arrests occurred in the Los Angeles, Chicago, Atlanta, San Antonio, and New York City areas.
Approximately 75 percent of those arrested were criminals, convicted of crimes such as homicide, aggravated sexual abuse, sexual assault of a minor, lewd and lascivious acts with a child, indecent liberties with a minor, drug trafficking, battery, assault, DUI, and weapons charges, according to DHS.
Related Coverage
A Jamaican citizen and a Mexican citizen who were arrested in New York both have criminal convictions for first-degree assault of a victim under the age of 11, according to ICE. An El Salvadorean has a conviction for assault with a dangerous weapon in aid of racketeering and admitted to being a member of the international MS-13 drug gang.
The New York City mayor's office estimates there are 500,000 illegal immigrants in the city.
The Pew Research Center estimates the New York metro area holds more than 1.1 million illegal immigrants, the most of any metro area in the country, according to a February report. The Los Angeles metro area comes in second, with an estimated 1 million.
Both areas have extensive sanctuary policies, which means city authorities protect illegal immigrants from federal immigration agents.