IMF to Canada: With Economy Weak, Keep Supporting Growth
Interest rates will remain unchanged, says Bank of Canada
April 17, 2013 10:03 pm Last Updated: April 17, 2013 10:05 pm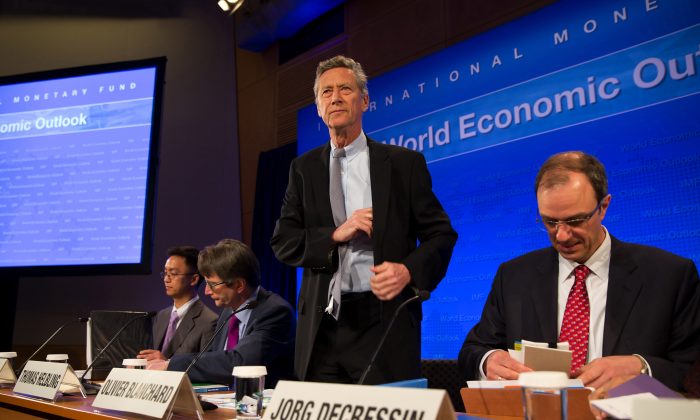 Canadian policymakers should consider easing up on austerity measures while the economy is weak and vulnerable to shock, says the International Monetary Fund (IMF).
The IMF released its World Economic Outlook Tuesday, downgrading growth in Canada amidst mounting risks. The outlook predicts Canada's economy will slow to about 1.5 percent this year from 1.8 percent last year, but will likely increase to 2.4 percent in 2014.
"The main challenge for Canada's policymakers is to support growth in the short term while reducing the vulnerabilities that may arise from external shocks and domestic imbalances," reads the report.
The global financial organization said growth in Canada slowed in the second half of 2012 due to fiscal consolidation, tighter consumer credit, a cooling housing market, temporary disruptions in the energy sector, and an uncertain external environment weighing on economic activity. 
High household debt and continued moderation of the housing sector will also restrain domestic demand this year, says the IMF, adding that adverse fiscal outcomes in the U.S. and Europe could impact Canadian growth.
"Risks around the baseline scenario remain tilted to the downside, in particular from adverse fiscal outcomes in the United States, further turbulence in Europe, a decline in global commodity prices, and a less gradual unwinding of domestic imbalances," the IMF report states.
The report suggested that Ottawa loosen austerity measures around mechanisms to stimulate growth, such as unemployment insurance, if the economy continues to weaken.
"Although fiscal consolidation is needed to rebuild fiscal space against future shocks, there is room to allow automatic stabilizers to operate fully if growth were to weaken further," says the report. 
"The current monetary policy stance is appropriately accommodative, and the beginning of the monetary tightening cycle should be delayed until growth strengthens again."
Meanwhile, the Bank of Canada announced Wednesday that its key interest rate will remain unchanged despite a weaker economy than anticipated. The central bank will maintain its trendsetting overnight interest rate at 1 percent, a rate that has stayed the same since September 2010.
It also downgraded the annual average economic growth to 1.5 percent this year, down from a previous forecast of 2 percent. The bank said Canada's economy performed below expectations in the last half of 2012 and will not return to full capacity until mid-2015–six months later than anticipated.
"With continued slack in the Canadian economy, the muted outlook for inflation, and the constructive evolution of imbalances in the household sector, the considerable monetary policy stimulus currently in place will likely remain appropriate for a period of time, after which some modest withdrawal will likely be required, consistent with achieving the 2 percent inflation target," said a statement from the Bank of Canada.