Illinois Gov. J.B. Pritzker announced Friday afternoon a stay at home order for all state residents, except for essential activities, joining similar measures underway in New York and California in efforts to limit the spread of the CCP virus.
The order (pdf) will take effect Saturday at 5 p.m. and will expire on April 7. Schools across the state will remain closed until April 8. There are more than 12.6 million residents in Illinois.
"If there are actions that I can take that will save lives in the midst of this pandemic, no matter how difficult, then I have an obligation," Pritzker said on Friday, adding that the measure may prevent "potentially tens of thousands" of deaths.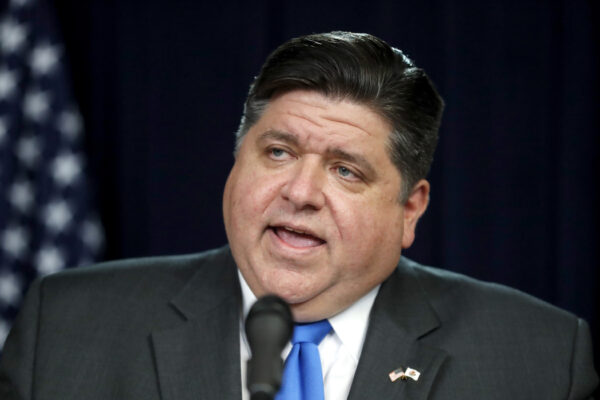 "For the vast majority of you already taking precautions, your lives will not change very much," he said.
He added that people can continue to shop for groceries and visit pharmacies, gas stations, and banks. They can also still pick up meals from restaurants and exercise outdoors.
The Epoch Times refers to the novel coronavirus, which causes the disease COVID-19, as the CCP virus because the Chinese Communist Party's coverup and mismanagement allowed the virus to spread throughout China and create a global pandemic.
The Illinois governor said that law enforcement will take action to enforce the order in individual cases, if necessary, but that "to be honest, we don't have the resources, the capacity, or the desire to police every individual's behavior."
The order exempts people who work in many essential industries, including health care, manufacturing, transportation, and food production or sales, including at grocery stores and restaurants.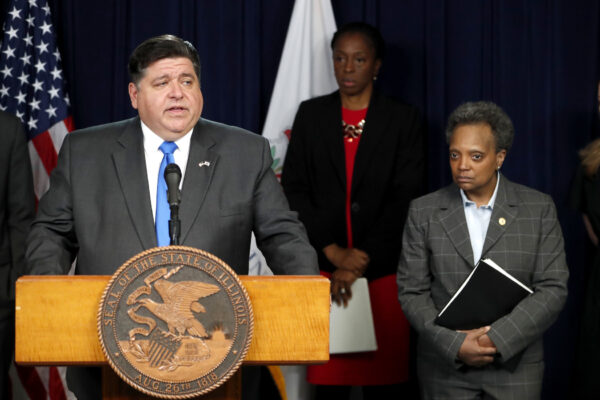 Chicago Mayor Lori Lightfoot said she agreed with the decision.
"You must stay home," she said. "This is not a lockdown, or martial law."
"Think of this as safer at home," she also said.
The Illinois governor previously ordered all schools in the state to shut down through the end of March, as well as limiting group gatherings to 50 people. He also ordered all restaurants and bars to close but still allowed drive-through and pickup services.
The governors of California and New York have issued similar orders. California Gov. Gavin Newsom ordered all state residents to stay home on Thursday, while New York State Gov. Andrew Cuomo said that all nonessential workers should stay at home.
Governors of Connecticut (pdf), Nevada and New Jersey have also said that most residents of the respective states should stay at home.
As of Friday afternoon, Illinois has 585 cases of COVID-19 in 25 counties, an increase of 163 cases from the day prior. The state reported one more death Friday—a woman in her 70s from Cook County—taking the state's toll to five.
Trump on Thursday suggested that the Chinese communist regime is to blame for the virus, which has spread to more than 160 countries and territories around the world, killing thousands.
Human-to-human transmission of COVID-19 was occurring from at least mid-December 2019 in Wuhan, according to a paper published in the New England Journal of Medicine on Jan. 29. The paper found that "there is evidence that human-to-human transmission has occurred among close contacts since the middle of December 2019."
Chinese authorities did not confirm human-to-human transmission until Jan. 20—almost three weeks after the disease was first officially reported on Dec. 31, 2019. The first patient reported with the virus exhibited symptoms on Dec. 1.
The World Health Organization stated there was no evidence of human-to-human transmission on Jan. 14.
The Associated Press contributed to this report.