The governor of Illinois on Wednesday issued an emergency disaster proclamation after several hundred illegal immigrants were bused from the U.S.–Mexico border to Illinois.
Gov. J.B. Pritzker, a Democrat, issued an executive order to send 75 members of the state National Guard to assist in making sure "all state resources are available to support asylum seekers arriving nearly daily to Chicago from the state of Texas."
The order also "enables the Illinois Emergency Management Agency (IEMA) and other state agencies, in close coordination with the City of Chicago, Cook County, and other local governments, to ensure the individuals and families receive the assistance they need," according to Pritzker's order. "This includes transport, emergency shelter and housing, food, health screenings, medical assessments, treatments, and other necessary care and services."
For months, Texas Gov. Greg Abbott's administration has been sending illegal immigrants who crossed into Texas from Mexico to several Democrat-run municipalities, including New York City, Illinois, and Washington, D.C. The three cities have declared themselves "sanctuary cities" that will not cooperate with Immigration and Customs Enforcement orders.
Pritzker—like the leaders of New York, Chicago, and D.C.—criticized Abbott rather than focusing on the porous U.S.–Mexico border. In August, federal border officials arrested 185,000 illegal aliens, according to the U.S. Customs and Border Protection.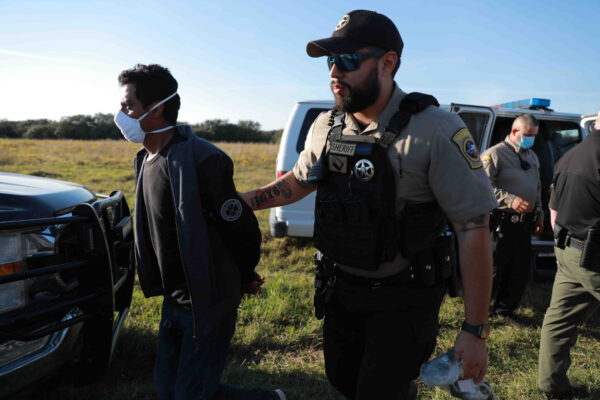 And nearly 5 million illegal immigrants crossed into the United States in the first year-and-a-half of President Joe Biden's presidency, said the Federation for American Immigration Reform in a report. Despite the massive influx of people crossing into the country, top White House officials have said the border is secure.
"Today, I signed a disaster proclamation allowing the state to speed up the procurement of the immediate resources needed to help Chicago, Cook County, and other jurisdictions provide humanitarian assistance to the asylum seekers who are being sent to our state with no official advance notice by the Governor of Texas," Pritzker said in a statement on Wednesday.
He added that "while other states may be treating these vulnerable families as pawns, here in Illinois, we are treating them as people."
But Abbott has argued that the crisis at the border is caused directly by Biden's and Democrat's policies, and he's called on Pritzker and other Democrats to demand Biden enforce immigration law.
Washington, D.C. Mayor Muriel Bowser last week declared a public emergency due to illegal immigrants being bused into the city.
The Illinois governor's order comes as Florida Gov. Ron DeSantis, a Republican, reportedly sent illegal immigrants to Martha's Vineyard—a popular Massachusetts tourist spot for the affluent.