An Illinois man was fuelling up his vehicle with his 11-year-old daughter inside when a carjacker unexpectedly jumped in the car and took off.
"I started punching the window, letting him know my kid was in the car. She was screaming, but he didn't even look back. He didn't care," said Mark Beasanski of Aurora, the Daily Herald reported.
"You just don't expect someone to jump into the car. There are crazy people out there."
In security video posted by a store clerk, the man's daughter, Kayla, can be seen falling out of the moving vehicle and onto the ground early Friday morning, May 4.
As his Jeep Cherokee pulls away from the pumps, Beasanski can be seen leaping onto the hood of a blue Dodge Charger driven by the carjacker's accomplice as it accelerates out of the frame.
Moments later Beasanski walks back and embraces his daughter.
"I just reacted the best I could," Beasanski said, according to the Daily Herald.
Citing Aurora police and the DuPage County State's Attorney's Office, the Chicago Sun-Times reported that 20-year-old Tyrelle L. Pulley was arrested and charged with aggravated vehicular hijacking, aggravated unlawful possession of a stolen motor vehicle, and fleeing and eluding police.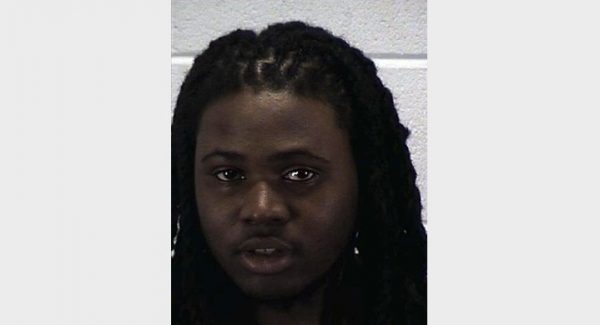 The accomplice has not been taken into custody yet, according to the Daily Herald, citing police Sgt. Eric Westrom.
He urges people to exercise greater caution.
"The advice is to turn your car off and take the keys with you, and lock your car if you need to go into the station to pay or do something," Westrom said. "Especially if you're going to leave kids in the car, make sure the vehicle is locked."
The carjacking took place at a gas station on the 1200 block of North Eola Road, not far from Beasanski's house.
His daughter suffered a cut on her ankle and some emotional trauma.
"You feel helpless. You can't do nothing about it," he said. "A person versus a car, it's not very easy to win it."
The man praised his daughter's reaction to the crime, saying she "did everything right."
"She was scared. … I just told her that most people in the world are pretty good, but there's always those people out there that want to cause harm."
Westrom told reporters that carjackings are infrequent in Aurora, a suburb of Chicago.
"We haven't had too many of those," he said, noting that the incident represents the municipality's first carjacking of the year.
Westrom said he doesn't believe that in Aurora there's a pattern of increased incidence of this type of crime.
"I don't see it as an issue," he said.
But Chicago itself has seen a rise in carjackings since 2014, according to the Chicago Tribune.
The paper cited Chicago police Sgt. Rocco Alioto as saying that in 2018, there have been 271 carjackings in the city, compared to 279 around the same time last year.
According to FBI statistics released in September of last year and reported on by Quartz, violent crime in the United States is up, including homicide.
The increase in murder rates is mostly concentrated in several big cities—with Chicago accounting for about 20 percent of the rise between 2015 and 2016.
Violent crime in the United States overall has gone up by 4.1 percent.
Recommended Video:
Brazen Pickpockets Steal £1,000 From London Pensioner